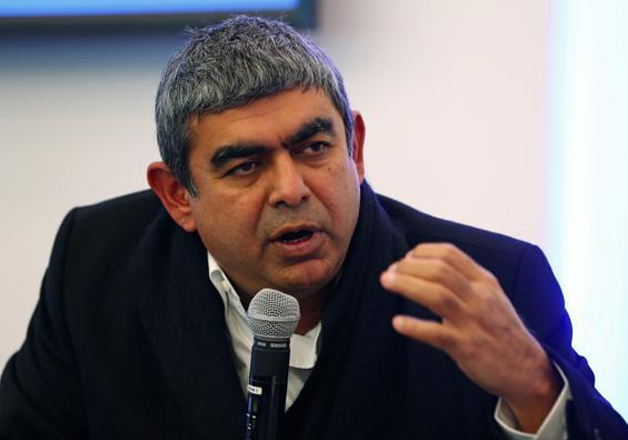 Tensions between the founders, its former senior executives and incumbent bigwigs of the country's second largest IT firm have reached a new level. According to a Times of India report, some founders have now expressed unhappiness with Chairman R Seshasayee for failing to discharge his duties.
As per the report, ex-senior executives have expressed their discontent at the Seshasayee-led board for not closely scrutinising some of the company's recent decisions which they say raise corporate governance concerns.
The report comes in the backdrop of news reports that three of its founding members -- NR Narayana Murthy, Kris Gopalakrishnan and Nandan Nilekani –wrote to the company's board last month questioning some decisions which they believe are at odds with established practices. 
The decision includes the steep hike in annual package for CEO Vishal Sikka and the high severance package given to two former senior officials.
They believe that Seshasayee hasn't reined in Sikka on certain issues of 'governances and values' – the very factors that make the company one of the best places to work for engineers worldwide. Seshasayee took over from KV Kamath as non-executive Chairman in 2015.
"The chairman of any board has the obligation to lead it. Corporate governance demands that shareholders question the board on performance and other issues. It's a happy scenario that large shareholders are questioning the company on several issues. It's a good development for India," Mohandas Pai, who was CFO till 2011, said.
V Balakrishnan, who succeeded Pai as Infosys' CFO, said, "If you look at the issues dispassionately , they (founders) are raising some serious governance concerns. Infosys stood for gold standard in corporate governance. It's a big distraction and employee morale will get impacted." 
Both Pai and Balakrishnan were contenders for the top job at Infosys but the two left when they felt that road was blocked for them.
Last year, the Bengaluru-based software services exporter had raised the annual package of Vishal Sikka to USD 11 million (approx Rs 74 crore), which includes variable pay subject to certain performance-based targets. Besides, his term has been extended till 2021. The Infosys founders are also said to have opposed the use of private jets by the CEO.
While former Chief Financial Officer (CFO) Rajiv Bansal's severance package amounted to 173.8 million rupees (over Rs 17 crore) or equivalent to his two-year package, former General Counsel David Kennedy will receive severance payments of USD 868,250 (approx Rs 6 crore) and other reimbursements over one year.
However, there are also few who believe that Sikka deserves the salary hike because his style of functioning is quite different from othres.
"Sikka's style is certainly different from that of Infosys' founders. Sikka deserves credit for injecting new ideas and for rallying the troops around new aspirations. However, my ongoing concern is that Infosys' planned shift to automation and software content will encounter financial shortcomings," Rod Bourgeois, head of research in DeepDive Equity Research said.
Phil Fersht, CEO of US based HfS Research, said that 'any action or firing Sikka now will be a disaster for the company'. 
"I fear for the Indian-heritage IT firms that get so wracked in politics -they have to be laser-focused, right now. This is going to be the crunch year for them, one that separates the wheat from the chaff. Infosys needs to stick by Vishal and his bold plans for the firm," Phil Fersht said.
Meanwhile, when Murthy was asked about his letter to the company's board, he replied: "I do not remember writing any recent letter to Vishal."