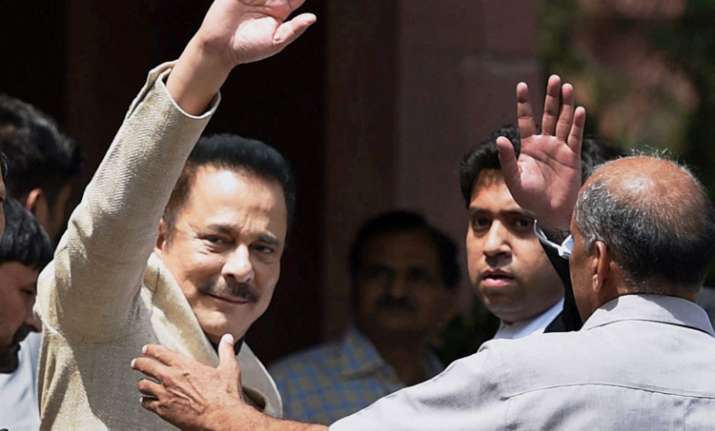 The Supreme Court on Tuesday extended Sahara group chief Subrata Roy's parole till June 19 after he promised to pay Rs 1,500 crore in the SEBI-Sahara account on or before June 15.
The apex court warned Roy that he may be sent to jail again and the group's Aamby Valley project will be auctioned if the amount is not paid by the promised date.
The businessman also furnished a post-dated cheque of Rs 552 crore to be realised by July 15.
On April 17, the Supreme Court had ordered the auction of Sahara Grpup's star project the Aamby Valley near Lonavala in Maharashtra to recover the company's debt.
Today, it asked the Bombay High Court's official liquidator to prepare terms for auctioning of the Aamby Valley properties, estimated to be worth Rs 34,000 crore, for its approval on June 19.
The top court, by its August 31, 2012, order had asked Sahara India Real Estate Corporation Ltd. (SIRECL) and the Sahara Housing Investment Corporation Ltd. (SHICL) to return to the investors Rs 17,600 crore with 15 per cent interest that the two companies raised through Optionally Fully Convertible Debentures in 2008 and 2009.
Roy was granted parole on May 6, 2016, to perform the last rites of his mother who passed away on May 5. He has been out since then.
Roy has been asked to be personally present on the next date of hearing on June 19.
SC sends one to jail for contempt in Sahara case
The Supreme Court on Thursday sent one Prakash Swamy -- the power of attorney holder for a US-based company that had shown interest in buying Sahara's New York-located Hotel Plaza -- to jail for one month for not depositing Rs 10 crore fine ordered by the court for backing out and misleading the court.
The bench of Justice Dipak Misra, Justice Ranjan Gogoi and Justice A.K. Sikri sent Swamy to jail after the court was informed that he has not deposited Rs 10 crore, as ordered by the court during the last hearing.
Swamy had earlier told the court that US-based MG Holding was buying Sahara's Plaza Hotel, following which the court has asked him to deposit Rs 750 crore in Sahara-SEBI account to prove their bona fides.
However, in the next hearing, the court was informed that the US company had withdrawn the offer after doing due diligence of the property it was planning to buy.