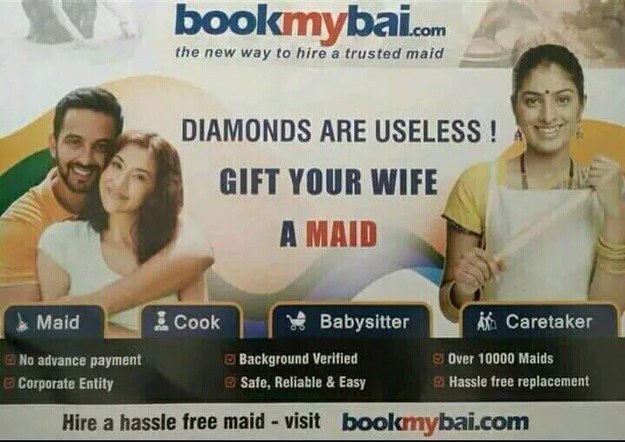 BookMyBai, an online service that allows people to find and hire domestic help, has put a blanket ban on Bollywood celebrities after the startup received multiple complaints of mistreatment. 
In a blog post, the company's co-founder Anupam Sinhal said that "BookMyBai has a blanket ban on all Bollywood celebrities" and has instructed its team not to provide domestic help to any of them.
The blog post lists out the cases and incidents but refrains from naming any of them. 
"BookMyBai has worked very closely with a lot of Bollywood celebrities and provided them with a good domestic help in Mumbai and other cities and our experience has not been less than horrendous," Sinhal said in the post. 
Sinhal alleged that over 20 Bollywood celebrities in Mumbai mistreated the domestic helps provided to them through the online platform. 
Claiming that BookMyBai has provided services to over 10,000 households, Sinhal said that the company has not come across even a single case of harassment/exploitation but it is different in the case of Bollywood celebrities.
"Fortunately, out of the 10000 households that we have served, we have not come across even a single case of harassment/exploitation. But this figure comes to a rest when it comes to providing a domestic help to a "Bollywood celebrity," he writes. 
In the case of one celebrity, Sinhal writes, that she did not let the helper go to his hometown in Bihar after his mother passed away. 
"Unfortunately the mother of the helper passed away. The helper was from Bihar and he wanted to go back to Bihar to perform the last rituals. He promised to be back after 15 days since he wanted the money to support his family. The "celebrity" called us and told us that she wont let the person go till the time we send in a replacement (sic)," Sinhal writes. 
Since it was Saturday evening and replacement could not be provided before Monday, the helper missed out on his mother's last ritual. 
In another case, the celebrity did not give food to her domestic help and "the extent of torture and harassment to the maids was so high that we replaced maids 7 times."
"Each maid worked for 7-10 days before giving up and quitting. She drives a 3 crore car. Doesn't give food to her domestic help. NO FOOD!!! Really!! Drink tea and eat bread 3 times a day," Sinhal writes. 
Talking about the third case, Sinhal says this is what "actually convinced my team that we would not deal with celebrities anymore."
"Physical abuse of the maid was almost a daily affair. As soon as we got to know, we asked the maid to leave as soon as possible. When she came to our office, we could see physical marks on her body of physical abuse," Sinhal writes. 
In case of the fourth celebrity, "her attitude towards the staff was not less than someone who is uneducated." 
"Verbal and physical abuse was a part of her daily routine. The maid got so fed up that she just absconded to her village and never came back."
In the case of another celebrity who "got multiple crores as alimony from her husband," she refused to pay the service charges.  
"Everything was fine and the maid was happy. No abuse/harassment whatsoever. However she refused to pay us our service charges."
Sinhal writes, "Initially when we were calling her for our payment, she stopped taking our calls. Later she flat-out refused to pay and said –"jo karna hai karlo!" – If I am not wrong, she got multiple crores as alimony from her husband. She infact told us that if we call her again then she would file a case of harassment and extortion with the crime branch. CRIME BRANCH! Wow!"