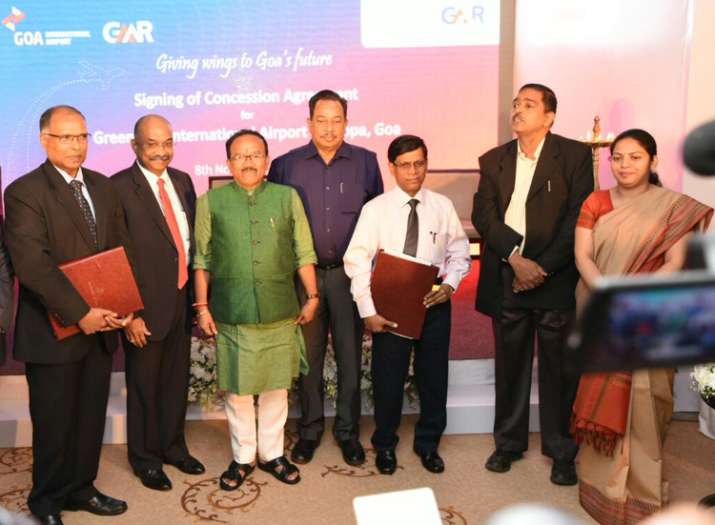 Goa government on Tuesday roped in Bengaluru-based GMR Airports, a subsidiary of GMR Infrastructure, to develop and operate greenfield airport project at Mopa in North Goa.
A concession agreement between GMR Airports and Goa government in this regard was signed today in the presence of state Chief Minister Laxmikant Parskear.
The government and GMR Airports formally signed an agreement to design, build, finance and operate the international airport for 40 years with the extension option for another 20 years.
The first phase of the project is expected to be completed by financial year 2019-20.
"GMR is proud to be associated with the new airport. I am sure this airport is going to create new landmarks in terms of performance," said Srinivas Bommidala, Chairman-Airports, GMR Group.
The company has a track record of sticking to the deadlines, he said, adding that the Mopa airport will be completed in time.
"If you see the track record of GMR group, we have built Istanbul aiport in 18 months, Delhi airport in 36 months and we are sure to deliver this in time," he said.
Bommidala said that there should not be worries about the feasibility of this airport.
"We will wait and see...Once the traffic grows there will be no issues with the viability of the airport. Across the country there is 16-18 per cent growth in the airport traffic," he said.
He also said that Mopa airport can sustain despite it being the second facility after Dabolim airport in the state.
"There are so many two airport systems in this world but actually we will have to wait and see...Considering the constraint that is at Dabolim certainly the new growth has to come to Mopa," he commented.
He said that the opposition of few people to the greenfield airport at Mopa is unwarranted as "economic benefits associated with the airport project would also benefit locals."
"If you see Delhi airport we have got contribution to state GDP by 11 per cent, millions of jobs are created, direct and indirect way. All airports are like economic engines. Most of the cities are generated around airport it is going to help people at large," Bommidala added.
(With PTI inputs)