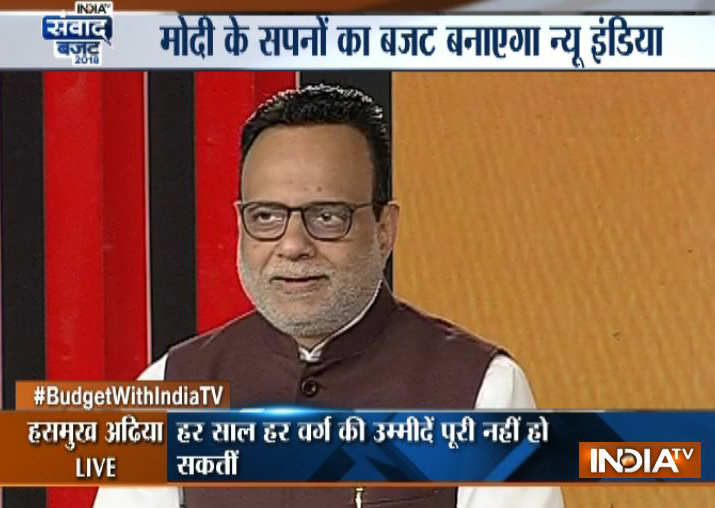 Finance Secretary Hasmukh Adhia today welcomed Finance Minister Arun Jaitley's decision to reintroduce Rs 40,000 standard deduction in personal income tax, saying 'it will benefit the middle class most'. 
Speaking at India TV's Samvaad conclave,  organised to discuss this year's Budget, he also said that announcing tax soaps in each budget is no possible. He noted that the government has already provided relaxation to people in past budgets.
"Middle class will be benefited most from Rs 40,000 standard deduction… It will also significantly benefit the pensioners and many others," he said.
"Fulfilling tax reduction expectations in every budget is not possible. In past budgets, several relaxations were announced. In last budget, the tax rate was slashed to half," he added.
When asked about why government left the personal income tax slabs unchanged, he said, "Increasing tax limits will expunge taxpayers from tax bracket. There is a big loss in this."
"It is wrong if you say that the women will be benefited only if they are exempted from the tax slab," he said.
To a question related to share market, he said that the downfall was expected after the announcement of 10 per cent long-term capital gains tax on equities.
"The reaction from share market was expected. Because of this fear, this decision was not taken in past. We were expecting reactions like this," he said.
The reaction from share market was expected after budget. Because of this fear, decision was not taken, says @adhia03 on #LTCG tax at India TV Samvaad #BudgetWithIndiaTV pic.twitter.com/P6p2S4pJlJ

— India TV (@indiatvnews) February 2, 2018
After a gap of 14 years, the government had on Thursday imposed a 10 per cent tax on long-term capital gains made in the share market. Also, 10 per cent tax has been levied on distributed income by equity oriented mutual funds. 
The Sensex today suffered its worst rout in more than two years as taxing equities torpedoed investor sentiment. The 30-share index plummeted 840 points to end at 35,066 -- its biggest single-day slump since August 24, 2015 -- while the broader NSE Nifty tanked over 250 points to finish below the 10,800-mark. Investors saw a wealth erosion of more than Rs 4.5 lakh crore as stocks went into a free-fall. 
On government's new healthcare scheme, he said that it will take at least six months' time to implement it.
"It will at least take six months' time to implement it. There will be 60:40 provision (Centre and State). Rs 2,000 cr is a token amount. Government is committed to fulfil its commitment irrespective whatever expenses it has to bear," he said.
"We are working on schemes under which the poor will need not to pay anything if they are admitted to hospitals. They will have to just show Aadhaar card… We cannot talk about Modicare in medicinal terms, looking at a lot of parameters is essential," he added.
"The ambit of Modicare is very large," the Finance Secretary opined.
Post demonetisation, Adhia said, "government collected extra Rs 90,000 crore income tax in last two years. It is a big success."