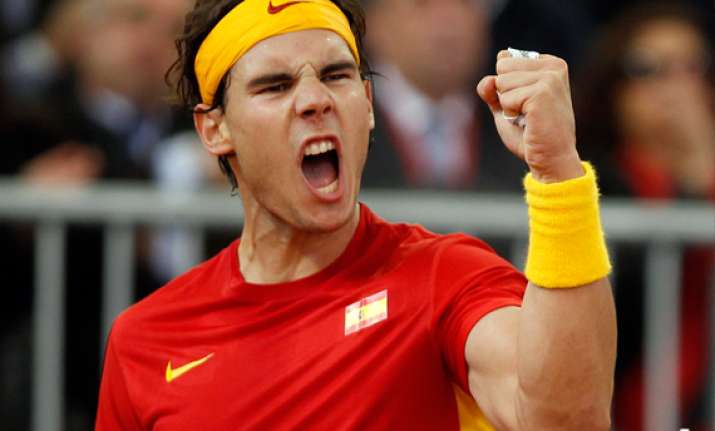 Seville, Spain, Dec 5: Fresh from helping Spain win its fifth Davis Cup, Rafael Nadal revealed that he won't play in the event next year and will instead focus on defending his gold medal at the London Olympics.

Nadal rallied to beat Juan Martin del Potro 1-6, 6-4, 6-1, 7-6 (0) on Sunday to give Spain a 3-1 series victory over Argentina and his third Davis Cup title after first winning it in 2004.
It was his 20th straight singles win as the Spaniards won for the third time in four years.

Nadal, who took gold in Beijing in 2008, said the 2012 Davis Cup is out because of his busy schedule.

"It seems impossible to play with it being an Olympic year," Nadal said. "It's quite a few years running now that I'm the player with the most games played per season. It's going to be difficult. Thank God, Spain has a wealth of talented players that can fill in and play well."

The Olympic tennis event will be on grass at the All England Club, the site of Nadal's two Wimbledon titles.

Nadal is unlikely to be the only player dropping out of the Davis Cup next year, with teammates David Ferrer, Feliciano Lopez and Fernando Verdasco all hinting they also may not be available.

"I want to be in London next year so it looks difficult," said Ferrer, who came from behind to beat Del Potro in a grueling five-set victory on Friday. "It's not going to be easy to get us four together again."

The second-ranked Nadal still expects Spain to be a contender next year. The champions open at home against Kazakhstan from Feb. 10-12.