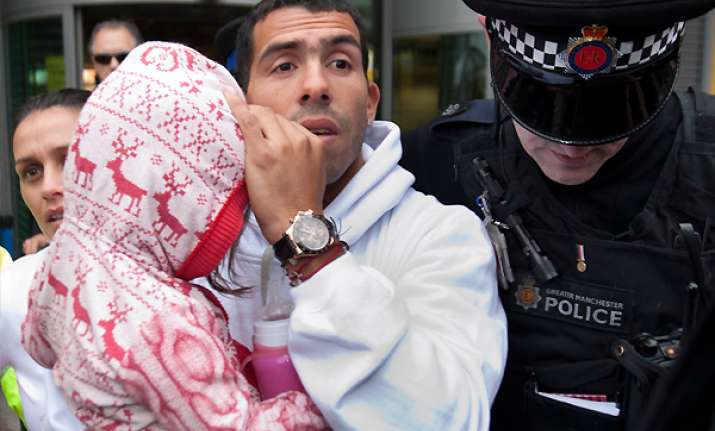 London, Feb 15: Carlos Tevez backed down in his long-running feud with Manchester City on Tuesday, returning to the Premier League leaders after a three-month unauthorized absence at home in Argentina.

After flying in from Buenos Aires, the 28-year-old striker was surrounded by police and photographers at Manchester Airport as he held one of his children.

At City's training ground, Tevez underwent medical tests to determine when he will be fit enough to return to the team he has not played for since Sept. 21. As he left the Carrington complex, fans stopped Tevez for autographs.

"All the players are excited to have Carlos ... back to help achieve our goal," City defender Joleon Lescott wrote on Twitter.

But Tevez is yet to apologize to City manager Roberto Mancini for walking out on the club, and he has not withdrawn his appeal to the Premier League to reclaim some of the 9 million pounds ($15 million) in fines or earnings that have been deducted by the club during the dispute.

Having previously had transfer requests refused, Tevez's battle with City intensified in September when he refused to warm up in a Champions League match at Bayern Munich.

"I've decided to return for personal reasons and turn around the situation and win over the fans," Tevez said on Monday. "They turned on me after what happened with Bayern because they were poorly informed."

After being suspended by City, Tevez went to Argentina in November and the club has been writing to his solicitors every week demanding he return.

While Tevez was in talks with AC Milan about a transfer in the January transfer window, City was not willing to loan him out or sell cheaply.

City wanted at least 25 million pounds for the player signed from Manchester United before the 2009-10 season for about 47 million pounds.

Having initially said it would be "impossible" to welcome Tevez back, coach Roberto Mancini's stance has since changed, saying the player could return to the team provided he apologizes for his insubordination.

Tevez has appeared in three Premier League games this season and last appeared for the club in a League Cup win over Birmingham on Sep. 21.

He was captain when City ended its 35-year trophy drought by beating Stoke 1-0 to win the FA Cup at Wembley last season.

Tevez was the equal leading scorer in the league last season, joining Manchester United striker Dimitar Berbatov on 20 goals. But City has coped in his absence, scoring 64 goals in 25 games — the most in the division.