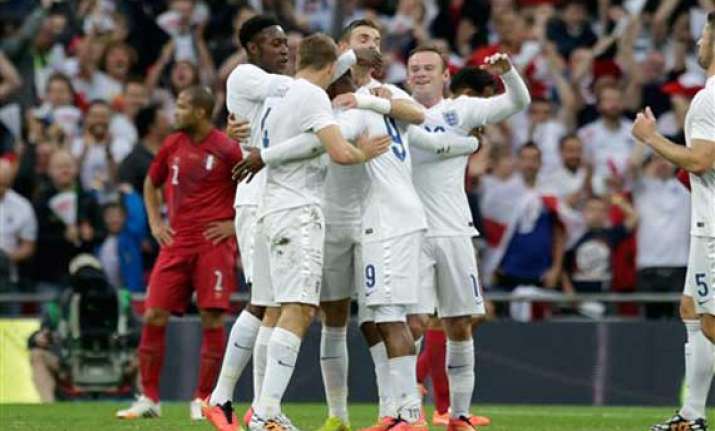 London: Underwhelming up front and uneasy at the back -- but England still signed off with a victory at Wembley Stadium before the World Cup.
Only one forward contributed a goal in the 3-0 victory over Peru on Friday, with Daniel Sturridge's deft strike in the first half breaking the dreary deadlock.   
But coach Roy Hodgson was still encouraged that his players managed to successfully exploit Peru's inability to defend set pieces to extend their lead in the second half. From two corners in a five-minute span, Gary Cahill and Phil Jagielka both netted in England's first friendly since the 23-man World Cup squad was named.   
"It didn't look as if it would be too comfortable in the first half, but as soon as Daniel scored that wonderful goal the game wasn't in doubt," Hodgson said. "To do it in front of 85,000 people was a great send-off, the atmosphere was a vote of confidence.   
"When you play against teams with 10 men behind the ball you have to be patient but I had no doubt we would win."   
England heads over the weekend to Miami to play friendlies against Ecuador and Honduras before flying onto Brazil. In the Florida sun, it will be Wayne Rooney in particular with a lot to prove after the striker failed to come close to scoring in north London.   
"We think we know where he is, how his fitness is being maintained or progressing," Hodgson said. "His attitude and commitment are first-class, even in a game of this nature. He has two more weeks to keep that going."   
Although England was in control in the first half, there were anxious moments due to sloppiness that provided openings for the ineffective Peruvians, who didn't qualify for Brazil. When Rooney conceded possession early on, Jean Deza was able to unleash a dipping shot that Joe Hart saved, one of several openings for the winger on his debut. And in the second half, defender Glen Johnson gave the ball away too easily inside his own half, allowing Andre Carrillo to break forward and release Deza to shoot.   
Peru goalkeeper Raul Fernandez at first had little to do, with the hosts taking until the 19th minute to come close to finding the target, with Sturridge dragging a shot wide. The match was so dreary that England fans made paper airplanes out of the cardboard used for a pre-match mosaic.