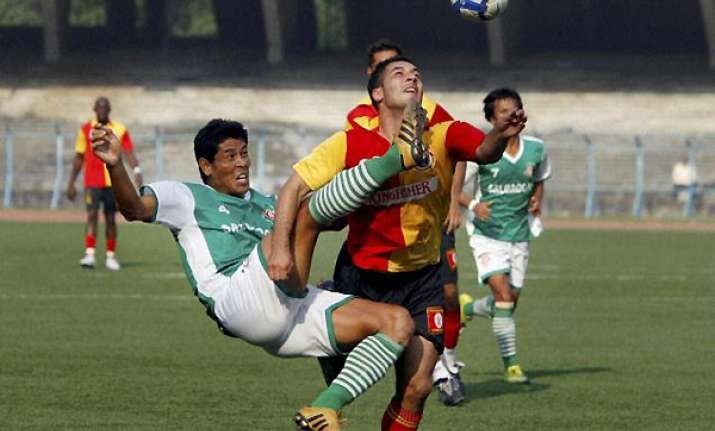 New Delhi, Oct 18: Saikat Saha Roy kept his nerve at undoubtedly the most crucial moment of his life on a football turf as East Bengal prevailed over Salgaocar 5-4 in sudden death to lift the Super Cup on Tuesday.

After Irungbam Meitei's attempt hit the crosspiece, it was Roy's strike that helped East Bengal extract revenge of their loss to the same opponent in the final of the Federation Cup last month.

The match went into the tie-breaker after both teams failed to break the deadlock in regulation time.

Edeh Chidi, Ryuji Seoka, Rocus Lamare and Rahul Kumar found the net for Salgaocar in the tie-breaker, while Tolgay Ozbey, Alan Gow, Robin Singh and Sanju Pradhan did the same for East Bengal to take the match into sudden death.

Thanks to Tuesday's triumph, East Bengal became the first team to win the tournament on three occasions.

Barring the miss by Meitei, the script remained pretty much the same in sudden death, as skipper Luciano Sabrosa, Meharajuddin Wadao, Francis Fernandes and Tomba Singh scored for the Goans, while Saha along with Sushant Mathew, Khangtang Paite, Nirmal Chetri and Uga Okpara struck for the winners.

This was the third instance of a Super Cup match going into tie-breaker.

East Bengal beat JCT in 1997, before losing to Mahindra United in 2003.

While the climax turned out to be an eventful one, the time before the referee blew the final whistle to signal the end of regulation time, was far from impressive.

What was expected to provide the much-needed entertainment after a drab Durand Cup, the match instead proved to be a damp squib with both teams not being their usual self.