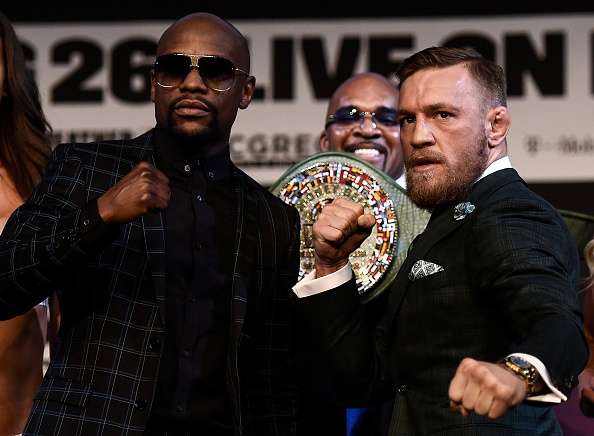 In one of the most highly anticipated and awaited matches of the millennium, the date edges closer as the world witnesses the first fight between an undefeated Lightweight boxer and an Irish MMA UFC fighter. Floyd Mayweather and Conor McGregor will go head to head at the T Mobile Arena Las Vegas, Nevada.
Mayweather and  McGregor aren't just fighting for money in the boxing spectacle of the summer, the winner also gets The Money Belt.
The World Boxing Council has created a special prize for this weekend's 154-pound showdown, which isn't actually for any real WBC championship.
Instead, WBC President Mauricio Sulaiman on Wednesday revealed the gloriously blingy Money Belt, which is studded with 3,360 diamonds, 600 sapphires, 300 emeralds and 1 1/2 kilograms of 24-karat gold on green Italian alligator leather.
Sulaiman grinningly showed off the Money Belt and Mayweather posed for photos with it after a news conference for Saturday's show.
The WBC also created a similarly shiny monstrosity for Mayweather's 2015 bout with Manny Pacquiao. Mayweather was a longtime WBC champion before his retirement.
UFC's MMA brawler Connor McGregor will take on the undefeated Floyd 'Money' Mayweather at the T Mobile Arena, Las Vegas, Nevada on August 26.
(With AP Inputs).