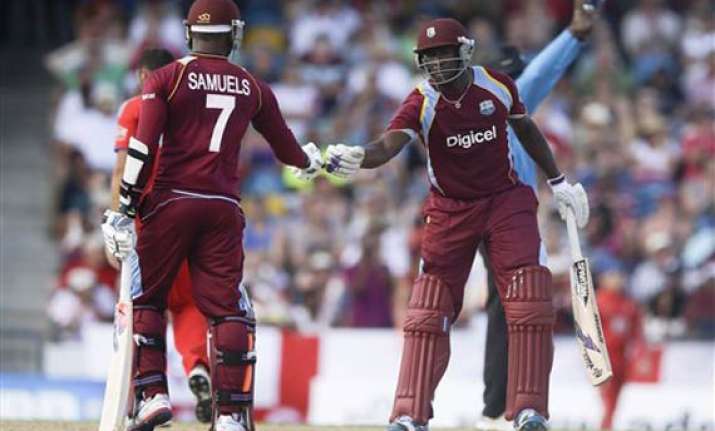 Bridgetown (Barbados): The West Indies are bracing for a backlash from England when the two teams square off in the second Twenty20 International of the three-match series at Kensington Oval here.
The Caribbean side played superbly to pull off a convincing 27-run victory in Sunday's opener, outplaying the visitors in every aspect of the game before a sold-out crowd. A win Tuesday will give the West Indies the series.
However, wicketkeeper Denesh Ramdin said Monday that they expected England to hit back strongly.
"It's a good feeling when you win cricket matches. We are a very good T20 team and have explosive guys at the top, in our lower order and with Chris Gayle back in the team, it's a boost for us," he said.
"England have won (World T20) already in the Caribbean so they aren't going to take this (defeat) lightly. They're going to come back strong. We need to come up with our 'A' game again."
Ramdin was all praise for both batting and bowling of his team in the first T20I.
"We have batters that can chase down any scores and we have bowlers who can defend decent targets. The Sunil Narines, Dwayne Bravos, Ravi Rampauls have been in tremendous form for the last 6-7 months for us. Our batting has been letting us down but in this format, once all the guys get going, you know how dangerous they are," said the Trinidadian.
Ramdin, who has come under fire recently for his form with the bat, answered his critics with a maiden one-day century last week. He said he had been working hard at his fitness in order to improve his batting.
"It is always good as a batsman to go out there and get runs. I will put it down to a lot of hard work but no one sees the hard work you do, just the results at the end. To keep 50 overs and then go and bat is very difficult. I'm trying to work a lot more in the gym and get fitter and stronger and hopefully I can carry on for a few more years."
England captain Stuart Broad, who will miss the rest of the series with injury, said his side needed to improve.
"West Indies outplayed us, there is no doubt about that. We shouldn't let that take away from what we have done in the last couple of weeks and we have got time to improve in the next two games. We were pretty happy with 170, maybe it was a touch over par but we never got going with the bat. You need one of your top-3 to get in and that hasn't happened for a while," he said.
The all-rounder said he was struggling with Patellar tendinitis and would miss the remaining matches.
"I've got Patellar tendinitis in my right knee. I've had it all winter. It's just been a managing thing all winter. But obviously the workload has been quite heavy and it's gradually got a little bit worse," said Broad, who only bowled two overs and showed visible signs of discomfort while batting Sunday's.
"I caught my knee in the sand in (one-day series) Antigua which has brought a lot of fluid into it. So there's not much movement in there and I'll be missing the next two T20s to have an injection to get right for the warm-up games in Bangladesh."
Broad is expected to lead England in the World T20 later this month. England are clubbed with South Africa, Sri Lanka and New Zealand in Group I of the March 16-April 6 tournament.
"I'll have to have a rehab period at some stage in the next 12 months between six to 10 weeks. But there's a decent period at the end of the English season which I can look at probably or maybe four weeks in April. But it won't put me in doubt for the World T20."