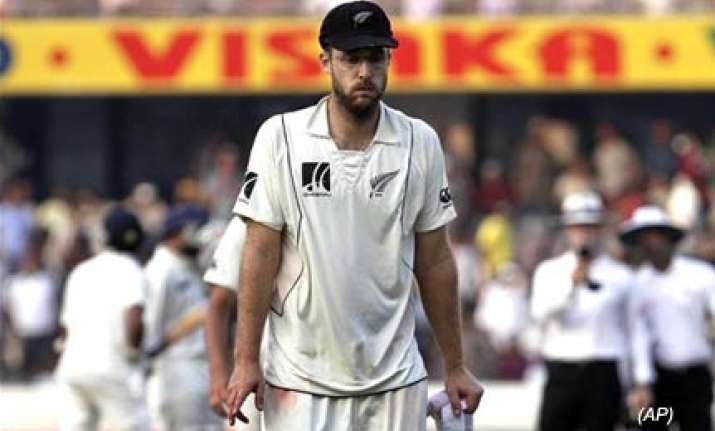 Hyderabad, Nov 16: New Zealand once again proved a point by denying India a win for the second time in the three-match series, but skipper Daniel Vettori was not content with the result, and has his eyes trained on the third Test.
"We have come here to win the Test series. Hopefully, in Nagpur, we can put ourselves in situation from where we can force a win," Vettori said after the second Test at the Rajiv Gandhi International ended in a draw here today.
"We are looking for ways to improve. We know they are going to come back stronger but we still got a chance to win the series.
"Expectations are with India as they are the number one ranked side in the world and it's not difficult to compete with them with all their stars," Vettori said.
New Zealand had India in a bit of spot on the second day of the Hyderabad Test after Ojha was run out, but Harbhajan Singh's 105-partnership with number 11 Sreesanth took the game away from them.
In the first Test at Motera, the visitors were on the brink of recording a famous victory but Harbhajan, in the company of VVS Laxman, spoilt the party.
"Before that stand they were 200 for seven, I think, that was a bit disappointing," Vettori said referring to the first Test.
"We have plans for Harbhajan but that's not working. Sehwag, as we all know, is also very dangerous," he said.
On a track on which the bowlers struggled to get any purchase, Vettori dismissed five Indian batsmen, including the one of Sachin Tendulkar, with his subtle variation.
"It had little for the bowlers. It was a lot of hard work for them and I had a lot of difficulty picking up five wickets," he said.
With a lead of just 115 runs at the start of day five, New Zealand couldn't afford to lose wicket at the start, and Vettori was pleased that they didn't.
"We wanted to see of the first half and hour. And wanted to see if Zaheer would bowl; his absence didn't help India."
On his team's performance in the series after the whitewash in an ODI series in Bangladesh, Vettori said, "We are extremely pleased. The team has responded exceptionally well after the Bangladesh series. Especially the openers - Brendon McCullum and Tim McIntosh -- in this Test."
"(Kane) Williamson and (Jesse) Ryder did the job for us in the first Test, while McCullum and McIntosh did very well here." PTI