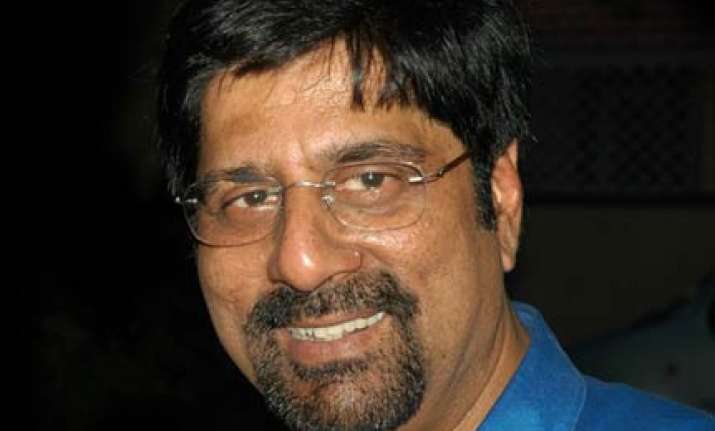 Paying rich tribute to Sachin Tendulkar, who completes 20 glorious years in international cricket tomorrow, chief selector Krishnamachari Srikkanth on Saturday described the champion Indian batsman as the "most popular cricketer in the world".
Srikkanth feels that Tendulkar has achieved so much in his illustrious career because of his humbleness, simplicity and sheer dedication to the game.
"Sachin is a dedicated player. It is not a common thing in cricket to achieve so much in 20 years' time. He occupies top spot among the best in world cricket and perhaps the most popular cricketer in the game among the past and present stars in world cricket," Srikkanth said.
"His humbleness and simplicity has helped him to achieve what others could not. His dedication is one of the main reasons for his achievements and he is role model to up and coming youngsters. In India every youngster who is in to school or college cricket wants to become a Sachin," he added.
Srikkanth, who was the skipper when Tendulkar made his Test debut against Pakistan in Karachi on November 15, 1989, said he still remembers what he had told the young prodigy two decades ago.
'I distinctly remember his debut. On the day he made his debut, I told him, 'Sachin, you do not bother about anything around you. Go and play your natural game and I assure you you will play in all four matches'. After that what he did was there for all to see," he said.
"Sachin is bestowed with good reflection and the manner in which he converts difficult and good length deliveries to the ropes has always been remarkable. His passion towards the game is distinct and trade mark, which had withstood him for two decades," said Srikkanth.
Srikkanth believes Tendulkar's grit and single-minded devotion towards the sport made him what he is and wished the master batsman achieves much more in the days to come.
His feat despite getting injured with blood stains on his shirt and helping India to draw the series is now history. But people talk about each of his achievements, which show his popularity," he said.
"All these speak about his single minded devotion to stay at the wicket for as much overs as possible. I am sure the lovers of the game in India await much more achievements from Sachin in the years to come," he added. PTI