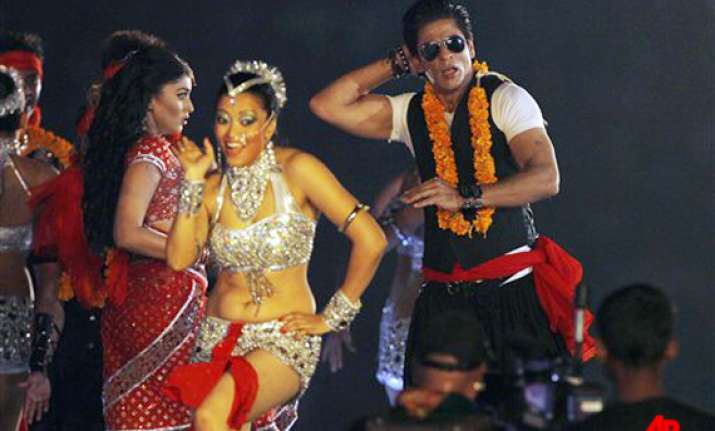 Chennai, Apr 8: A spectacular and vibrant opening ceremony, showcasing a huge dash of Bollywoood-style entertainment, today marked the launch of the fourth edition of the IPL, the Twenty20 extravaganza which has gained immense popularity since its inception.

The evening sky over the M A Chidambaram stadium lit up with dazzling fireworks as BCCI President Shashank Manohar declared the cash-rich event open amidst thunderous cheers from a capacity crowd.

Some of the world's leading cricketers, including star Indian players who led the country to a historic World Cup triumph last week, will feature in the fourth edition of the event, being held for the first time without its brainchild Lalit Modi.

The controversial Modi was sacked as IPL Chairman immediately after the third edition and is facing charges of irregularities in conducting the IPL.




The highlight of the show was a dance performance by Bollywood superstar Shah Rukh Khan, who is also co-owner of the Kolkata Knight Riders. He enthralled the huge gathering by dancing on some famous numbers from his flicks such as 'Chak-de India' and 'Billu'.

The one-hour ceremony started with all the 10 captains signing the MCC spirit of cricket banner.

While all the captains were cheered as they came to the podium, the loudest applause was reserved for Indian captains Mahendra Singh Dhoni, Sachin Tendulkar and Yuvraj Singh, the Man-of-the-tournament in the World Cup.

After a brief speech by Chairman of the IPL Governing Council Chirayu Amin, it was turn of BCCI President Manohar to address the huge gathering.

"Congratulations to the Indian team for winning the World Cup. We acknowledge the effort of the boys, the support staff, the management and all the fans. Now we have two generation of World Cup heroes, each brilliant in its own rights," Manohar said.

The BCCI President welcomed the two new entrants to the League and expressed hope that the new edition will produce more memorable moments.

"I take this opportunity to welcome two new teams Kochi Tuskers Kerala and Pune Warriors. Over the past three years, IPL has featured the best cricketing talent, legends along with upcoming players who were unknown to the audience," Manohar said.

"In 2011, we hope to see some great performances. We hope to create new cricketing memory governed by superb sportsmanship and spirit of the game," Manohar said while concluding his speech and declared the mega event open.

His speech was followed by a performance by the famous Prince Dance Group. The groups of dancers, painted from head to toe in saffron, green and white, the colours of the Indian flag, put up a nicely co-ordinated show with sounds and lights.

It was followed by a percussion show by Taufiq Qureishi's Mumbai Stamp and then came the singing trio of Mansai, Sona and Akriti, who sang 'Aa Dekhen Zara' from yesteryears' hit movie 'Rocky'.

Hit Bollywood singers Kunal Ganjawala and Sunidhi Chauhan took spotlight with some of their chart busters and the ceremony finally concluded with Shah Rukh Khan's performance.

Shah Rukh entertained the crowd by saying a few lines in local language Tamil and his dance show also included some magic. PTI