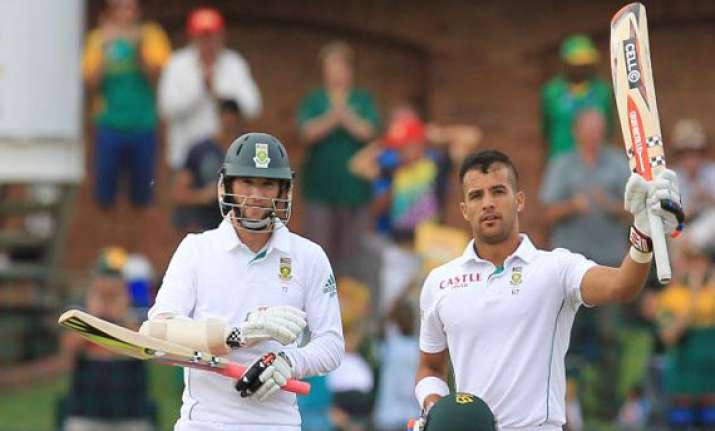 Port Elizabeth: Scoreboard on Friday at stumps on the second day of the second cricket test between South Africa and Australia at St. George's Park:
South Africa 1st Innings
Graeme Smith lbw b Harris 9
Dean Elgar
c Harris b Lyon 83
Hashim Amla
lbw b Johnson 0
Faf du Plessis
c Smith b Lyon 55
AB de Villiers c and b Lyon 116
Quinton de Kock
c sub (Henriques) b Smith 7
JP Duminy
lbw b Lyon 123
Vernon Philander c and b Clarke 6
Wayne Parnell c Haddin b Lyon 10
Dale Steyn
not out 4
Morne Morkel run out (Smith/Haddin) 1
Extras: (4b, 4lb, 1w) 9
TOTAL: (all out) 423
Overs: 150.5
Fall of wickets: 1-10, 2-11, 3-123, 4-181, 5-200, 6-349, 7-378, 8-413, 9-420.
Bowling: Ryan Harris 27-6-63-1, Mitchell Johnson 25-5-70-1 (1w), Peter Siddle 34-9-96-0, Nathan Lyon 46-7-130-5, David Warner 3-0-10-0,
Steve Smith
8-0-30-1, Michael Clarke 7.5-2-16-1.
Australia 1st Innings
Chris Rogers lbw b Philander 5
David Warner not out 65
Alex Doolan c De Villiers b Parnell 8
Shaun Marsh c De Villiers b Parnell 0
Michael Clarke c Elgar b Philander 19
Nathan Lyon not out 12
Extras: (3lb) 3
TOTAL: (for 4 wickets) 112
Overs: 25.
Fall of wickets: 1-7, 2-41, 3-41, 4-81.
Still to bat: Steve Smith, Brad Haddin, Mitchell Johnson, Ryan Harris, Peter Siddle.
Bowling: Dale Steyn 6-1-33-0, Vernon Philander 6-0-26-2, Morne Morkel 7-0-31-0, Wayne Parnell 6-2-19-2.
Toss: South Africa.
Umpires: Kumar Dharmasena, Sri Lanka, and Richard Illingworth, England.
TV umpire: Aleem Dar, Pakistan. Match referee: Roshan Mahanama, Sri Lanka.