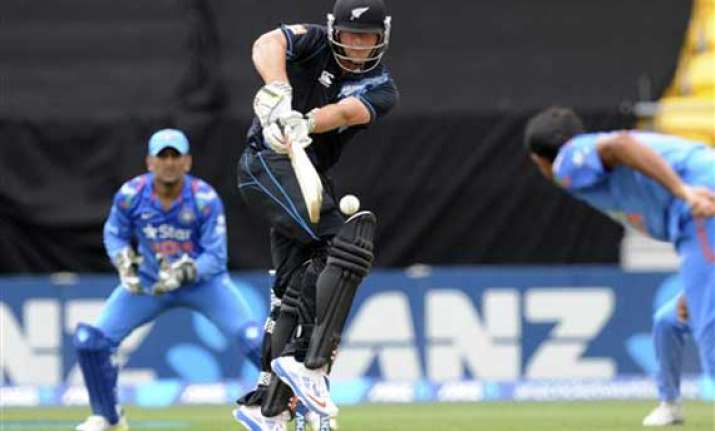 Wellington, New Zealand: New Zealand players Jesse Ryder and Doug Bracewell have been fined for drinking until the early hours of the morning before the first test against India and New Zealand Cricket has hinted their selection chances may have been harmed.
Batsman Ryder and fast bowler Bracewell were seen drinking in Auckland bars until around 3 a.m. on the first day of the test last Thursday. Bracewell arrived at Eden Park with a broken bone in his foot, the cause of which has not been explained.   
NZC head of operations Lindsay Crocker said the players accepted a charge of misconduct and were fined a confidential amount.   
Crocker said the larger consequence for the players may be the damage to their relationship with national coach Mike Hesson and selection manager Bruce Edgar.   
"The New Zealand selectors place great emphasis on qualities such as personal responsibility, trustworthiness and dependability and will continue to do so with our encouragement," Crocker said.   
"All players in contention for the Black Caps need to satisfy the selectors of their commitment to prepare conscientiously for international fixtures."   
The behavior of Ryder and Bracewell has already been strongly condemned by Hesson who expressed anger their conduct drew attention from New Zealand's test victory. Hesson indicated his trust in both players had been damaged.   
"We need to make sure all our players prepare themselves accordingly for test cricket and at the moment we don't have confidence that that's the case," Hesson said.   
Ryder has already been dropped from the squad for the second test which starts at Wellington's Basin Reserve on Friday. Bracewell was also omitted from the squad because of his foot injury.   
Hesson is due to name a 13-man second test squad later Tuesday and on Sunday will name a 15-man squad for the World Twenty20 in Bangladesh next month. If Ryder is not included in that squad, it will be clear he is not being considered for selection at least temporarily.   
NZC has been criticized in the past for its lenient approach to repeated breaches of team discipline by Ryder and, more recently, by Bracewell.   
Both players were suspended for one match in February 2012 after becoming involved in an altercation with bar patrons after a one-day match against South Africa in Napier.
Ryder then took an almost two-year break from test cricket to tackle personal and fitness issues, including a continuing battle with alcohol. He returned to the New Zealand team after 22 months for its one-day international series against West Indies in December and January.
In 2008, Ryder seriously cut his hand after punching a toilet window in a Christchurch bar and at other times he has been sanctioned for arriving late for team meetings and training sessions.   
During his absence from the New Zealand team he was suspended for six months after failing a doping test and in March last year he was seriously injured in an assault outside a Christchurch bar.   
Bracewell missed New Zealand's home test series against England last year after cutting his feet on broken glass while cleaning up after a party at his home.