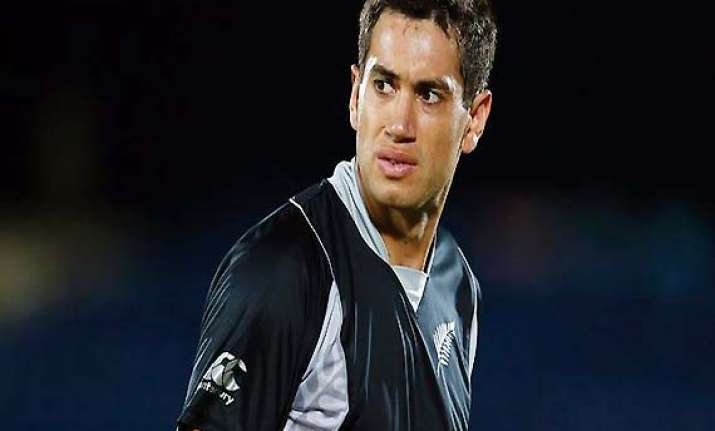 Wellington, Dec 7: Ross Taylor made himself unavailable for New Zealand's cricket tour to South Africa this month after being fired as national captain and replaced by Brendon McCullum.
New Zealand Cricket chief executive David White announced the move at a news conference in Auckland on Friday, saying Taylor rejected an offer to remain as test captain while allowing McCullum to lead the team in one-day and Twenty20 internationals.
McCullum's appointment as New Zealand's 28th test captain comes after Taylor scored a century and half century to lead New Zealand to a drought-breaking test victory over Sri Lanka in Sri Lanka. New Zealand had previously lost six-straight tests under Taylor.
Taylor's firing also follows a reported breakdown in his relationship with new head coach Mike Hesson.
Hesson, who is a personal friend of McCullum, has been head coach for fewer than three months and has repeatedly refused to express confidence in Taylor's captaincy.
Taylor was reportedly asked to step down from the captaincy before New Zealand's tour to Sri Lanka began but refused to do so. He was then told he would be removed from the position when the tour ended.
After winning the second test and drawing the two-test series, New Zealand Cricket approached Taylor and offered to allow him to remain as test captain but he refused.
Taylor said on Friday he would now take a break from cricket, but expected to be available for New Zealand's home series against England early next year.
Friday's move may further strain already deep divisions within New Zealand cricket. While Taylor didn't enjoy the full support of the New Zealand dressing room, his treatment by Hesson and New Zealand Cricket is not expected to win the approval of his teammates or fans.
Hesson is an unproven international coach, having been awarded the New Zealand role after only months as Kenya's coach. The New Zealander quit that role over fears for the security of his family.
White attempted on Friday to avoid any suggestion that Taylor had been fired. He said instead that his removal was the result of his own decision to reject the proposal of a shared captaincy with McCullum.
White said Hesson's assessment "was that he wanted to share the captaincy workload. He thought the best environment for Ross to develop his captaincy was in the tests."
White said he met with Taylor and his manager for three hours on Thursday, hoping to reach a resolution of the captaincy issue but Taylor was unwilling to compromise.
He and Taylor had looked "at a number of options, including just to play in the tests" in South Africa. He thought long and hard about it but felt he needed a break.
"It's not ideal and we would be a stronger team with Ross in it. But we respect his wishes," White said.
White said he did not believe Taylor had lost the support of his teammates.
"I don't believe he lost the dressing room. He is well respected," he said.