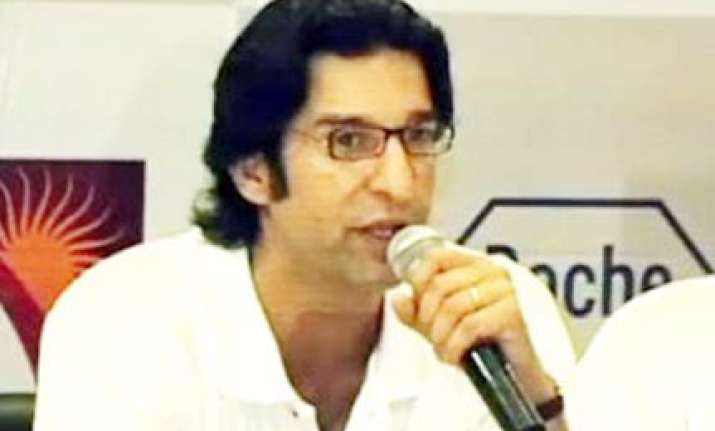 Karachi: Former captains Wasim Akram and Ramiz Raja have blamed the Pakistan Cricket Board's poor management for the spot-fixing scandal that surrounded the team during its tour of England.
Akram said clearly there was lack of leadership in the Pakistan Cricket Board and he would not blame the players for the mess they find themselves in.
"I don't see lack of leadership in the national team but in the cricket board, " he said.
He pointed out that knowing how tough a tour to England was, the board should have been prepared for any eventuality and told the team management to be ready for such a situation.
Akram, however, praised ODI and Twenty20 skipper Shahid Afridi and said he had proven himself to be a good leader by picking up the team in very trying circumstances.
"He picked up the team's morale when the English media was after us and he did a good job of it, " Akram said.
Raja also said that whenever Pakistan toured England, there were controversies created by the media and the Board and team management should have educated the players about how to be prepared for such situations.
"Unfortunately the opponents of Pakistan cricket had been waiting for a long time for a controversy like spot-fixing to come about and they are now taking full advantage of it in trying to damage our cricket, " Raja said.
He also praised Shahid Afridi for improving the dressing room atmosphere and lifting the team to do its best for the country in very difficult circumstances.
Former captain and senior batsman Younus Khan said the western media wanted to give the impression that the future of Pakistan cricket was very bleak and dark.
"They don't realise this but Pakistan cricket's future is bright but the board also has to take steps to ensure that people don't lose interest in the sport like it has happened with other sports, " he said.
Fast bowler Shoaib Akhtar, meanwhile, expressed confidence in the leadership of Afridi pointing out that he had taken charge and managed the team like the head of a family.
"It was not an easy task for him but he managed it well. He also encouraged me to play in the last two one-day matches despite me suffering from a side strain, " he said.