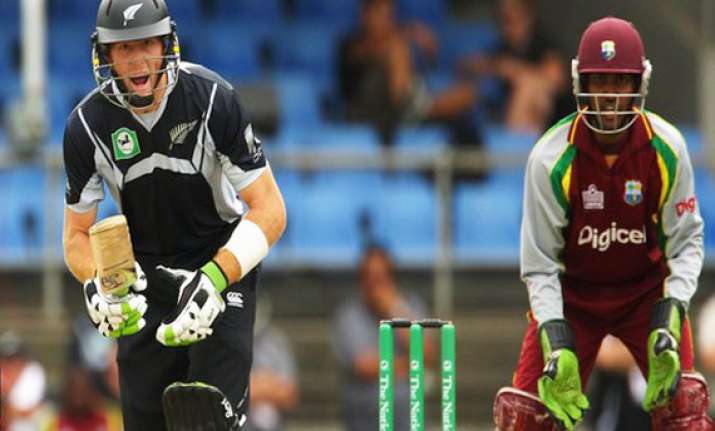 Lauderhill, Florida30 Jun:
Cricket's ambitious attempts to crack the United States market will be renewed when New Zealand and the West Indies meet in two Twenty20 internationals in Florida this weekend.
Two years on from New Zealand's mini-series against Sri Lanka in the U.S., organizers are hoping this weekend's games will provide a better spectacle on an improved batting wicket from the slow and low pitch used in 2010.
The presence of a large Caribbean expat community in Florida should also produce a larger crowd at Central Broward Regional Park Cricket Stadium than that seen in 2010.
Chris Gayle
will be the star attraction for local West Indies fans; returned to the national team fold after having patched up his troubled relationship with the West Indies Cricket Board.
"We have a lot of supporters here and it is clear they are excited to see us come and play in America," Gayle said Friday. "It would be really nice to start with a win for them, for the people back home, and all our fans."
Considered the most explosive opener in the T20 format, Gayle is coming off of a phenomenal season in the lucrative Indian Premier League (
IPL
), where he has been plying his trade during his absence from the national team.
Fans will also get a glimpse of the Trinidadian mystery bowler,
Sunil Narine
, in T20 colors. Narine was instrumental in Delhi Daredevils capturing the IPL title.
New Zealand will be below strength, missing Daniel Vettori, Jesse Ryder, Brendon McCullum and James Franklin, but does have the benefit of having six players returning from the squad that played in the U.S. in 2010.
The likely slow pitch should also keep the scoring relatively low and make for a tight contest.
For the local organizers, Broward County and the city of Lauderhill, this weekend's games are a litmus test on the future of international cricket here.
The cricket stadium, built around 2000, was expected to provide a much-needed financial boost to the local economy.
Those plans were dealt a severe blow in 2007 when the organizers failed in their bid to host a few games of the Cricket World Cup that year.
Since then the local voices opposing the stadium have grown stronger.
Former USA Cricket president, Dr. Atul Rai, says efforts to gain a toehold in the U.S. market have also been undermined by a lack of cohesion.
"I am not sure to whom this event is being catered to," Rai said. "There is a clear disconnect between the administration of USA Cricket (USACA) and the local stakeholders.
"Until that is resolved by bringing some sense of democracy into the USACA administration, this will be another wasted exercise not to mention the millions of dollars spent on two farcical games."
However, a better wicket and bigger crowd than that of 2010 should go some way toward giving cricket a beach-head in the Floridian market.
"We're excited about the potential impact of this (T20) series on the development and growth of cricket in the USA," said David White, New Zealand Cricket chief executive.