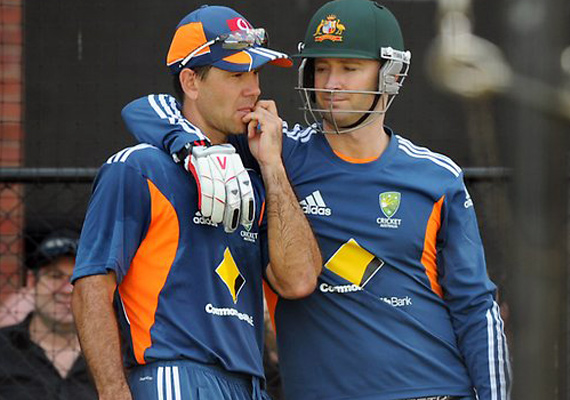 Melbourne, Feb 23: Australian skipper Michael Clarke on Wednesday said it will be a "weird" and "strange" feeling when he will walk out in Hobart to play against Sri Lanka without Ricky Ponting, who he says is "giant of the game".

Selectors have pushed Ponting to retirement from the One-day format.

The match against Sri Lanka on Friday will be first when Australia will play a One-day without Ponting, the two time World Cup winning skipper.

"It's going to be a weird feeling walking onto Hobart's Blundstone Arena on Friday without Ricky Ponting. He has been such an important fixture of Australian cricket from the time I was still at school. It's going to be strange when I look around the field during our one-day match against Sri Lanka and can't see him there," Clarke wrote in his column for 'Daily Telegraph'.

"Ricky mightn't be the biggest bloke in the world but he is a giant of the game. Statistics don't lie over a long period and no one in Australian cricket has come close to achieving what he has done."

Clarke said Ponting's sacking was a big message to the young cricketers in the side.

"Absolutely everyone is on notice. If Ricky Ponting can be dropped after such a magnificent one-day career then the simple message is perform or perish," he wrote.

Clarke also explained the influence of Ponting on his on-field life.

"We have played more than 200 one-day matches together and he has been such a big part of my cricketing life. There have been many times we have batted together in the limited overs game and I am delighted he has decided to keep playing Test cricket so our partnerships can continue.

"His experience and knowledge of the game is a driving force in our quest to be ranked the number one Test nation again. Ironically perhaps I played my first game for Australia without Ricky in the side," he wrote.

Clarke the recalled the time when he got a chance to play for Australia and how Ponting was connected with that.

"He rested in Adelaide, which gave me the honour of playing in Australian colours for the first time. If Ricky had not stood aside in that match I may never have been given the opportunity to play one-day cricket for Australia.

Clarke paid a tribute to Ponting's career, full of achievements.

"To be second in the world behind Sachin Tendulkar as the leading run-scorer in the one-day game is rare company. And it's not just Ricky's batting which has made him a stand-out cricketer.

Ever at the age of 37 he remains one of the best fieldsmen in the world. That is not only a testament to his ability but his work ethic to maintain such high standards."