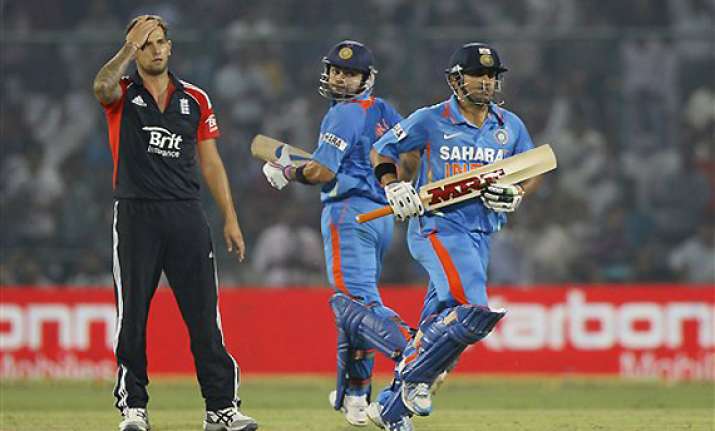 Dubai, Oct 18: Team India has moved ahead of England to fourth position in ICC ODI rankings after taking a 2-0 lead in the ongoing five match series.

England had started the series in fourth position on 113 ratings points but has now slipped to 110 ratings points whereas India has jumped from 112 to 115 ratings points.

However, England can still finish in the pre-series fourth position, provided it wins the remaining three matches in the series.

In contrast, world champions India just need to win one more match to not only secure the series but also the number-four position.

If it clinches a 5-0 series win and South Africa loses its opening two matches against Australia, India will even rise to third place in the table, just one rating point behind second-placed Sri Lanka.

South Africa has an opportunity to draw level with Australia in the Reliance ICC ODI Championship table when the two sides go head to head in a three-ODI series which starts at Centurion from Wednesday.

South Africa currently sits in third position on 116 ratings points while Australia is 14 ratings points ahead in top position. However, things will change if the Proteas wins all the three matches of the series.

If South Africa win the series 3-0, it will join Australia on 124 ratings points but will be placed below by a fraction of a point. However, if the series result is reversed, then Michael Clarke's side will rise to 133 ratings points while Hashim Amla's side will drop to 111 ratings points after conceding five ratings points.