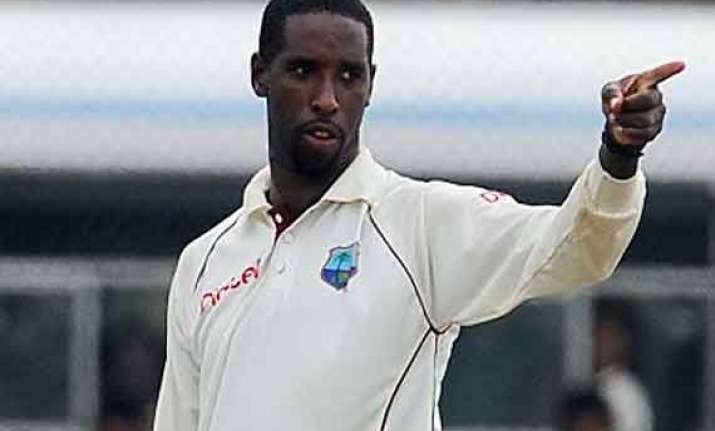 Kolkata: He may be the unknown commodity to the Indians but West Indies off-spinner Shane Shillingford says that he had plans to fox the home side players with his guile in the upcoming two-Test series.
Asked about the homework he had done for the Indian batsmen who are good players of spin, Shillingford said, "Once you're spinning, you have to study the batsman".
"I think that's what makes a good spinner. A lot of consistency and patience. Definitely, we are aware of Indian batsmen's strength to play spin bowling. They love to use their feet. I'm looking forward to play here," Shillingford told reporters on the sidelines of their first practice session in India today.
On the prospect of bowling at retiring Indian batsman Sachin Tendulkar, Shillingford said, "Certainly, it's a great privilege to play against the master of cricket. I enjoy watching him play.
"But our plan is obviously to go out there and win. I'm sure he would like to get some runs but we have our plans as a team. Our goal here is just to win."
Shillingford has been picked ahead of
Sunil Narine
, the mystery Windies off-spinner who is known for his exploits in the
IPL
with the Kolkata Knight Riders.
But Shillingford, who has taken 361 wickets in 82 first class cricket with an impressive average of just 23.06, is a confident man.
"I've been there a few years ago but not too long ago with the team. We have got some experience so there's a lot to earn," he said.
"No matter how many games I play I just want to give my best. It's obviously something that you pick up everyday."
Boasting a height of more than six feet, he appears to be a pacer but Shillingford said he inherited the spin bowling from his family.
"Basically it's because of my background. I've inherited spin bowling from my family. My dad bowls spin, so is my brother. I am just passing it on," he said why he took up spin.
"As a bowler, you look at the batsmen's weakness and try your best to work on that."
Asked about difference between bowling in Test and T20, he said, "Obviously both are different formats. You get more time in a Test to work on a batsman whereas you just have four overs in T20.
"The more you can be defensive the more you can be attacking in a T20. It's a matter of getting to your four overs and bowling to your plan," said the 30-year-old.
"Batsmen will always play their shots. The more aggressive they become the more the chances to get wickets."
He named Sri Lankan spin wizard Muttiah Muralitharan as his favourite spinner.
"I've met him but never discussed about cricket. I just played against him and exchanged a few words."