Follow us on New Delhi: He focuses on glamorous and intricately-crafted clothes in the prat, diffusion and couture categories but now designer Raakesh Agarvwal added new chapter in his design career by launching his denim wear line at the ongoing spring summer edition of Wills Lifestyle India Fashion Week (WIFW).
The designer was inspired to get into the denim wear line after attending a music festival.
"I went to Ozora music festival and I noticed that people there are so involved in music that some of them don't change their clothes for many days. There were lot of people in tarted and distressed denims. So this season I have launched my denim line which has been made of mill fabric. They are high end denim fabrics," Agarvwal told IANS on the sidelines of WIFW.
"My love for denim is obvious from the fact that I always wear denim. It is very close to my heart. I also wanted to launch my ready to wear line and I don't think my ready to wear line is complete without denim," he added.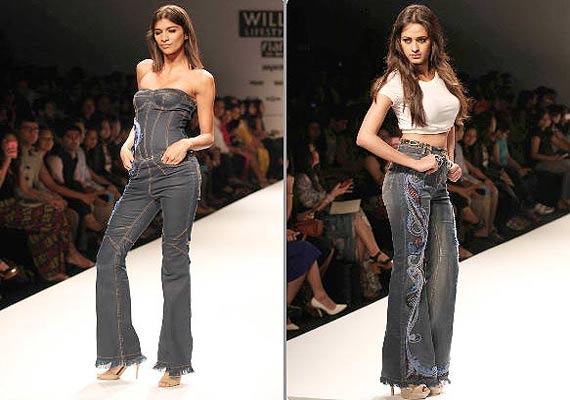 The collection had lot of distressed denim followed by white distressed pieces with lot of colour on it. The designer teamed them up with free flowy tops with lot of fringing work to achieve an elegant look.
The designer said that he is already in talks with various factories for his denim range.
"I am also in talks with factories to do the licensing now and they will distribute for me," he said.
Apart from denim wear range, Agarvwal has also gone back to his initial years of his design career to revisit his collection of 2008 and 2009 and give it a feel of 2014. There were lot of chiffon gowns, free flowing dresses and jumpsuits with intricate cuts and smart detailing.
"The whole collection was little flashback for me. I have revisited my own collection from 2008 and 2009 archives. I have revisited lot of chiffon and other things in this collection as well. It was a collection that was based out of previous time but has been given a contemporary fit in 2014," Agarvwal told IANS.
According to him, the highpoint of the collection was its wearabilty.
"There were jumpsuits made of 30 meter fabric... then there were gowns of 40 meter fabric. The entire collection is so light that when a women will wear it, she will feel as if she is wearing hardly anything. The world is moving towards lightness so I am also doing the same. Also, each denim is made in 400 gm and 500 gm," he said.
The music of the show was not dramatic compared to his previous shows as Agarvwal wanted people to focus on his collection especially his denim wear range than music.
All in all, there were 24 outfits in the show.