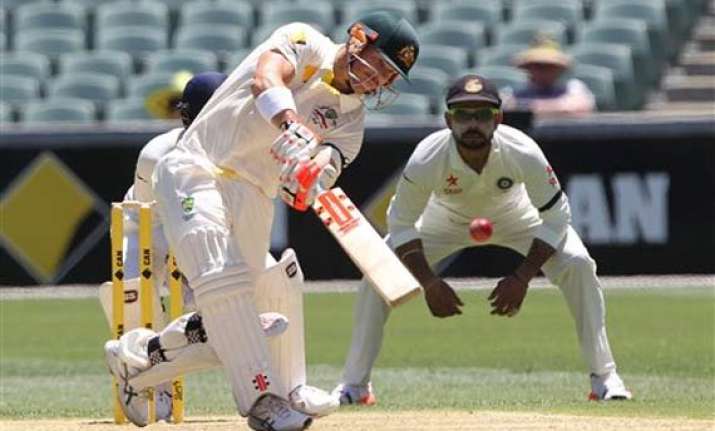 Adelaide, Australia: Opening batsman David Warner hit five boundaries off the first 10 balls he faced Tuesday en route to an unbeaten half century as Australia went to lunch at 113-2 on the opening day of the first cricket test against India.
Warner was on 77 at the break at the Adelaide Oval with captain Michael Clarke unbeaten on 9. Clarke appeared to show no ill effects from his recent hamstring injuries.
The match began with a tribute to Phillip Hughes, who died Nov. 27 from injuries sustained from a short-pitched delivery in a domestic match at the Sydney Cricket Ground.
Warner was on the field with Hughes that day and he began his innings looking determined to offer a personal memorial to Hughes, scoring his first 37 runs from 20 balls.
Opener Chris Rogers was out for 9 and Shane Watson was dismissed on 14, both off loose shots that were caught at second slip by Shikhar Dhawan off Ishant Sharma and Varun Aaron respectively.
Warner brought up his 14th test 50 off 45 balls with consecutive boundaries off Aaron in the 15th over. He hit nine boundaries in the morning session.
Warner also faced the first bouncer of the match off the first ball of the fourth over, a 145-kph (90 mph) delivery from Aaron, India's quickest bowler. Warner ducked away from the delivery without problem.
When Warner reached 63 — the same score Hughes was on when he was fatally injured, Warner looked up to the sky.
Australia brought up its 50 runs from 45 balls in 36 minutes thanks to Warner's early spurt after Clarke won the toss and elected to bat, but lost its first wicket without scoring another run after Rogers departed.
New batsman Watson was greeted with a first-ball bouncer from Sharma and in the 14th over survived a vocal lbw appeal by India.
Virat Kohli, standing in as India captain for the injured M.S. Dhoni, said he would have batted if he won the toss.
The Adelaide match was supposed to start three days later on Friday, but was moved up after the first scheduled test at Brisbane was postponed and shifted due to Hughes' death. The Brisbane match, now the second in the series, will begin on Dec. 17.
On Tuesday, there were about 20,000 spectators at the 50,000-seat Adelaide Oval.
India's continued criticism of the Decision Review System meant the technology will not be used in the four-test series.