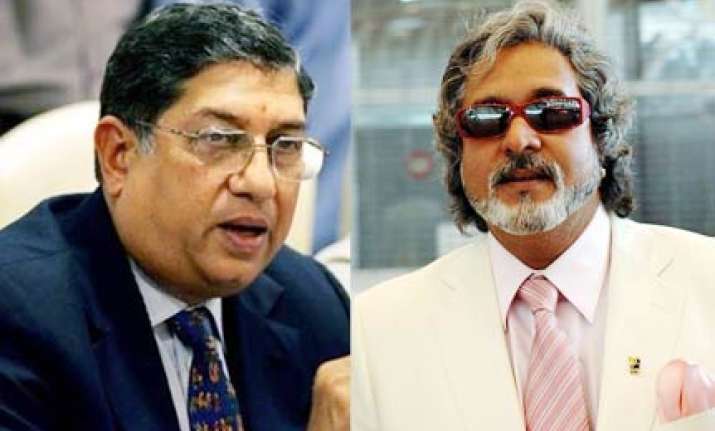 New Delhi, Oct 11: The BCCI today dismissed reports that its Secretary N Srinivasan had sent messages to Indian Premier League franchises, allegedly asking them to align with the Board.
In the wake of media reports that Srinivasan purportedly sent text messages to
IPL
owners, asking them to align with the Board or be prepared to face the "taste of its medicine", the BCCI issued a statement saying, "The Board would like to clarify that no such messages have been sent from his (Srinivasan's) mobile."
"The BCCI has just received information that some messages, allegedly sent from Mr N Srinivasan's cellphone to the IPL franchisees, are being circulated and talked about by the media.
"This is clearly a case of foul play, and complaints to that effect are being lodged with the concerned Mobile phone service, and the Police, for immediate action," BCCI Chief Administrative Officer Ratnakar Shetty said through the statement.
The purported text message from Srinivasan's phone had said, "As we have been saying, please align yourself with us. Or else everyone will get the same taste of the medicine we have given today to Rajasthan Royals and Kings XI Punjab. Owners should not think they are above the BCCI.
"You should be happy we allow you to participate. We know how to clip your wings and we will run the IPL the way we want to. After all, it is our property. You can either be a part of it or we can find a way for you to get out. We will throw Lalit Modi and anyone attached with him. So best avoid talking to him."
Meanwhile, Srinivasan himself dismissed the reports and said he feared it could be a case of cyber crime.
"You see, I am complaining to cyber crime department of the police. Somebody has hacked my service provider or whatever. I haven't sent any message, 100 per cent. Somebody, you can all know, is attacking me," he said.
"Just now I got to know about this, so I am complaining to the police. Obviously you know I have some credibility, I am a reputed industrialist, would I send some stupid messages?" he asked.
BCCI had yesterday terminated first edition's champions Rajasthan team and the Punjab side from the IPL on alleged breach of franchise agreement by them.
The Board had also issued notice to the newly-inducted Kochi team asking them to resolve all their internal disputes within 10 days. PTI