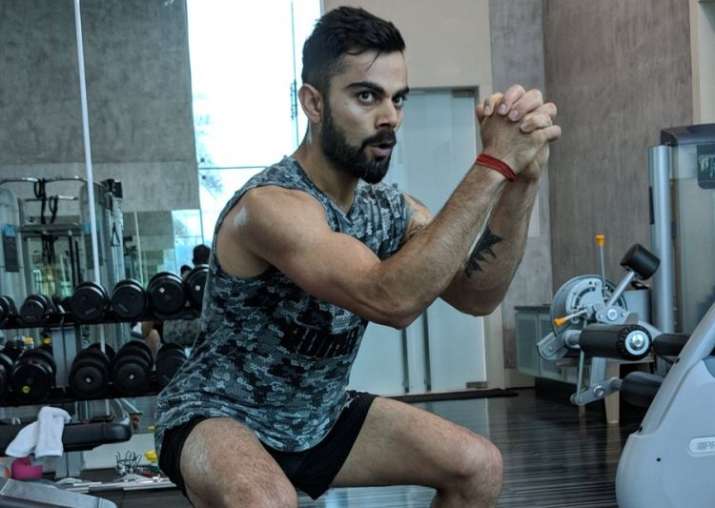 After recovering from a neck injury and comfortably clearing the YoYo test on Friday, captain Virat Kohli was spotted at a gym on Tuesday, sweating hard to strengthen his lower body ahead of India's tour of England starting July 3. Former Australia vice-captain David Warner, who is currently serving a 12-month ban for his involvement in the ball tampering scandal in March, was seen impressed with Kohli's workout.  
Under the captaincy of Kohli, India will tour England for three ODIs, five Tests and three T20Is. Before the tough challenge, the men-in-blue will be seen in action against Ireland in a two-match series, starting June 27 at The Village, Dublin.
"Today's session included a lot of band work for lower body strengthening; including lateral band walk, monster walk and then striding a distance of 80 meters x 12 repetitions at speed of 16km/hr on treadmill. 15-second break between each stride and completing 2 sets of 12," Kohli captioned his pictures on Instagram.
Watching the 'beast' in action, Warner couldn't resist complimenting Kohli for his biceps. "Legs look toned mate; what about those biceps, you can hit them out of Chinnaswammy now," Warner commented on the post.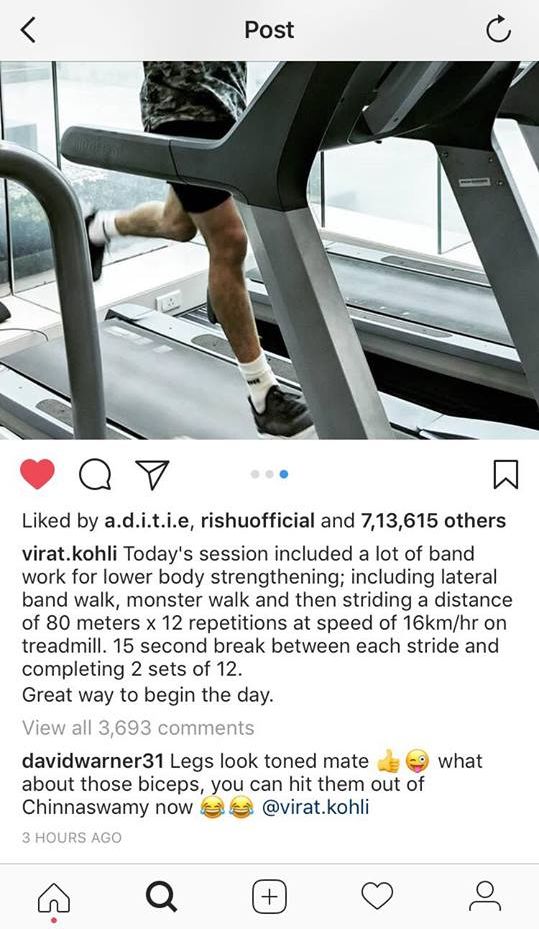 The UK-bound limited overs specialist were on Friday summoned at the National Cricket Academy (NCA) for the customary YoYo Test with Kohli, MS Dhoni, Bhuvneshwar Kumar taking the test in the first batch.  Kohli didn't look in any discomfort while taking the advanced beep test as he matched Dhoni step for step along with Bhuvneshwar, Kedar Jadhav and Suresh Raina.
Earlier, the neck injury which he sustained during the IPL had thrown Kohli's build-up for the UK tour in haywire as he had to pull out of a planned stint with Surrey in the County Championship this month.