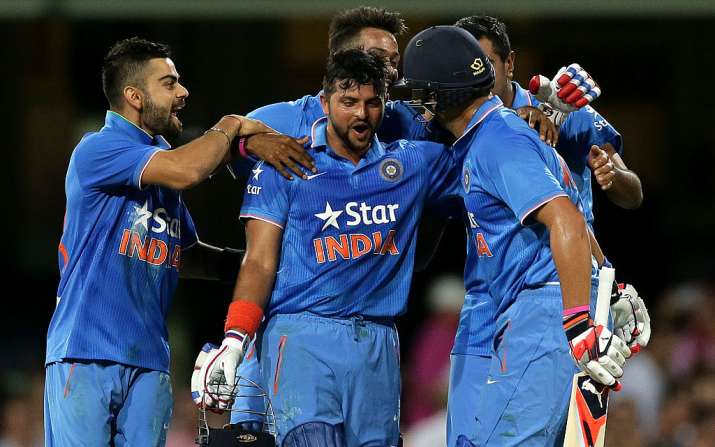 T20 specialist and Uttar Pradesh swashbuckler, Suresh Raina has made a return to the Indian team after a year and is glad to be back playing alongside the Virat Kohli led Team India in the three-match T20I series against South Africa. Raina, who failed the yo-yo test was dropped by BCCI which led to young talent fill the gaps which left the left-hand batsmen out of favour. However, Raina stated that he received plenty of support from his family, Team India head coach Ravi Shastri and skipper Virat Kohli during his troublesome days.
The left-hand swashbuckler eventually passed the yo-yo test and said that he slogged a lot to get back into the Indian squad. Over a period of two years, Raina's return makes him feel like it will be his maiden performance in an Indian jersey as the power-hitter is included in the T20I squad vs South Africa where the first match will be held at the New Wanderers Stadium, Johannesburg on February 18.
"I have worked really hard for the last two years and coming to back to the Indian team, it feels like I am playing for the first time in the Indian jersey," Raina toldBCCI.TV. "I am very happy to be back and I have played a good amount of domestic cricket to get myself in the zone. I am looking forward to the game tomorrow."
Raina's statements cry out the palpable energy and the desire to step onto the pitch and do what he loves doing best, smashing. The middle-order batsman said that the hunger to sport an Indian jersey once again was his motivation as he thought about it day and night.
"I am a very positive person," he says. "The wait to get back into the team made me tougher and hungrier. Each and every lap I ran during training, I was only thinking about the day I will comeback and represent my country. 
Raina mentioned that during his troublesome days, the left-handed batsman received plethora of encouragement from his family members, Team India head coach Shastri and skipper Kohli and now with the chance provided, he aims to get back to winning ways with the Men in Blue.
"When I didn't get a chance, I was very strong mentally and got a lot of support from my family. I got a lot of support from our Head Coach Ravi Shastri alongside with captain Virat Kohli. When someone is down, but you have people like them supporting you, it feels great. I wanted to get back to winning ways and this T20I series might well be the beginning. 
Raina's life took a huge turn when he ultimately passed the yo-yo test. His performances in the Ranji Trophy grabbed plenty of attention and later was retained by IPL franchise Chennai Super Kings in the 11th edition of the league which leads him to now as he makes a comeback into the Indian squad after a year.
Raina is confident and is ready to let the bat do the talking on the field as he aims to make a name once again as a T20 specialist.
"Whenever you represent your country, that desire is always there to perform. I am very blessed to have mad a comeback. I am getting a good feel of things at the moment. I want to win games for my country and that is my dream at the moment. I want to go out there and express myself. I have worked hard on my game and waited for my chance to come. I am confident and will make the most of it." 
The first T20I of the three-match series between India and South Africa will be played on February 18 at the New Wanderers Stadium, Johannesburg.