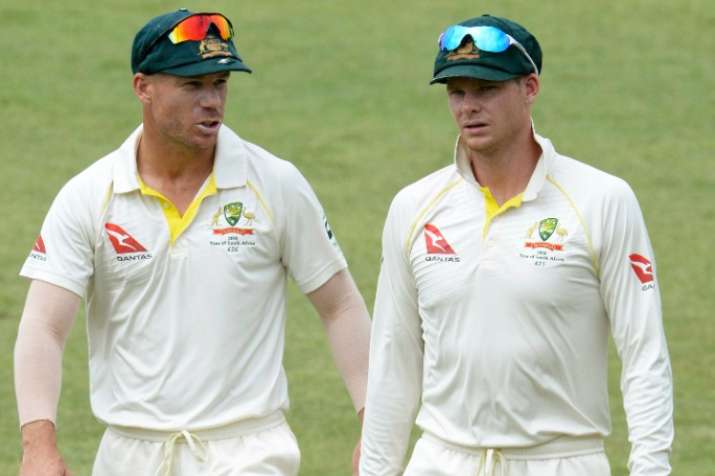 Former Australian batsman Michael Hussey expects Steve Smith and David Warner to walk directly into the Australian World Cup squad by the time they serve their 12-month bans after the duo were banned by Cricket Australia. The trio of Smith, Warner and Cameron Bancroft were a part of the ball-tampering saga which went down earlier this year during a four-match Test series between Australia and South Africa and since then, the Australian cricket team's performances have been dreadful.
The trio are making a steady progress since their suspensions as the former Australian leaders signed up for the Global Canada T20 League. 
Coming to the Tim Paine led Australian cricket team, the ODI stats and performances have gone from bad to worse as they have won just 2 out of 15 One Day Internationals since the new year. 
Australia recently suffered their worst ever defeat after England posted the highest-ever total in men's ODI cricket, creating more loopholes in the ODI squad all the more glaring.
READ: MY HARDEST DAYS IN CRICKET - TIM PAINE
Looking at the positive side, Hussey feels that the quality that Smith and Warner possess, should give them a direct entry into the World Cup squad which will be hosted in England next year. 
"It's hard to say so far out, but the quality of player they are you probably would say they are (walk-up selections)," Hussey said on The Unplayable Podcast, according to cric.com.au.
"As long as they do everything right in the lead up; they're in good touch skills-wise, they're in good fitness, no injury concerns and they've done all the right things preparation-wise and behavioural-wise as well, then you'd have to think they'd come straight back in because they're such quality players. 
Smith and Warner signed up to take part in the inaugural Global T200 Canada League which should be as a source of practice. Warner will also be seen in the Caribbean Premier League, sporting the St Lucia Stars' jersey.
"They've been quality players for such a long period of time, they've had success at the highest level and are important players for Australia. I think they probably do (return) as long as they tick all the boxes along the way."
The duo's suspension will be lifted in March next year, giving them a two-month gap to prepare for the World Cup. However, Hussey cites concern that the pair of Smith and Warner have not played an ODI match since 2017. 
"It (the World Cup) is not a long time away and that's the one thing that does concern me," Hussey said. 
"Leading into a World Cup year, you want to have continuity with your team, you want to get the guys playing together, getting the understanding, the communication out in the middle, knowing their roles very well and feeling comfortable around each other and that's what England have been able to do. 
"That's why I think they'll go into the World Cup as favourites because they have such a settled team and they've been playing together for quite a period of time now. 
"Now Australia's not going to have that luxury. 
Hussey's concerns are not just about Smith and Warner as the former batsman feels that a Tim Paine led Australia might not be the solution CA are looking for after their dreadful performance against England in the five-match ODI series which Australia lost 0-3 and two matches yet to be played. 
"We're going to have some quality players coming back in but they're not going to have much time to really build that continuity and communication between the group."
Australia have plenty of work to ahead if they are to successfully defend their World Cup title which they won in 2015.