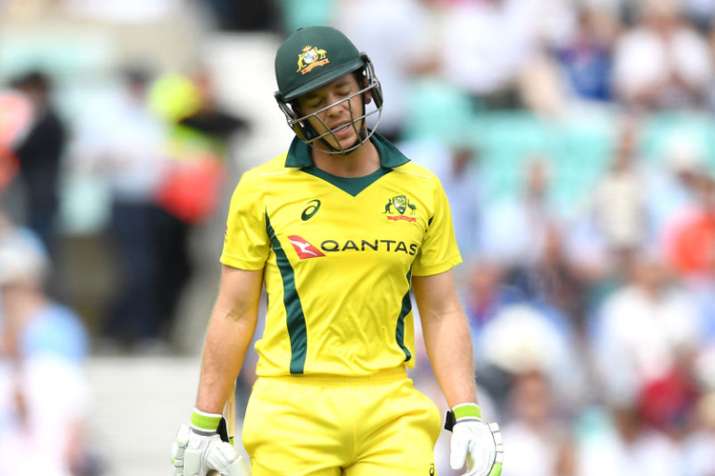 Australian skipper Tim Paine has admitted that he was left despondent after his side slumped to a shocking 242-run defeat at the hands of England in the third ODI to go down 0-3 in the five-match series at the Trent Bridge.
England extended their own record in one-day international cricket by 37 runs after smashing the highest-ever total of 481-6 as they beat Australia. Australia were bowled out for 239 with 13 overs to spare - their biggest ODI defeat in terms of runs and England's largest ODI win.
Alex Hales (147), Jonny Bairstow (139) and Jason Roy (82) were the highest scorers for the hosts.
Clearly disappointed with the team's performance, Paine admitted that it was the "hardest day of his entire cricketing career".
"I've been playing cricket since I was a kid and that is the hardest day's cricket of my life. Everything we tried didn't work and everything they tried came off," news.com.au quoted Paine, as saying.
The newly-appointed captain, however, said that he has no regrets about his choice while insisting that the decision has nothing to do with the defeat.
"I don't think conditions or the wicket had anything to do with that result. We just ran into some guys that are red-hot at the moment and they put us to the sword a bit. The wicket was still terrific when we batted on it as well. We just didn't execute well," he said.
Meanwhile, the cricket fraternity also reacted to Australia's crushing defeat against England.
Taking to his Twitter handle, former Australian spinner Shane Warne expressed his disappointment at the defeat.
"Just woke up and saw the score in England. What the hell happened over there & what is going on boys? Gulp.....," Warne tweeted.
Just woke up and saw the score in England. What the hell happened over there & what is going on boys ? Gulp.....

— Shane Warne (@ShaneWarne) June 19, 2018
However, former Australian batsman David Hussey congratulated Alex Hales for his fine performance in the match.
"Oh dear! Not a good scorecard to wake up to if you're an Aussie. Congrats @AlexHales1, once again you show that you're a fine player especially @TrentBridge #500notfaraway," Hussey tweeted.
Oh dear! Not a good scorecard to wake up to if you're an Aussie. Congrats @AlexHales1, once again you show that you're a fine player especially @TrentBridge #500notfaraway

— David Hussey (@DavidHussey29) June 19, 2018
Australia have already lost the series and will be looking for some redemption when they play their fourth ODI against England at the Riverside Ground on June 21. (ANI)