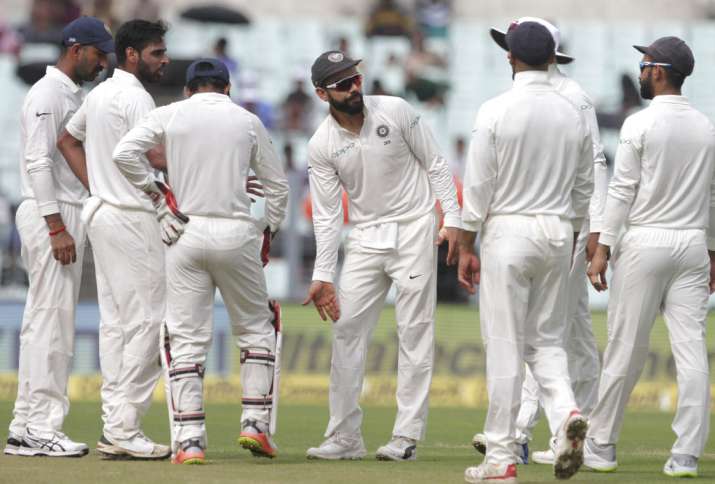 Good finish to the day for India who have been having a difficult time in this Test match. The hosts struggled with the bat for a major part of the innings and till the second session today, seemed to be on the back foot with the ball. Umesh Yadav was the one who brought his team back into the game, with wickets of Thirimanne and Mathews. Bhuvi and Shami could not quite provide consistent breaks and the others had no answer to the counter-attack initiated by Thirimanne and Mathews.
However, there is still a glimmer of hope for India that they can force a result. Draw is the most likely outcome but if Sri Lanka can get a sizeable lead tomorrow, say around 150, then they could be in with a great chance for their first Test win in India. The home side will have to try and bowl out the Lankans before Lunch tomorrow to keep the match even. A lead close to 50 could be very crucial on this sort of a pitch. Day 4 begins at 0915 local again (0345 GMT). The forecast is supposedly better for the remaining two days. Hope we get a full day's play. Adios! Take Care! (SCORECARD)
HIGHLIGHTS, INDIA VS SRI LANKA, 1ST TEST, DAY 3 at KOLKATA
16.15 IST: Thirimanne believes that he got an unplayable delivery after reaching a half century but is disappointed that he and Mathews could not go on and score a century. Expects the conditions and the pitch to be same tomorrow. On the high run rate maintained by Sri Lanka, he says that during the team meeting, the talk has always been to SCORE RUNS as even if you play through the day but do not score, victory will not be achieved.
16.08 IST: Official STUMPS ON DAY 3. SL 165/4 in 45.4 overs, trail India (172) by 7 runs
16.04 IST: Going off for the moment. The umpires get together, have a chat but the two batsmen are almost on the road to the pavillion. They do wait for the official signal while a pensive Kohli and his team are stationary. Now they walk off as well without complaining. No rocket science, the bowling team will want to bowl at this stage while the batting side will not want to face.
16.00 IST: Now Chandimal is down. Could be because he is hurt after that dive. Could be because he just wants to waste some time with the clouds come in. Could be because he is feeling thirsty and wants a drink. Finally, we can get on with the game now.
15.58 IST: A full toss, swinging in, a surprised Dickwella pushes it to the off side. SL 158/4 in 45 overs
Skipper Kohli will complete the over. Only a ball to be bowled.
Mohammed Shami is going off. Hamstring? Cramps? Not sure. Don't think India will be hurt too much as of now. But if it is a serious issue, this could be a big blow. Meanwhile, the captain comes on to bowl the pending delivery.
15.56 IST: FOUR! ELEGANT! Full and outside off, Dickwella leans and drives it through mid off and cover. Not a soul moves. The deficit does move though, down to 14. SL 158/4 in 44.4 overs
15.53 IST: The birthday boy Chandimal is not getting any presents from the Indian bowlers. Outside off, comes back in from a length, Chandimal is late to pick it and just pushes at the ball in defense. Completely beaten. SL 152/4 in 44 overs
Drinks break. India have bounced back well after the tea break by removing both the settled batsmen in quick time. They will look to keep picking wickets in the next hour as well. Sri Lanka still trail by 22 runs and would be hoping for a fight from their lower middle order. The conditions once again are becoming conducive for the pacers and it will be a real test.
15.45 IST: 150 comes up for Sri Lanka as they're nearly closing in on the target. SL 150/4 in 43 overs
15.43 IST: FOUR! Back of a length delivery on middle, angling down the leg side, Dickwella gets on top of the bounce and eases it down to fine leg for a boundary. The fielder in the deep was very square and had no chance of cutting it off. SL 148 in 42.4 overs
15.41 IST: Chandimal plays on a defensive stand as Bhuvneshwar concedes one of the over. SL143/4 in 42 overs
15.34 IST: Too close for comfort! Dickwella saves himself by using the technology. Yadav digs in a well-directed short ball, around leg as the delivery hits the shoulder and into the hands of the fielder. SL 141/4 in 41 overs
15.29 IST: This is exceptional bowling. Shami is displaying his range. Cooks an inswinger this time. Lands it on a length around off, Chandimal tries to defend it by getting forward but it nips back in to cut him into half. Beats the inside edge and heads over the sticks to the keeper. Lovely over. SL 138/4 in 40 overs
15.21 IST: OUT! Poor, very poor from Mathews. He is dejected with himself as he walks back to the pavilion. Yadav with yet another wicket and both the settled batsmen for Sri Lanka are back in the pavilion. SL 138/4 in 38.5 overs
15.15 IST: FIFTY! Uppish but safe! Short in length and around off, Mathews nicely gets on top of the bounce and pulls it across the line. It's aerial but well wide of Pujara at mid-wicket. He stretched both his hands out but was never in contention of taking the catch. 28th Test fifty for Angelo Mathews and it has come at a crucial time. He was going through a lean phase and Sri Lanka will hope that this innings will break the deadlock. SL 138/3 in 33 overs
Dinesh Chandimal is the new batsman.
15.11 IST: OUT! Fantastic catch by Virat Kohli! Yadav speeds in from around the wicket and hurls across a back of a length delivery around off. It straightens a hint as it reaches the batsman who tries to push inside the line. Gets a thick outside edge towards second slip where Kohli stretches down low to his left and snaps an excellent catch. He bangs the ball on the turf to let out his frustration as Yadav roars in delight. End of a fine knock by Thirimanne. Sri Lanka trail by 39 runs. SL 133/3 in 36.2 overs
15.08 IST: EDGED, FOUR! Lucky runs for Mathews. Shami cannot believe his luck. An excellent delivery, on a good length around off, shaping back in, Mathews gets back to defend but fails to cover the line and movement entirely. It kisses the outside half of the bat and flies right through the gap between second slip and gully. SL 133/2 in 36 overs
Ravindra Jadeja is warming up.
15.04 IST: Good piece of fielding by Shami in the deep. A length ball on middle and leg, Mathews tucks it off his pads through backward square leg and it races through. Shami sprints across to his left from fine leg and shows great football skills to kick it out before the rope. Saves a run for his side. SL 129/2 in 35 overs
14.59 IST: FOUR! Boom! A cracking shot by Mathews. He fetches a short ball from outside off and plays a crunching pull shot over mid-wicket for a boundary. SL 124/2 in 34 overs
14.56 IST: Fifth Test fifty for Thirimanne! Important knock for him at this stage of his career. He was dropped on 27 by Dhawan and is making India pay for that. Short in length and outside off, Thirimanne stands tall and slams it to deep point for one. A quiet celebration from him, he knows that the job is not done yet. Sri Lanka trail by 50 runs. SL 119/2 in 33.2 overs
14.55 IST: FOUR! Confidently driven. Yadav dishes out a full-length delivery outside off, Angelo presses forward and drives it through the gap at covers for a boundary. SL 118/2 in 33 overs
14.51 IST: MAIDEN Peach of a delivery! Shami lets in a length delivery around off, angling in and nipping away after kissing the deck, Mathews cannot do much about it. Feels for it and gets beaten. SL 113/2 in 32 overs
14.45 IST: We're back for the final session. 39 overs left in the day's play and it's going to be an important phase of this Test match. If the current pair manages to survive the session, Sri Lankan will find themselves in a very good position. India will be hoping to create inroads and keep this game open. Let's see how it goes. They are beginning with the pace and swing of Mohammed Shami. Here we go...
Day 3, third session...
14.35 IST: 
At Tea on Day 3 of the 1st Test, Sri Lanka are 113/2, trail India (172) by 59 runs #INDvSL pic.twitter.com/mvigWNvv8W

— BCCI (@BCCI) November 18, 2017
14.32 IST: This pitch is one where a batsman is never in. So it is never too late to make a comeback as the game is more often than not, not out of hands unless it is beyond bounds. As Geoffrey Boycott says, read the score with 2 wickets added - which means if India look at this as 113/4 with a not-so-strong lower middle order to come, they can still turn the tables over. However, they need to be sure they themselves do not get frustrated with the edges not going to hand. Join us back at 1445 local (0915 GMT) for the final session. The over rate has been appalling from both sides and 39 overs are still left for the day, in a zone where it gets dark pretty quickly as the sun goes down...
14.28 IST: The saying goes - 'Numbers don't lie'. Let us just tweak that saying a little bit. They are not giving us the right information at the moment. India have conceded runs at 3.64 an over, with Shami going at more than 4.6. However, there have been numerous occasions where the batsmen have played and missed, got squared up and the ball going off the outside edge. There was a dropped catch off Thirimanne when he was on 27 and now he is on 48.
14.25 IST: Sri Lanka's session, to say the least. The first in this match where a batting side has been on top. Batting certainly has not been easy but Thirimanne and Mathews have done well. Their stand is worth 79, which is the score at which India had lost Pujara's wicket this morning.
Tea Break
14.24 IST: Umesh Yadav to bowl probably the last over before Tea.
14.22 IST: Good over by Ashwin as he ties the batsmen down with a good length. SL 112/2 in 30 overs
14.20 IST: Bhuvneshwar Kumar is going off the field. He just asked Nigel Llong about the time left for Tea. Not much, probably 5-6 minutes. Just get the feeling that even Shami is not 100 percent himself. Not quite good for a fielding captain when your main strike bowlers are a bit uneasy and the third one is not making life that easy for you as a skipper.
14.16 IST: On a good length around off, Mathews pokes at it, getting squared up. The ball goes off the outside edge, does not carry but this time it is blocked. Kohli has brought the man at gully towards third slip. Ask Michael Vaughan the importance of runs through slip towards third man in Test cricket. Ask Michael Holding who never gets bored of counting the runs through third man in a Test match. SL 110/2 in 28.1 overs
14.12 IST: Mathews has received another warning, this time from umpire Llong, for running on the wicket. He has already got one before from Joel Wilson. Not the smartest of moves, especially with his team scheduled to bat last on this wicket. Unless they bat only once.
14.07 IST: FOUR! Ashwin's delivery hit for a four out of the blue. SL 106/2 in 26.2 overs
14.00 IST: FOUR! Good shot played by Thirimanne on the pads and 100 comes up for Sri Lanka. Mathews and Thirimanne's partnership is going well for the visitors as they trail by 71 runs. SL 101/2 in 25 overs
13.56 IST: Kohli brings on the spinners and R Ashwin steps up to give the new ball a go on a seamer-friendly track.
13.52 IST: Goold alignment by Bhuvneshwar as he bowls full length and Mathews plays on a defensive mode. SL 91/2 in 23 overs
13.49 IST: FOUR! Mathews plays through the covers and shifts momentum on Umesh's short delivery. SL 89/2 in 21.2 overs
13.48 IST: Fifty partnership comes for Mathews and Thirimanne 
13.41 IST: FOUR! Angelo gets back in his crease to play a leg shot on Shami's delivery. SL 80/2 in 20.4 overs
13.33 IST: DROPPED! Finally Umesh gets one right but his teammate does not support him. Dhawan mishandles the catch at slip position and Mathews gets lucky. SL 74/2 in 18 overs
13.29 IST: FOUR!  Kohli applauds. Shami nearly gets a breakthrough. On a length outside off, Mathews stays back to defend but is squared up. The ball kicks off the surface, deviates a touch and goes off the outside edge past second slip through the vacant third slip region. Would not have carried anyway. SL 72/2 in 16.5 overs
13.21 IST: FOUR! Short and wide outside off, Thirimanne intentionally throws his bat at it. Does not get the desired region, which might have been point but it flies over the slips to third man. SL 60/2 in 15.3 overs
13.14 IST: FOUR! A classic cover drive to an overpitched delivery outside off. Thirimanne didn't try to hit it hard. Just leaned into his shot and pierced the gap. Beautiful stroke for a boundary. SL 55/2 in 14.5 overs
13.09 IST: FOUR! Not in any control! Sharp delivery, a touch short and around leg, Thirimanne gets back to play at it but it takes his gloves and runs wide of the diving keeper for a boundary at fine leg. 50 up for Sri Lanka!. SL 51/2 in 13.4 overs
13.02 IST: Umesh Yadav gives the new ball a try and concedes a run of the over. SL 45/2 in 12 overs
12.52 IST: FOUR! Impeccable drive by Thirimanne as he pushes forward and sweetly hits Shami's delivery for a boundary. SL 40/2 in 9.5 overs
12.48 IST: Huge shout for an lbw. Not given. The batsmen cross, Nigel Llong signals a leg bye and Kohli takes the DRS after talking with his bowler. The ball is just going over the stumps. SL 35/2 in 9 overs
12.45 IST: Shami is leaving the field.
12.37 IST: OUT! One shot too many! Sadeera Samarawickrama once again looked promising in his little knock, just like his debut game. Plenty of talent but he needs to get smart with his shot selection. Trying too many things too early in his innings. SL 34/2 in 6.3 overs
12.27 IST: OUT! Sri Lanka have lost their first wicket and this time Bhuvneshwar's gets his man. Dimuth Karunaratane is sent back to the hut. SL 30/1 in 5 overs
12.20 IST: Five runs! Sadeera plays it with soft hands towards mid on and sets off for a sharp single. Ashwin attacks the ball, collects it and has a shy at the bowler's end. He misses and it gets deflected off Samarawickrama. Beats Jadeja backing up and races away to the fence. SL 25/0 in 3.2 overs
12.14 IST: FOUR! This young man is timing his shots brilliantly. Kumar errs in his line and bowls a length ball around middle and leg. Samarawickrama flicks it beautifully through backward square leg for a boundary. SL 18/0 in 2.5 overs
12.07 IST: FOUR! Sri Lanka are away! Bhuvneshwar operates with three slips and a short leg. Serves a full length ball on off, swinging back in after landing, Sadeera flicks it from the inner half of the bat through mid-wicket. Ashwin gives it the chase, a slow chase and then tries to slide to pull it back. A bit lazy in this and the ball meets the fence. SL 4/0 in 0.1 overs
The Sri Lankan openers Sadeera Samarawickrama and Dimuth Karunaratane step onto the field. India's Bhuvneshwar Kumar and is presented with the new ball and will bowl the first over.
Lunch has been declared and play will resume at 12.05 IST. Sri Lanka have managed to bowl India out in the first session.
1st innings - India all out for 172. Follow the game here - https://t.co/ln05So6Mox #INDvSL pic.twitter.com/zIlCr9gqr1

— BCCI (@BCCI) November 18, 2017
11.27 IST: OUT! Caught! The fun ends and Lakmal does not get a fifer. India do not reach 200. But this is a fighting total on a pitch which is doing a lot. Another short ball, Shami swings but does not make clear contact, or say a contact which would have made him stay in the middle. He miscues it in the air and Dasun Shanaka comes in a touch from deep mid-wicket. Pouches the catch safely and that ends the innings. INDIA BOWLED OUT FOR 172!
11.19 IST: FOUR! Top edge now! Banged in short, Shami goes for the pull now and gets a top edge which goes to the fine leg fence. IND 166/9 in 60.2 overs
11.15 IST FOUR! Shami at it again as he hits the shot with power to cross the boundary line. IND 160/9 in 57.4 overs
11.14 IST: FOUR! Comes off Shami's bat and slips through the covers. IND 156/9 in 57.3 overs
11.12 IST: 150 comes up for India as Umesh and Shami hang on. IND 150/9 in 57.1 overs
11.07 IST: OUT! Bhuvneshwar Kumar is caught out by Niroshan Dickwella and Lakmal grabs his fourth wicket on the innings. The bowler has surely done wonders.  IND 146/9 in 56.2 overs
10.54 IST: FOUR!  Bhuvneshwar tries his luck and Shanaka's delivery was sent mid-off for a boundary. IND 134/8 in 52.3
MOHAMMED SHAMI is in now, at number 10, replacing Saha. He too can bat, if you can remember his partnership along with Bhuvi in England in 2015
10.49 IST: OUT! Local boy Wriddhiman Saha is given out after Perera's spell hits the bat then goes onto his arm and into Mathew's hands.  IND 121/8 in 51.4 overs
BHUVNESHWAR KUMAR walks in at number 9, replacing Jadeja. He can hold the bat as well. Sri Lanka would be remembering him. He bailed India out of a precarious situation in an ODI along with MS Dhoni when Akila Dananjaya was going bonkers.
10.42 IST: OUT! India lose their seventh wicket and Jadeja is sent back to the hut after Perera's delivery hits the pads before the bat and is given out for an LBW. Umpires decision was originally not-out but a review taken by the team as Perera was certain of the delivery touching pad first. IND 128/7 in 51.4 overs
10.17 IST: SIX! Enough of blocking. Here comes the big shot. A flighted ball angling into the batsman from around the wicket, Jadeja clears his front leg and powers it over long on for a biggie. IND 121/6 in 45.5 overs
10.13 IST: FOUR! Lakmal drops it on a length outside off, Saha commits himself on the front foot as he tries to defend. He realizes immediately that the ball has straightened a touch and takes his bottom hand off the handle. As a result, it doesn't carry to the gully fielder (Dilruwan Perera) who dives but fails to make the stop. It sneaks past him and reaches the fence in no time.. IND 113/6 in 44.4 overs
10.09 IST: FOUR! Perera loses his radar and bowls a quicker and flatter one wide outside off. It's short as well and Saha just uses the pace on the delivery to run it fine down to third man for a boundary. IND 106/6 in 43.5 overs
10.01 IST: FOUR!  And 100 up on the scoreboard for India. Jadeja cuts through Lakmal's delivery and a bit of misfielding adds a few more runs for the hosts. IND 102/6 in 42.1 overs
09.56 IST: FOUR! That's a poor delivery and gets the deserved treatment. Short and outside off, Jadeja stands tall and slaps it through cover-point for a boundary. IND 95/6 in 41.2 overs
09.48 IST: FOUR! A bit uppish but through the gap by Saha on Gamage's delivery. IND 90/6 in 39.4 overs
09.47 IST: FOUR! Shot! Gamage pitches it full and outside off, it straightens a touch after landing, Saha does well to take his front leg to the pitch of the delivery and plays an exquisite square drive for a boundary. IND 86/6 in 39.2 overs
09.38 IST: Ravindra Jadeja walks up to the crease as he teams up with Saha to project a decent score on the board. IND 79/6 in 37.1 overs
09.37 IST: OUT! Gamage has gone through the defense of Cheteshwar Pujara and that in itself is a big achievement. He jumps in joy and is all pumped up. End of a stoic knock by India's number 3. IND 79/6 in 37.1 overs
09.29 IST: There is certainly some extra zip in the pitch, again. A length ball outside off, Pujara allows it through and the keeper collects it near his face. Plenty of bounce from that length. IND 79/5 in 35.3 overs
09.19 IST: FOUR! And its a fifty for Pujara as well. A tossed up ball on middle, Pujara goes down on one knee and sweeps it fine down the leg side for a boundary. What a knock by India's number 3! Wickets were tumbling at the other end but he kept his composure and has played an exemplary innings so far. IND 79/5 in 34 overs
09.18 IST: Interesting move! It's overcast, it's green and what you do? Bring a spinner. Very interesting choice by Dinesh Chandimal. Rangana Herath to bowl... IND 75/5 in 33 overs
09.13 IST: Ashish Nehra rings the bell, that's lot of workout for his fragile body. Out come the Sri Lankan players. Now, Cheteshwar Pujara and Wriddhiman Saha take the centre stage. Like yesterday, once again Lahiru Gamage to complete his over. Meanwhile, it's Joel Wilson has come out with Nigel Llong as Richard Kettleborough is ill. Anil Chaudhary is the third umpire today. Here we go...
09.07 IST: Not always nowadays Sri Lanka find themselves on top of a Test match for two straight days, of course that's mainly due to the loss of overs. But let's not take anything away from the Lankan pace bowlers. Many times you get carried away on a juicy pitch but Suranga Lakmal and to an extent his other partners did reasonably well to exploit the conditions on offer. Sri Lanka would want to restrict India to as low a total as possible. Batting won't be easy for them also, given the quality India possess in their pace department. Hoping the rain gods stay away and we get to watch a full day's game.
09.05 IST: We're here again. And to our delight, there are no covers on the field. However, it's still overcast. Nothing serious at the moment to stop the resumption. So far, this Test match has seen only 32.5 overs. Sri Lanka remain on top after running through the star-studded Indian batting line-up. It's Cheteshwar Pujara who has stood tall amidst the storm and has shown that with traditional approach you can survive on any pitch. That's how Test cricket should be played. It's not always about stroke-players. They do look good to watch but these conditions test your real game. India stand exposed at the moment.
08.50 IST:  Former Indian cricketer VVS Laxman feels that the cracks have opened up on the crease and it can be dangerous for the batsmen as the ball can move around.
Batsman @cheteshwar1 going through his routines on Day 3. How crucial will this man be for #TeamIndia today? #INDvSL pic.twitter.com/eHEB2I8K8f

— BCCI (@BCCI) November 18, 2017
08.47 IST: Local boy Wriddhiman Saha can play to his advantage as he knows and understands the conditions in Kolkata at the moment. A huge chance for the wicket-keeper to stand tall in such moments.
Welcome to Day 3 of the 1st Test. Rain gods permitting, we should get a full day's play today #INDvSL pic.twitter.com/6Se3snq08m

— BCCI (@BCCI) November 18, 2017
08.35 IST: With Chetesthwar Pujara present at the crease, Team India hope that he can present a decent score in the first innings as the hosts look quite shaky at the moment. 
08.20 IST: Sri Lanka's head coach Nic Pothas has his say on the 1st Test. "The game is not very old and there's a long way to go at the moment. We are pretty happy with where we are. We are certainly not getting too comfortable. It's a high-quality Indian team. We can't control the conditions. We have to play to the best of our ability." 
Pitch Report - Simon Doull says that the weather is much better today but the pitch hasn't changed greatly. He reckons that there is plenty on the surface for the bowlers to exploit. Goes on to state that the ideal length on this track should be a fuller one, else the swing would be negated. Sunil Gavaskar observes that yesterday the Sri Lankans bowled variable lengths and had they been more consistent they could have got more wickets. He echoes the former's views and says that a fuller length would mean that any bit of movement off the surface could get the batters in trouble. Ends opining that the bowlers should rule the day.
Brief Preview: Cheteshwar Pujara came to India's rescue after Sri Lankan seamer Dasun Shanaka's twin strike had left the hosts gasping at 74 for five on a second consecutive rain-curtailed day of the opening Test on Friday in Kolkata. After Suranga Lakmal's (3/5) exploits on the first day of the rain-affected series opener, it was Shanaka's turn to steal the limelight as he removed Ajinkya Rahane (4) and Ravichandran Ashwin (4) to return with impressive figures of 2 for 23.
Pujara was the lone Indian batsmen to produce some fight against the Sri Lankan bowling attack on a green top in overcast conditions. 
Pujara displayed impeccable defensive technique again and struck only the errant deliveries to score during his unbeaten 47-run knock. (Read full day 2 report)