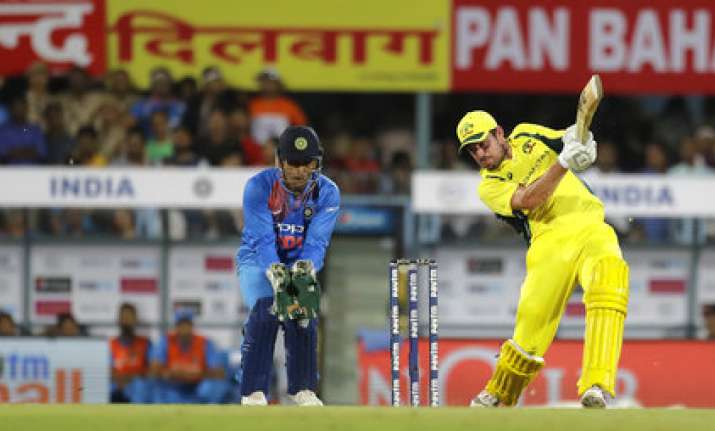 Australia change the script finally as they beat India by 8 wickets in second T20 international to level the 3-match series 1-1 in Guwahati. It was the pair that had good 'head' on their shoulders, pun intended, that saw the Aussies home! That ends India's 7-game unbeaten streak against these opponents. The picture wasn't rosy when the visitors began their chase. They lost Warner and Finch early to shots that could have done without. Yet another batting collapse was on the way it seemed.
Henriques and Head had different ideas though. They first took their time to have a good feel of the conditions and once they felt they were in, the shots started coming off their bats. That they had a pretty paltry score to chase helped the duo set in. What helped them is Chahal and Yadav having off days with the ball, courtesy a wet outfield on account of the dew. India would be ruing their lost chances with the bat though. Their batsman failed to fire collectively. While all talks roamed about the tourists' batting collapses, it was the hosts batting that slid today. Behrendorff was the wrecker-in-chief and the home side couldn't come back from the early jolt that the left-arm pacer handed them. A good effort all-round has seen the visitors level the series. (SCORECARD)
HIGHLIGHTS FROM INDIA vs AUSTRALIA, 2ND T20I at GUWAHATI
22.25 IST: Jason Behrendorff, the Man of the Match, is elated as it is rare that he comes in front of the cameras! Feels that even though he didn't bowl much in the last game, the experience helped. Says he's working hard to play for Australia and he is happy to put in the efforts. He is happy to pick up few wickets against India. Ends saying he can't wait to get on the field in the next game at Hyderabad.
22.15 IST: 
It's all square heading into the series decider in Hyderabad! https://t.co/7hHdWXW9z4 #INDvAUS pic.twitter.com/Gkq8TGuegm

— cricket.com.au (@cricketcomau) October 10, 2017
22.09 IST: 
Australia win the 2nd T20I by 8 wickets, level the three-match series 1-1 #INDvAUS pic.twitter.com/G0u2p81XfN

— BCCI (@BCCI) October 10, 2017
22.06 IST: FOUR! This is the apt manner to finish it off!  Tossed up delivery in line of the stumps, Henriques drills it past Chahal and once it goes past him, it's destined to reach the fence. Thumping victory for Australia. The joy on the face of Moises is evident! THEY WIN BY 8 WICKETS WITH 27 BALLS TO SPARE, also levelling the series. AUS 122/2 in 15.3 overs
22.01 IST: FIFTY! SIX! That brings up Henrique's 2nd T20I fifty! Australia are racing towards a victory! Short delivery on off, Henriques pulls it over deep mid-wicket for half a dozen. This has been a really good knock from the all-rounder. Well-paced! AUS 110/2 in 14.3 overs
22.00 IST: SIX! Just over the man at long off! Tossed up around off, Henriques clears his front leg and smokes it towards long off. Rohit is interested but can only see it sailing over his head. AUS 104/2 in 14.2 overs
21.59 IST: Australia is cruising at the moment, 5 runs from Chahal's over. AUS 97/2 in 14 overs
21.56 IST: The umpires are finally changing the ball. Virat Kohli is not amused as he wanted to get it replaced earlier in the previous over.
21.55 IST:  Nervy moment! Floated on off, Head kneels and goes for the slog sweep but gets a top edge. Kohli backtracks from first slip but the ball falls down safely. A run taken. AUS 92/2 in 13 overs
 A bit of breather for the Australian batsmen. They are having a drink.
21.49 IST: SIX! High and handsome! Floated around off, Head kneels and slog sweeps it over long on for a maximum. The Australian faces Chahal a lot in the nets as they both play for Bangalore in the Indian T20 league. That shot was executed to perfection. AUS 88/2 in 12 overs
21.45 IST: FOUR! This is too easy for the visitors at the moment! Half-volley outside off, Henriques drives it elegantly through extra cover to find the fence. AUS 78/2 in 11 overs
21.43 IST: FOUR! If you keep bowling too short, you will be taken to the cleaners. Head hangs back to this delivery and pulls it over mid-wicket. The ball holds up a bit due to the dew but rolls away to the fence. AUS 71/2 in 10.2 overs
21.41 IST: FOUR! Deft! Quick delivery outside off, Henriques waits for it and dabs it past first slip for a boundary. Intelligent cricket from the all-rounder. AUS 67/2 in 10 overs
21.40 IST: 50-stand comes up between Travis Head and Moises Henriques. 
Yuzvendra Chahal to have a bowl now.
21.38 IST: FOUR! Well played! Good length delivery outside off, Head walks down the track and heaves it over mid-wicket. He has hit that quite well and the ball races to the fence. Australia are in the zone now. AUS 61/2 in 9 overs
21.35 IST: FOUR! Easy pickings! Bouncer down the leg side, Henriques helps it to fine leg for a boundary. Pandya can't afford to bowl these deliveries with such a paltry total to defend. AUS 56/2 in 8.2 overs
21.33 IST: FOUR! 50 comes up for Australia. Freebie! Another half-tracker on middle, Head hammers it through mid-wicket for a rocketing boundary. 14 from this one, this is the kind of over Australia needed. AUS 50/2 in 8 overs
21.31 IST: SIX! Poor delivery and duly punished! Half-tracker on off, Henriques hangs back and pulls it over deep square leg for a maximum. A real help me delivery from Kuldeep and he pays the price for it. AUS 43/2 in 7.2 overs
Kuldeep Yadav to roll his arm over now. He has been on the money in this series. Can he weave his magic once again?
21.30 IST: Good over from Pandya, just two runs came off it. AUS 36/2 in 7 overs
Hardik Pandya to have a bowl now. He has a habit of providing breakthroughs. Can he deliver for India?
21.25 IST: Angling into Henriques. He drives it to mid on for a run and will retain the strike. 9 runs from the over. AUS 34/2 in 6 overs
21.23 IST: SIX! Boom! That came right off the screws! Short delivery on off, sits up nicely for Henriques. He stands tall and pulls it with authority over deep backward square leg for half a dozen. That will give Moises a lot of confidence. The crowd that was shouting a lot goes quiet. AUS 31/2 in 5.3 overs
21.22 IST: Brilliant over from Bhuvneshwar, just a single from it. AUS 25/2 in 5 overs
21.17 IST: FOUR! Easy pickings! On a length on leg stump, Head works it through backward square leg to pick up a boundary. IND 24/2 in 4 overs
21.14 IST: FOUR! Beautiful! There is not a better sight in cricket than the straight drive. Fuller in length on off, Head leans into it and creams it down the ground for a majestic boundary. IND 18/2 in 3.2 overs
Travis Head comes out to bat. He does have the experience of having played in the Indian T20 league. Can he make use of his familiarity with the format as well as the conditions here?
21.12 IST: OUT! Finch throws his wicket away too! Australia on the back foot. Back of a length outside off, holding its line. Finch punches it off his back foot straight towards Kohli at covers without bothering to keep it down. The Indian skipper accepts it gleefully. The crowd is right behind their players, shouting at the top of their voices.  AUS 13/2 in 2.5 overs
21.10 IST: Finch backed away while Kumar delivered that ball. The bowler's handkerchief fell off in his delivery stride.
https://twitter.com/CricketAus/status/917776437301583873
21.07 IST: Full-length ball on off, driven crisply to mid on. 6 runs and a wicket from the over. AUS 12/1 in 2 overs
21.04 IST: OUT! That's a terrible shot from the Australian skipper and he pays the price for it. His poor run in T20Is continues. Back of a length delivery on off, skids through the surface. Warner is hurried on but he still goes through with his pull. Ends up getting a top edge towards Kohli at covers. He settles under it and pouches it safely. He pumps his fists in the air, shows how much this wicket this means to him and his side. AUS 11/1 in 1.3 overs
21.03 IST: FOUR! Shot! Short delivery on middle and leg, Finch swivels across and pulls it with aplomb through backward square leg to find the fence. AUS 10/0 in 1.1 overs
The sledge hammer is used to hammer the landing area. Kumar, apparently, had some issues there. Meanwhile, Jasprit Bumrah to share the new ball from the other end.
21.02 IST: In the air... but safe! Length delivery on middle and leg, skids through the surface. Warner is hurried a touch, 4 runs from the first over. AUS 6/0 in 1 over
Sawdust is being sprinkled in the bowlers' landing area. Could be the effect of the dew that has set in.
20.59 IST: Fullish delivery outside off, swinging away. Finch drives it through cover-point. Pandey hares after it and throws it back to Kohli. The throw is at the keeper's end as the batsmen attempt the third. Dhoni flicks it back to the stumps but Warner is in. Unconventional work from Dhoni, that is what makes him such a brilliant keeper. AUS 4/0 in 0.2 overs
20.56 IST: So! We are back for the run chase! The top T20 run-getter in this year, Aaron Finch and the ever-explosive David Warner stride out to open the innings with the bat. Bhuvneshwar Kumar to run in with the brand new white ball. Two slips in place. Here we go...
20.51 IST: 
Innings Break! India 118 in 20 overs. Follow the game here - https://t.co/W9IeYFSREr #INDvAUS pic.twitter.com/qRJfWe6woR

— BCCI (@BCCI) October 10, 2017
20.45 IST: OUT! INDIA FOLD UP FOR 118! Tye lands it in line of the stumps, Yadav looks to smash it across the line. Ends up getting a top edge that goes high up in the air. The keeper settles under it to pouch it safely. That's it for Kuldeep tonight with the bat!
20.42 IST: OUT! Run out! Landed outside leg, Yadav makes room and looks to guide it away to third man. They look to sneak in a run. The keeper gets to the ball and hits the stumps down at the striker's end to catch Bumrah short of the crease. End of the tailender's stay! IND 115/9 in 19.3 overs
20.39 IST: Collision between the batsman and the bowler! Fuller delivery outside off, Bumrah plays it uppishly to mid off.  IND 114/8 in 19 overs
20.37 IST: FOUR! First runs for Bumrah in T20 internationals! Boundary gets him off in T20Is!  IND 111/8 in 18.3 overs
Nathan Coulter-Nile is back for his final over.
20.33 IST: Brilliant over from Stoinis comes to an end, 3 runs and a wicket from it. IND 104/8 in 18 overs
20.30 IST: OUT! The Pandya show doesn't come to Guwahati! The slower ball works for Stoinis and Australia! Stoinis bowls a slower off cutter outside off, Hardik looks to belt it over long off. Ends up offering the simplest of catches to Christian, the sub fielder, who makes no mistake. This was the joint-highest stand of this innings! IND 103/8 in 17.3 overs
20.27 IST: A full toss around leg, Pandya fails to make maximum use of it. Nudges it through square leg for a run. 11 runs from Tye's over, a good one for India. IND 101/7 in 17 overs
20.26 IST: 100 comes up for India. IND 100/7 in 16.5 overs
20.23 IST: SIX! Pandya powers it! Tye bangs it short in line of the stumps, Hardik stays put and pulls it over mid-wicket for half a dozen. India would love more of these, the crowd certainly will! IND 96/7 in 16.1 overs
Last four overs to go! It's high time for Pandya to change gears. Will we see that?
20.22 IST: Stoinis bowls another tight over, just 5 runs from it. IND 90/7 in 16 overs 
20.17 IST: FOUR! Freebies! Another full toss from Tye, almost waist high outside off. Yadav looks to go over the leg side. Ends up getting a thick edge past the keeper for a boundary. This wasn't too far from being called another no ball for being over waist high. Not called though. 8 runs from the over. IND 85/7 in 15 overs
Andrew Tye to bowl another spell here. He's Australia's death overs specialist.
20.11 IST: This ball is cut to the fielder at point, no run taken. 4-0-19-2 read Zampa's completed bowling figures! Excellent! IND 77/7 in 14 overs
Kuldeep Yadav walks in to bat next. Through the series, we have seen him weave magic with the ball, can he do something significant with the bat today?
20.06 IST: OUT! Catching practice for Henriques at third man! Oh Kumar, what have you done here! It was banged it short around off, Kumar sways back and helps the ball straight to the fielder in the deep. Moises gets there and pouches it crouching low forward. The hosts continue their procession to the dressing room in regular intervals. IND 70/7 in 12.4 overs
20.02 IST: Tight over from Zampa, 2 runs and a wicket from it. IND 69/6 in 12 overs
Bhuvneshwar Kumar is the next man in. He has the ability to bat but it looks a tall task that he has got now.
Yep. Zampa didn't mind that one! #INDvAUS pic.twitter.com/JKsFXNAuWl

— cricket.com.au (@cricketcomau) October 10, 2017
19.58 IST: OUT! Zampa is on a roll in Guwahati! He gets another one to his kitty! Tosses in a wrong 'un around off, Jadhav fails to pick that one. He looks to go for a big shot down the ground and only makes contact with thin air. Ends up losing his middle stick. Very poor shot with the circumstance that India are in. The hosts slide further now. IND 67/6 in 11.1 overs
19.56 IST: Leg bye! On leg stump, Jadhav looks to clip it but the ball brushes his pads and rolls towards short fine leg. A leg bye taken. 6 runs from the over. IND 67/5 in 11 overs 
Big hitting all-rounder Hardik Pandya walks in confidently. Remember, Pandya and Zampa have an interesting duel on right from the ODI series!
19.52 IST: OUT! Dhoni has been handed a dose of his own medicine - stumped out! Zampa tosses it outside off and lures the Indian keeper down. Dhoni obliges down, walks down and ends up missing the ball completely as the ball spun after pitching.  Paine, behind the wickets, collects to whip off the bails. Adam Zampa is ecstatic as he knows the value of the wicket. MS is disappointed with his dismissal as it was an uncharacteristic one. The crowd goes silent!   IND 60/5 in 9.5 overs
19.48 IST: FOUR! A full toss to anybody is a crime, leave alone Dhoni! MS charges down and heaves it aerially towards deep mid-wicket for a boundary. There was a fielder there but it was just away from him. IND 59/4 in 9.3 overs
19.46 IST: On a length in line of the stumps from Stoinis, Jadhav wrists it away to deep mid-wicket and collects a run. IND 54/4 in 9 overs
19.43 IST: FOUR! Not the most promising way to start for Stoinis! He strays onto Jadhav's pads, who just gets bat on that and collects a boundary through the fine leg region.50 comes up for India. IND 51/4 in 8.1 overs
Marcus Stoinis to have a bowl now. He looked good in the ODI series, would he be able to make an impact here?
19.42 IST: Tossed up around off, Dhoni finds the cover fielder with the drive. Good over from Zampa., 4 runs from it. IND 47/4 in 8 overs
Stat Alert - Behrendorff finishes with figures of 4-0-21-4. This is the fifth best bowling figure for an Australian bowler in T20Is.
Time for spin. Zampa comes for a bowl.
19.38 IST: A very tough chance, technically a drop! Full ball around off and middle, Jadhav looks to drive. But the ball stops a bit and he ends up spooning a return catch. Behrendorff gets low to his right but fails to latch on! What a spell it has been from Jason.  IND 43/4 in 7 overs
Warner is bowling Behrendorff out. The youngster has been sensational in his spell. Can he get a five-wicket haul?
19.33 IST: Decent over for the home side, 7 runs from it. IND 38/4 in 6 overs
19.30 IST: FOUR! Width on offer, cashed! Tye hurls it outside off, Jadhav slashes it over backward point for a boundary. Wasn't far from the leaping fielder there. IND 36/4 in 5.3 overs 
19.27 IST: FOUR! Jadhav bashes that powerfully! Back of a length ball having some width, Kedar just slashes it over cover-point for a boundary. IND 31/4 in 5 overs
The cheers get louder as the crowd favourite MS Dhoni strides out to the middle. Amidst the flurry of wickets, his calmness is what India would need.
19.25 IST: OUT! Behrendorff gets his fourth, the first time by an Aussie pace bowler in a T20I against India. Pitched on a length around off, Dhawan looks to go downtown.Seems like it would be a maximum, but there was height more than distance on that. Warner backtracked from mid off and took a stunning tumbling catch to send back his Hyderabad team-mate. IND 27/4 in 4.3 overs
19.22 IST: SIX! The first biggie of the game! Looked imperious! Back of a length ball in line of the stumps, Jadhav stands tall and pulls it over deep mid-wicket for half a dozen. That just cleared the ropes though. IND 27/3 in 4 overs
19.18 IST: Landed around middle and off, pushed to the off side off the back foot. Brilliant over from Behrendorff, 4 runs and a wicket from it. IND 16/3 in 3 overs
19.14 IST: OUT! Jason Behrendorff is on fire in Guwahati! Yes, the Indians are in trouble here, something that has been quite rare in the series so far! The bowler lands it around off, it seams away just a touch. Pandey pays the price for being tentative as he pushes at it from the crease. Ends up nicking it to the keeper Paine who is more than happy with the offering. Manish walks back now as India lose their third. IND 16/3 in 2.2 overs
19.13 IST: FOUR! Cleverly played! Just a hint of width there for Pandey, he guides it past the first slip fielder to collect a boundary. He used the pace well there. IND 16/2 in 2.1 overs
19.12 IST: On a length around middle and leg from Coulter-Nile, Pandey looks to nudge it away but gets it away off his thigh pads. A leg bye taken. 4 runs from the over.  IND 12/2 in 2 overs
Nathan Coulter-Nile to share the new ball from the other end. Meanwhile, Manish Pandey comes out to bat. India in a spot of bother.
ANOTHER ONE! Dorff is fired up! Kohli (0) gets another seed and is trapped in front! Wowee!

IND 2-8 https://t.co/7hHdWXW9z4 #INDvAUS pic.twitter.com/ZSJFp3Fwzd

— cricket.com.au (@cricketcomau) October 10, 2017
19.06 IST: OUT! Big, big wicket for Australia this! Kohli is the man walking back! Behrendorff lands it on a length again, Kohli stays in the crease and looks to flick. The ball hits his pads and lobs up in the air. The bowler runs there, catches it and appeals. The umpire gives the marching orders to the skipper. Virat looks stunned, consults his partner for a review but decides against it. Well, Snicko shows a spike as the ball passes the bat. So it is indeed a caught and bowled dismissal. First duck in T20Is for the Indian skipper, India rocked early!  IND 8/2 in 1 over
Virat Kohli walks out to the centre in the first over itself. Gets a rousing welcome.
19.03 IST: OUT! First international wicket for Behrendorff! Peach of a delivery to get that. On a length around middle and leg, Sharma looks to push at it from the crease. Misses and wears it on the pads. Australians appeal and the umpire raises his dreaded finger. Rohit thinks about taking the review but decides against it. Early setback for the hosts here! IND 8/1 in 0.4 overs
19.02 IST: FOUR! Rohit is up and running immediately! It was pitched up around off and middle, Sharma drives it straight down the ground past mid off for another boundary. The bat face turned in his hand as he played that. IND 8/0 in 0.3 overs
19.00 IST: FOUR! Rohit off the mark with a boundary! You have to listen to the noise to know the result! IND 4/0 in 0.1 overs
18.59 IST: The stylish Rohit Sharma and southpaw Shikhar Dhawan walk out with the bat in a bid to provide the home side with a flying start. Jason Behrendorff would steam in with the new white rounded object in hand. One slip in place for him. Let's roll!
18.57 IST: The national anthems are done and dusted. We are all set to get underway.
18.45 IST: Pitch Report - There is a little bit of wetness. The seam bowlers will have something on it as well. The pitch will not have the ball to hurry up on the batsman. 150 would be a par score given the kind of wicket.
18.40 IST: Teams:
India (Playing XI): Rohit Sharma, Shikhar Dhawan, Virat Kohli(C), Manish Pandey, MS Dhoni(wk), Kedar Jadhav, Hardik Pandya, Bhuvneshwar Kumar, Kuldeep Yadav, Yuzvendra Chahal, Jasprit Bumrah
Australia (Playing XI): David Warner(C), Aaron Finch, Glenn Maxwell, Travis Head, Moises Henriques, Marcus Stoinis, Tim Paine(wk), Nathan Coulter-Nile, Andrew Tye, Adam Zampa, Jason Behrendorff
18.38 IST: Virat Kohli, the Indian skipper, says the pitch looks good to bat on and dew could be a factor later. Adds they would have liked to chase but is happy to set a target for the opposition. States that they have to keep the winning momentum as it is easy to lose it but difficult to maintain and get it back. Reckons that complacency has no place in the side and they would look to be fierce competitors. Opines that the stadium is beautiful and it was jam-packed outside. Feels that the crowd is as exciting as it was when he played in Guwahati 7 years ago. Ends saying that they are going in with an unchanged side.
18.35 IST: David Warner, the Australian skipper, says that they are gonna have a bowl. Feels that it is a good surface, might be a bit soft underneath. Adds that they need to play to their strengths. States that Marcus Stoinis comes in for Dan Christian. Ends by saying that there are no more changes in the team.
Australia wins the toss. Elect to bowl first. Follow the game here - https://t.co/W9IeYFSREr #INDvAUS pic.twitter.com/fZYYKG2zef

— BCCI (@BCCI) October 10, 2017
18.32 IST: TOSS - Australia win the toss, opt to bowl.
18.25 IST: 
18.20 IST: 
Welcome to Guwahati for the second #INDvAUS T20. We've had some rain this afternoon but the forecast is good! Toss in 40 mins pic.twitter.com/QywR6EeLN1

— cricket.com.au (@cricketcomau) October 10, 2017
18.10 IST: 
#TeamIndia could not train at the beautiful Barsapara Cricket Ground in Guwahati due to rain and wet outfield, but made use of the ⚽️. pic.twitter.com/FuzlBwi2Qu

— BCCI (@BCCI) October 9, 2017
Brief Preview - 
Overwhelmingly dominant so far, India would be aiming to wrap up another series win when they take on a faltering Australia in the second Twenty20 International in Guwahati on Tuesday. The ACA-Barsapara Stadium will be making its international debut with tomorrow's match, adding to the growing list of cricket venues in the country. 
The India-Australia limited-overs series so far has been a one-sided a contest as Virat Kohli and Co. effortlessly grabbed the ODI rubber 4-1. 
Extending the domination in the three-match T20I series, India routed Australia by nine wickets in the rain-hit opening match two days back in Ranchi to take a 1-0 lead.  Their T20I rivalry is lopsided as India have won 10 and lost four out of the 14 matches played. The hosts have won seven matches in a row, and they have not lost to Australia in T20Is since September 28, 2012. (Read Full Preview Here)