Follow us on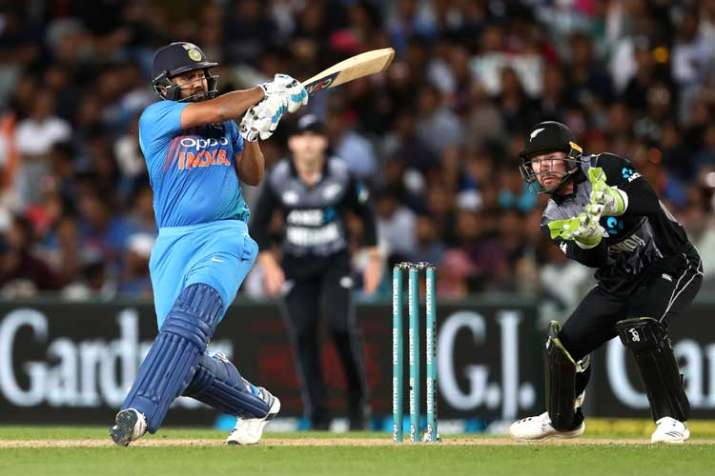 Highlights, India vs New Zealand 2nd T20I: Welcome to our blog of the 2nd T20I between India and New Zealand to be played at Eden Park, Auckland. 80 runs - the margin of defeat for India in the first T20I, their biggest ever in the format. Also, the first time on this whole tour that their bowlers were rendered ineffective. New Zealand smashed 219 runs in their quota of 20 overs before bowling out the Men in Blue for just 139. Everything that could possibly go wrong looked like it went wrong for the visitors in the series opener. The bowlers were taken apart, catches were dropped, the fielding was poor and the batsmen never looked like they would get near the target. It was almost as if India had not turned up for the game. It would serve better though if we would rather give it to New Zealand who played a brand of cricket that was fearless and helped them thoroughly outplay a strong Indian unit. (Click here for updates in Hindi) (Scorecard)
When and Where to Watch India vs New Zealand Online Streaming 
Highlights, India vs New Zealand 2nd T20I: IND won the match 7 wickets in Auckland
14.48 IST: FOUR! Hammered down the ground by Pant and that wraps things up for India. THEY WIN BY 7 WICKETS and keep the series alive at 1-1 as we go to Hamilton.​
14.46 IST: Dhoni steals a quick single and India just need 1 run to win this match.
* MS Dhoni on strike. Can he finish things off in style?​
14.44 IST: 8 runs from the over and India need just 3 runs to level the series.
* Lockie Ferguson is back on.​
14.37 IST: SIX! You come into his arc, you go out of the park! A fuller length ball on middle and Pant just swings through the line, finishes with one hand off the handle. The ball still has enough to go over the deep mid-wicket fence.​ IND 144/3 in 16.3 Overs
14.36 IST: Clever! Very clever from MS! Dhoni was charging down the ground to hit that one but Sodhi throws the ball flatter and well outside off to get the batsman stumped. Dhoni though adjusts as he puts his left hand out and keeps the ball out towards point. Picks up a single as well.
14.32 IST: Always looked like dropping it, Taylor! Not sure eventually he got even his fingertips on it. A short ball around leg, Pant top edges his attempted pull shot and it flies towards fine leg. Taylor runs from short fine leg but fails to catch the swirling ball. They take two.
* Ish Sodhi returns to attack
14.29 IST: FOUR! Dhoni starts with a boundary. Wrong line from Southee, short and around leg, MSD just turns inside the crease and pulls it fine down the leg side. The crowd certainly loved that. IND 126/3 in 14.2 Overs
14.28 IST: FOUR! The pressure after the wicket is let off on the very next ball. Shorter length ball on middle and leg, pulled away by Pant over fine leg for a boundary.
* MS DHONI walks in amidst a huge cheer from the crowd. Everyone loves this man, apart from a few troll handles on social media.
14.25 IST: OUT! Caught at the longer part of the boundary. That is the second time this innings that an Indian batsman has holed out to the pull at deep mid-wicket. A half-tracker from Daryl and it was a poor ball, should have been dispatched over the fence. IND 118/3 in 13.4 Overs
14.22 IST: SIX! Shankar goes for maximum this time.
14.21 IST: FOUR! Rishabh Pant welcomes Mitchell with a boundary.
14.20 IST: FOUR! Last ball of the over and Shankar lofts it in the air, it was a risky shot but the ball pass the boundary rope with one bounce
14.15 IST: Scott Kuggeleijn is back on attack 
14.13 IST: FOUR! Smashed! A flighted ball well outside off, Pant does well to reach out and hit it wide of extra cover and well to the right of long off. No chance for the fielder, the timing was too good. IND 96/2 in 11.4 Overs
14.12 IST: Risky second! Tossed up ball on middle, Pant turns it gently off his pads through square leg and rushes back for the second run. The throw from the deep comes to the keeper who breaks the stumps as Rishabh dives in. Direct hit would have been interesting.
* Here comes Vijay Shankar now.
14.08 IST: OUT! Bounced out! Last time it was a 151 kph yorker which cleaned the southpaw and this time, Ferguson puts this one halfway down the pitch at 145 clicks, the ball rears up and Dhawan is in a poor position as he looks to pull. The ball takes the glove and goes high in the air but just to point where de Grandhomme settles under it and takes an easy catch. One has brought two. New Zealand need more of these though. 71 runs off 55 now. IND 88/2 in 10.5 Overs
* Lockie Ferguson is back on attack
14.04 IST: Wide! Sprayed way outside off, Pant looks to cut but pulls out of the shot in the end.
* Who will bat at number 3 today? Any guesses? No, it's not Vijay Shankar. It's Rishabh Pant!
13.59 IST: OUT! De Grandhomme for New Zealand and now Rohit for India. Both fall after reaching the 50-run mark. Falls at his favourite shot, the pull once more. A short half-tracker from Sodhi, was meant to be hit but the ball climbed too high on Rohit who looked to pull it away. The ball gets him high on the bat and goes straight into the waiting hands of Southee at deep mid-wicket. New Zealand finally have the breakthrough they so badly needed. IND 79/1 in 9.2 Overs
13.57 IST: Flatter one on the pads, worked away for a single to mid-wicket. That is FIFTY FOR ROHIT! His 16th in T20Is. The last three international innings for him were 1, 2 and 7. He breaks the run and comes back to form in style.
13.55 IST: SIX! Huge! Moves to 49 with that one. A flighted one on middle, Rohit comes down the track and lifts it straight back over the bowler. Goes into the sightscreen.
* With the maximum Rohit Sharma has now becomes the highest run getter in T20I cricket.
13.50 IST: SIX! Dragged down and punished! Rohit rocks back and pulls this one away over the deep backward square leg fence for a biggie.
* Ish Sodhi to bowl now from other end
13.48 IST: Tight over from Santner only 5 from it.
* Kane Williamson introduces spin early in the innings with Micthell Santner
13.43 IST: FOUR! A fuller length ball outside off, pacy from Lockie but that does not bother Rohit. He calmly smashes it over the cover fielders and for a boundary. IND 47/0 in 5.3 Overs
* Lockie Ferguson is back on.
13.39 IST: FOUR! Pulled with utter disdain! As soon as Southee digs in a short ball around off, Dhawan is on top of the bounce in his stance. He then displays his power there by sending it to the deep mid-wicket fence in no time.
13.38 IST: FOUR! Up and over mid on! Southee overpitches around middle, Dhawan goes the aerial route and easily clears the infield. Good start to the over for India. Both their openers are looking quite settled.
* Tim Southee returns to attack
13.36 IST: SIX! That is just the class of this man. A fuller length ball on the pads and it is just helped on its way by Rohit. The ball flies over the ropes in a canter. IND 31/0 in 3.4 Overs
13.34 IST: FOUR! FLAWLESS ROHIT! The Indian skipper just uses the pace of the ball to send the ball through the boundary rope.
13.30 IST: In the air... but safe. Pace and bounce from Lockie, Dhawan looks like he got hurried on by that ball and mistimes his pull high in the air. But luckily for him, he had got enough to make sure the ball is well away from mid-on. 2 runs taken.
* Rohit Sharma is wearing the jersey number 59. It belongs to Vijay Shankar. Not sure what's the real reason behind it.
13.28 IST: SIX! Welcome Lockie! Short of a length and Rohit is a compulsive puller. Dispatches this one over deep mid-wicket for a maximum.
* Lockie Ferguson comes into attack
13.24 IST: Length ball outside off, Dhawan drives this one slightly uppishly towards mid off where the fielder makes a half-stop only. The ball runs away and the batsmen can pick up two till it is retrieved. Kuggeleijn also had fallen down in his followthrough.
* Scott Kuggeleijn to bowl from the other end.
13.22 IST: Only six runs from the first over of Tim Southee
13.19 IST: FOUR! Short and wide outside off, this time Rohit slashes at it and gets the ball wide of point. Third man cannot come around to stop it in time. India are up and away. IND 4/0 in 0.2 Over 
 * We are back for the chase. Rohit Sharma and Shikhar Dhawan to open for India. Tim Southee with the brand new white ball.
* A complete contrast for the Black Caps from how they fared in the first T20I. The start never came and the middle order couldn't recover from that well enough either. Had it not been for Taylor and de Grandhomme's partnership of 77, things would have been much worse. The boundaries just seemed to dry up after de Grandhomme's departure and that put a lot of pressure on the rest. 158 isn't a very good total on this ground, so the Indians will back themselves to chase it down and level the series. Let's see how it goes. Join us for the run chase in a short while.
13.09 IST: Khaleel Ahmed to Tim Southee, OUT! Khaleel finishes things off in good style. The cutter from the left-armer, on a back of a length. Southee backs away and looks to go big over the leg side. Is into the shot way too early and ends up missing it. The stumps are disturbed and with that, NEW ZEALAND FINISH ON 158/8!
*Tim Southee strides out the middle next.
13.05 IST: Khaleel Ahmed to Mitchell Santner, OUT b Khaleel Ahmed. New Zealand have lost their seventh wicket.
13.00 IST: Bhuvneshwar Kumar to Mitchell Santner, OUT RUN OUT! Take a bow, Vijay Shankar. Direct hit and Taylor is out of here. Santner flicks it through wide mid on and calls for the second. Shankar in the deep moves to his left, collects the ball and fires it at the bowler's end. Scores a direct hit and Taylor is well out of the crease. Wasn't expecting that to happen, nobody was to be honest. New Zealand have lost their sixth wicket at 153
12.54 IST: Hardik to Taylor, FOUR! Finally finds the fence. Welcome boundary for Taylor and New Zealand. A leg stump half-volley, the batsman flicks it well with the wrists and beats deep mid-wicket. NZ 140/5 in 17.1 overs
12.52 IST: Bhuvneshwar Kumar to Ross Taylor, Right in the blockhole, on middle and leg, Taylor digs it out to mid-wicket. That area is quite vacant, so the batsmen manage to come back for the second.
*Mitchell Santner is the new man in. Bhuvneshwar Kumar is back.
*Colin Munro on the sideline, feels that it was not a great start from them, but the partnership between Ross Taylor and Colin de Grandhomme has given the innings some momentum. Says they'd like to add 40-50 from here. Reckons there are short boundaries and it will be difficult to defend but bowling in the right areas would help them do well if they reach a score of around 175-180.
12.45 IST: Hardik Pandya to Colin de Grandhomme, OUT! Gone immediately after scoring a fifty. He's played a good knock, but his team would have liked him to stay out there till the end. Full and around off, de Grandhomme looks to clear the cover region but doesn't exactly get under the ball. Hands a sharp catch to Rohit Sharma at short extra cover and he doesn't make a mess of it. A partnership of 77 comes to a close. NZ 127/5 in 15.4 overs
12.40 IST: Khaleel Ahmed to Ross Taylor, FOUR! That's clever. Innovative shot from Ross Taylor and he's rewarded with a boundary. Premeditates it, it's full around off, Taylor gets low and paddle sweeps it through backward square leg. The fielder in the deep moves to his right but can't stop it. NZ 119/4 in 14.4 overs
12.34 IST: Hardik Pandya to Ross Taylor, Short of a good length, Taylor mistimes the heave but it falls safely in the mid-wicket area. Single taken.
*Hardik is back into the attack
12.28 IST: Chahal to Taylor, FOUR! The 50-run stand is up, along with the 100 for New Zealand. This has been excellent work so far from this pair. Taylor gets forward and across to this full ball and paddles it fine down the leg side, beating the man in the deep. NZ 103/4 in 12.4 overs
12.27 IST: Krunal Pandya to Ross Taylor, Sliding in on the pads, Taylor flicks it in front of square leg and keeps strike with one. Another expensive over for India, 18 off this one. 37 off the last 2.
12.23 IST: Krunal to de Grandhomme, SIX! BOOM! Two in two. Taking the attack to the Indian spinners. Hasn't taken any risks at all too, all clean and safe hits. Full on the stumps, de Grandhomme clears his front leg out of the way and clears the long off fence with absolute ease. NZ 91/4 in 11.3 overs
12.23 IST: Krunal to de Grandhomme, SIX! That's gone a long way, into the second tier. Really finding his feet here, Colin de Grandhomme. Full on middle and leg, he just flicks it over mid-wicket but with a lot of power. Maximum! NZ 85/4 in 11.2 overs
12.20 IST: Chahal to de Grandhomme, SIX! Third boundary in three balls. This is good, attacking batting from de Grandhomme. Looped up and there for the batter to put this away. He smacks it flat down the ground and gets another biggie to his name. NZ 72/4 in 10.3 overs
12.20 IST: Chahal to de Grandhomme, FOUR! Right in the slot for de Grandhomme. That'll give him a lot of confidence. Tossed up, Colin throws his front leg out of the way and goes dead straight. Hits it flat at the sightscreen and that's a maximum. NZ 66/4 in 10.2 overs
12.19 IST: Chahal to de Grandhomme, SIX! Right in the slot for de Grandhomme. That'll give him a lot of confidence. Tossed up, Colin throws his front leg out of the way and goes dead straight. Hits it flat at the sightscreen and that's a maximum. NZ 62/4 in 10.1 overs
12.17 IST: Yuzvendra Chahal to Ross Taylor, Goes down the ground with a drive and ends the over with one run. 5 runs off this over, only 16 in the last 4. Good comeback by India.
*Colin de Grandhomme walks into the middle next.
12.11 IST: Krunal Pandya to Williamson, OUT! Krunal gets his third of the game and it's of the dangerous Kane Williamson. Bowls this with great pace, shorter in length and on the stumps, Williamson rocks back to pull but is done in by the pace. Is caught on the thigh pad and an appeal ensues. The finger goes up and the Kiwi skipper is out of here. No review left to save him either. NZ 50/4 in 7.5 overs
*Ross Taylor is next in. Also, Yuzvendra Chahal to roll his arm over now.
12.02 IST: Krunal Pandya to Daryl Mitchell, OUT lbw b Krunal Pandya. New Zealand have lost their third wicket. Review taken. Daryl Mitchell has been caught leg before and give out. He's taken the DRS. Let's see what happens here, looks plumb. Only some bat can save him. The Hot Spot, in fact, shows a spot but the Snicko ain't detecting anything. The on-field call stays. Chris Brown lifts his finger again and Kane Williamson is furious, so is his partner. They are waiting. Some words getting exchanged between the Kiwi skipper and the Indian players. NZ 43/3 in 6 overs
*Daryl Mitchell is the next batsman in.
11.55 IST: Krunal Pandya to Colin Munro, OUT! Munro departs, now both the openers are sent back. Krunal strikes almost immediately. Quicker through the air, in line of the stumps, Munro makes room and hammers it aerially to the covers. Straight to Rohit Sharma though at extra cover who takes a sharp catch. The Men in Blue starting this game better than the last one clearly. NZ 41/2 in 5.2 overs
*One brother follows the other, Krunal to try his arm now
11.53 IST: Pandya to Williamson, FOUR! Nice use of the feet, second boundary of the over for Williamson. He never hits them too hard, all about the timing with him. Skips down the track and caresses the drive through the gap in the covers. Super shot. NZ 39/1 in 4.4 overs
11.52 IST: Pandya to Williamson, FOUR! Deft from Kane. Always so clever. Waits for this length ball outside off to come to him, opens the bat face and runs it through the vacant slip cordon for a boundary. NZ 35/1 in 4.2 overs
*Hardik Pandya into the attack now
11.50 IST: Khaleel to Williamson, FOUR! 13 off the over, New Zealand's best one yet. This is some excellent placement from the Kiwi skipper. Back of a length angling away from outside off, Williamson opens the face and punches it through point to find the fence. NZ 30/1 in 4 overs
11.48 IST: Khaleel to Munro, SIX! That will make him feel good. Hit so sweetly. Fuller around off, Munro picks it up early and goes big downtown. Stands his ground and just smokes it over long off for a biggie. NZ 25/1 in 3.4 overs
*Kane Williamson walks out to the middle
11.44 IST: Bhuvneshwar Kumar to Tim Seifert, OUT! GONE! Edged behind and Dhoni takes a simple catch. Bhuvneshwar strikes. Tim Seifert can't replicate what he did in the series opener. A bit short, outside off, the opener looks to slog across the line but the ball keeps slightly low and takes the under-edge. Just a feather, which is all India need. The ideal start for them. NZ 15/1 in 2.3 overs
11.42 IST: Bhuvneshwar Kumar to Tim Seifert, SIX! First maximum of the game. That short, straighter boundary showing its colour already. Short of a length on middle and off, Seifert muscles the heave over long on. NZ 15/0 in 2.2 overs
11.40 IST: Bhuvneshwar Kumar to Tim Seifert, FOUR! That's smacked. Adjusted well after coming down the track. Kumar goes a little short, but Seifert brings those fast wrists into play as he pulls it through backward square leg for a boundary. NZ 9/0 in 2.1 overs
11.38 IST: Khaleel Ahmed to Tim Seifert, Play and a miss! Good length delivery around off, holding its line, Seifert looks to loft it over mid on but gets beaten.
*Khaleel Ahmed to bowl from the other end.
11.31 IST: Bhuvneshwar Kumar to Tim Seifert, Good length delivery outside off, Seifert mistimes the cut shot straight to the point fielder.
11.30 IST: We are ready to begin now. Colin Munro and Tim Seifert will open the innings for the Black Caps. Bhuvneshwar Kumar will take the ball first up. Here we go...
11.25 IST: Both the teams are out for their respective national anthems. We will begin with India's first.
11.15 IST: Pitch report - Simon Doull and his antics. He is hanging himself on the pitch-roller while doing his pitch report. Starts by informing us that the boundaries are short in Auckland. He advises by saying that you don't want to be bowling full with straighter boundaries on the shorter side. Feels that the bowlers need to pull their lengths back a bit and bring squarer boundaries into play. Signs off by mentioning that the spinners have done well here in spite of Eden Park being a small stadium.
11.07 IST: Playing XIs
IND XI: R Sharma, S Dhawan, V Shankar, R Pant, MS Dhoni, D Karthik, H Pandya, K Pandya, B Kumar, Y Chahal, K Ahmed
NZ XI: T Seifert, C Munro, K Williamson, D Mitchell, R Taylor, C de Grandhomme, M Santner, S Kuggeleijn, T Southee, I Sodhi, L Ferguson
11.05 IST: Captain's speak
Kane Williamson: "We are going to bat. Usually a good batting surface here. It's always a great opportunity to play against India. Same team for us today."
Rohit Sharma: "We were looking to bowl first anyway. I know we lost the last game, but chasing has been our strength. We have spoken about what we need to do with bat and ball. Hopefully we can get a win today. We just need to do the right things and do them consistently. We discussed what went wrong in the last game. Hopefully we won't repeat them. We are playing the same team. I know there will be a lot of talk about Krunal and Kuldeep. Kuldeep has been top class for us."
11.00 IST: Kane Williamson has won the toss and chosen to bat first!
10.30 IST: Hello and welcome to our live blog of India vs New Zealand 2nd T20I from Auckland
Brief Preview: A strong comeback will be expected from India after the hammering from New Zealand in the series-opener when the two teams square up in the second T20 International at Eden Park on Friday. After suffering their biggest loss in T20 Internationals in terms of runs on Wednesday night, India don't have a lot of time to introspect with just 24 hours separating the two games. It was the kind of day when nothing went right for India who let New Zealand amass 219 before surrendering meekly in the steep chase.  (Read Full Preview)