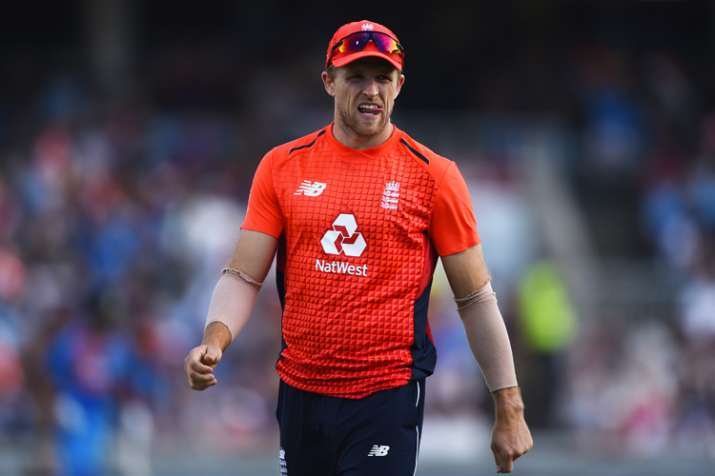 England allrounder David Willey has raised questions on India's tactics, accusing the visiting bowlers of not playing within the spirit of the game.
Hosts England lost the first T20I against India by 8 wickets to trail 0-1 in the three-match series.
Willey was miffed with India pacer Bhuvneshwar Kumar who stopped in his delivery stride in the final over of England's innings.
Even wrist spinner Kuldeep Yadav - the main architect of India's victory with a five-wicket haul - pulled out of his delivery stride twice while bowling to England opener Jos Buttler.
"I'm guessing, but I think he (Bhuvneshwar) was looking to see what I was going to do," Willey said.
"They did that a few times. The spinners did it a couple of times. I'm not sure what the rules are on that. I don't particularly like it. I don't think it is necessarily in the spirit of cricket. It's not my job to comment on that too much on what they should or shouldn't be doing. Personally, I don't think I'd do that. I don't think it is great," he added.
Willey was also engaged in some kind of confrontation with Bhuvneshwar.
"They (India) have a few fiery characters and that is part and parcel of cricket. It has gone on for years. I don't mind a bit of confrontation. I have had my fair share of it in the past. If it comes my way I am quite happy to get involved," Willey said.
Meanwhile, India batsman KL Rahul, who slammed a brilliant hundred at Manchester to see his team home, came out in strong defence of his teammates.
"It will frustrate me as a batsman, it did I guess frustrate the English batsmen but the margin for error for bowlers in T20 cricket is very little so whatever tactics they can come up with and whatever they try to do to upset the batsmen is only fair," Rahul said.
"You know you can do it as a bowler, you can run a batsman out, he was taking few strides too many and it is a long boundary and if he gets that much start he can keep rotating the strike and keep getting two runs which will frustrate the bowler in return, so it's only fair," Rahul added.