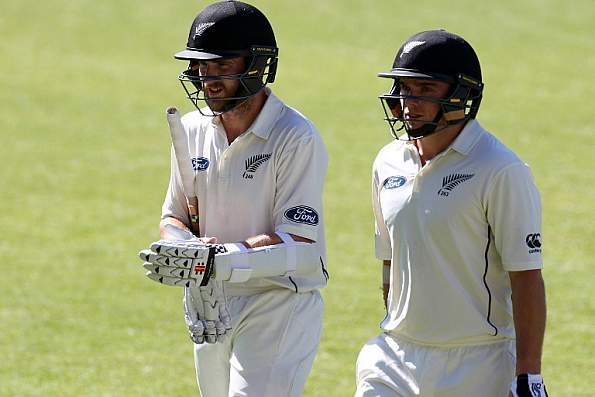 In reply to India's 318 runs in the first innings, New Zealand seems to be in a strong positionagainst the hosts after losing Guptill's wicket. 
After the 39th over, New Zealand were 134/1 with opener Tom Latham unbeaten at 53 off 124 balls and Kane Williamson playing at 51 off just 80 balls. 
With the pitch beginning to show signs of wear and tear, the Indian bowlers got a fair amount of turn and movement off the wicket.
But despite the challenging conditions, the New Zealand batsmen stil managed to maintain a decent scoring rate. 
The visitors suffered their first blow in the 10th over with Guptill, who seemed to be in good form, beaten by an inswinger from Yadav.
The ball moved very slightly after pitching around the off-stump before hitting Guptill's pads in plumb in front of the middle stump.
Guptill smashed three boundaries during his 31-ball knock.
Earlier, starting the second day game at 291/9, Ravindra Jadeja and Umesh Yadav added another crucial 27 runs thereby taking the Indian innings total to 318 runs before Yadav was sent back to pavilion by Santner. 
Jadeja and Yadav added 41 runs for the last wicket, with the former scoring an unbeaten 42 runs off just 44 deliveries.   
For New Zealand, Santner and Boult bagged three wickets each, restricting the hosts to just 318 runs. 
Yesterday, after winning the toss and electing to bat first, team India ended the first day of the first Test match against New Zealand at 291 for nine wickets after a solid start. 
Pacer Neil Wagner (2-42) also bowled well while Indian origin leg-spinner Inderbir Singh Sodhi (1-50) and Mark Criag (1-59) got the remaining wickets.
Most of the Indian batsmen fell to poor shots after misreading the turn or bounce of the ball rather than any top quality bowling by the visitors.
The Indians started off on a positive note with opener Lokesh Rahul hitting Boult for a couple of boundaries in the very first over of the series.
The New Zealand pacers recovered thereafter to restrict the flow of runs to some extent.​
Opening the innings for India, KL Rahul scored at a decent rate, posting 32 runs off 39 deliveries. His innings was studded with four boundaries and a six.
Cheteshwar Pujara then joined Murali Vijay in the middle and the duo negotiated the New Zealand bowling with skill and patience to ensure that the hosts went into the lunch break at a decent 105/1.
Santner was the only Kiwi bowler to bag a wicket in the morning session.
The rest of the Kiwi bowlers toiled away without reward under hot and humid conditions.
But whatever advantage the hosts had managed to claim was friterred away in the post lunch session as the Kiwi bowlers struck back to claim the crucial wickets of Vijay, Pujara and Indian skipper Virat Kohli.
Boult outfoxed Vijay in the very first over after lunch with cross-seam short pitched delivery. The Indian opener was surprised by the extra bounce as the ball took the outer edge of his bat and travelled to where first slip should have been.
But the lack of a fielder at that position saved Vijay and the Kiwis could only watch as the ball raced to the boundary.
Santner bagged his second wicket when Pujara misread the spin on a slightly overpitched delivery which did not turn much after pitching. Pujara played for the spin, expecting it to turn towards the offstump but only managed to offer a tame caught and bowled chance to Santner.
Kohli (9) seemed to be in good touch, hitting two boundaries during his short stay at the crease. But he fell to a rash shot, attempting to pull Wagner for a six. The Indian captain misjudged the bounce and the ball flew off the top edge for a relatively easy catch for Sodhi.
Earlier, Indian skipper Virat Kohli won the toss and elected to bat in the first Test of the three match series against New Zealand at the Green Park Stadium here.
India are contesting their historic 500th Test. The hosts are playing with six batsmen, two fast bowlers and two spinners while the visiting New Zealand are playing with three spinners and two fast bowlers.
India have played 14 Tests under Kohli's captaincy so far, winning 10 of those. The hosts will be eager to register their 11th win under Kohli and make the historic 500th Test a memorable one for their fans.
The hosts were weakened when Mitchell Santner and Trent Boult helped New Zealand strike back to check India'searly surge in the first Test.
India frittered away a solid start as a middle-order collapse saw them reduced to 291 for 9 on the opening day of the first cricket Test against New Zealand despite half-centuries from Murali Vijay and Cheteshwar Pujara, here today.
After electing to bat in the historic 500th Test, India were comfortably placed at 154 for riding on 112-run second wicket stand between Vijay (65) and Pujara (62).
However a disciplined bowling effort complemented by some inept shot selection by middle and lower order saw four wickets for 16 runs after the second new ball was taken.
Rohit Sharma (35) once again got a start only to throw it away at the fag end of the day. Ravichandran Ashwin was well set before being dismissed to a brilliant delivery from Trent Boult.
While left-arm spinner Mitchell Santner (3/77) rocked the top-order, it was Boult, who looked menacing with the second new ball finishing with figures of 3/57 in 17 overs. All his wickets during the last 10 overs of the day.
Ravindra Jadeja was batting on 11 at the end of the day with Umesh Yadav (8).
The Green Park track was not a rank turner on the first day itself but it did offer some assistance to the spinners.
The Kiwis fielded three spinners – Santner, offie Mark Craig and leg-break bowler Ish Sodhi, who bowled 59 out of the 90 overs.
India were comfortably placed at 154 for 1 after losing KL Rahul (32) but lost four wickets in gap of 15 overs, spread over two sessions to get into the backfoot.
Rohit (35) and Ashwin (40) combined for a fighting 52–run stand for the sixth wicket.
In an important phase in his Test career, Rohit was expected to fire and he showed some early promise before trying to chip one off Santner over mid-on but was holed out by Sodhi.
The other two Indian batsmen who played poor shots were skipper Virat Kohli (9) who fell for Neil Wagner's short ball mistiming a pull-shot.
Boult, in his final spell of the day, got rid of Ashwin wicket-keeper Wriddhiman Saha (0) and Mohammed Shami (0) nearly polishing off the Indian tail. Wriddhiman and Shami got identical deliveries that jagged back in from three quarter length breaching their defence.
Ashwin got one that was full and kicked up from good length as he gloved it to Ross Taylor at wide second slip. It was left-arm spinner Santner, who removed prodigious Rahul in the morning session and later broke the second-wicket stand between Vijay and Pujara to open the window for his side.
Wagner bowled his heart out in the second session and was rewarded with the prized wicket of Indian captain Kohli.
Five minutes before the tea, Vijay tried to cut a shortish delivery from leg-break bowler Sodhi but managed a faint edge, taken by stumper BJ Watling.
Vijay was mostly patient from one end, treating the balls on merit.
After his Caribbean sojourn was marred by injury and the only Test match he got a chance to bat didn't go well, it was a good opportunity for the Tamil Nadu opener, who would rue the chance of having missed out on a big score after getting set.
New Zealand began the third session with Sodhi and Mark Craig operating in tandem. Rohit punished Sodhi with a six over the deep mid-wicket that raised India's 200 and followed it up with a boundary on the off-side.
Craig (1/59) though saw the back of Rahane (18 off 36) getting him caught by Tom Latham at forward short leg.
Spin all-rounder Ashwin turned to be a solid support for Rohit Sharma, who himself survived a confident leg before appeal from Craig.
Ashwin was comfortable playing both pacers and spinners, driving elegantly before being undone by Boult.
Each and every Kiwi bowler was among wickets, highlighting a team effort, led by Santner.
Santner was the only bowler who got success in the opening session with Rahul, who looked fluent during his 32 off 39 balls before being caught behind. The delivery was a quicker one which turned a shade taking a faint edge of Rahul's bat.
Vijay and Pujara continued in their nonchalant way in the post-lunch session, untroubled by the Kiwi bowlers.
Vijay guided Boult to third man with a late cut to touch 49 and survived a leg before appeal off Sodhi before reaching his fifty with a single off Boult in the next over, the 41st of the innings.
Pujara also completed his half-century by driving Sodhi straight after getting a couple off the same bowler.
Vijay preferred to play his shots from the backfoot against both Sodhi or Boult while Pujara was fantastic with his nimble footwork.
With nothing working for the Kiwis, New Zealand captain Kane Williamson tried to attack more by employing two close-in fielders — a slip and a forward short-leg man – when Santner operated.
Wagner did get a bit of reverse swing but the well-set Indian batsmen dealt with it without fuss.
Santner provided the breakthrough again but it was a soft dismissal as Pujara committed to a shot with the ball stopping on him offering a simple return catch.
It was the kind of mistake Kiwis were hoping for and Pujara provided them the window.
Pujara's 62, his eighth Test half-century, came off 109 balls with eight shots to the fence. In came Kohli to rapturous chants of his name and got to business straightaway, cutting a widish Santner ball to the boundary and then pulled Wagner for another leg-side boundary.
However, the Indian captain lasted only 10 balls. Wagner banged one short, which Kohli miscued a pull and found out Sodhi, who was specifically kept for that shot.
Vijay was patient in his approach and helped himself with four shots the fence while Pujara was swift and scored at a decent pace, hitting five boundaries.
Earlier, Rahul made a cracking start, hitting two crisp boundaries off paceman Boult in the very first over.
Wagner kept banging it short to test the Indian openers while Boult preferred fullish length.
Rahul was confident and comfortable at the crease and never looked like troubled by either of the two fast bowlers.
Kiwi skipper introduced Santner in the eighth over and continued with Wagner from one end. Rahul swept the left-arm spinner for a six but the Kiwi bowler exacted his revenge by having the young Indian batsmen caught behind in the next over.
Santner posed questions for the Indian batsmen, who handled Craig comparatively easily. Both the spinners flighted the ball but it being a first-day pitch, there was not much purchase from it.
India 1st innings 291/9 --
Lokesh Rahul c Watling b Santner 32
Murali Vijay c Watling b Sodhi 65
Cheteshwar Pujara c & b Santner 62
Virat Kohli c Ish Sodhi b Wagner 9
Ajinkya Rahane c Latham b Craig 18
Rohit Sharma c Ish Sodhi b Santner 35
Ravichandran Ashwin c Taylor b Boult 40
Wriddhiman Saha b Boult 0
Ravindra Jadeja batting 16
Mohammed Shami b Boult 0
Umesh Yadav batting 8
Extras 6 (b 5, lb 1)
Total 291 (for nine wkts, 90 overs)
Fall of Wickets: 42-1 (Lokesh Rahul, 10.6 overs), 154-2 (Cheteshwar Pujara, 48.4), 167-3 (Virat Kohli, 51.3), 185-4 (Murali Vijay, 58.1), 209-5 (Ajinkya Rahane, 63.6), 261-6 (Rohit Sharma, 82.6), 262-7 (Wriddhiman Saha, 83.5), 273-8 (Ravichandran Ashwin, 85.5), 277-9 (Mohammed Shami, 87.1)
Bowling:
Trent Boult 17-2-57-3, Neil Wagner 14-3-42-1, Mitchell Santner 20-2-77-3, Mark Craig 24- 6-59-1, Ish Sodhi 15-3-50-1
(With inputs from agencies)