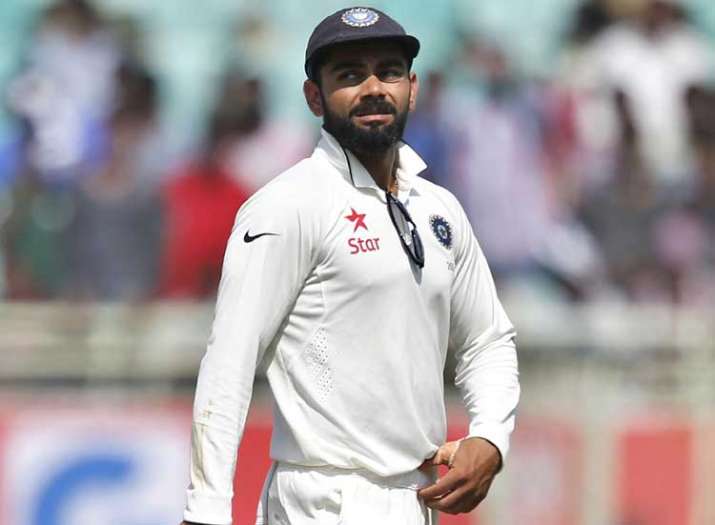 Indian Test captain Virat Kohli was on Tuesday accused of ball tampering during the drawn first cricket Test against England at Rajkot by a British tabloid but the allegations do not hold much ground as per the specific clauses in the ICC's Rules and Regulations about playing conditions. 
The Daily Mail accused that some footage show that Kohli tried to shine the ball with the residue of a sweet in his mouth during the first Test in Rajkot. 
The report claimed that TV cameras indicated Kohli putting his hands deep in his mouth and then appeared to shine one side of the ball during the match which was played between 9 to 13 November.
"Footage has emerged of India captain Virat Kohli appearing to shine the ball using residue from a sweet during his country's draw with England in the first Test," the report in The Daily Mail read.
"Television cameras caught Kohli, who finished on 49 not out on the final day in Rajkot, putting his right hand towards his mouth," it added.
"The 28-year-old can be seen rubbing his fingers in his mouth, inside of which is a sweet. He then appears to shine one side of the ball."
However, there has been no complaint filed by the visiting team and they declined to comment on the issue. Kohli's actions were not cited by the umpire or the match referee after the match.
As per ICC regulations on ball tampering, if a team wants to lodge a complaint about ball tampering by a rival team or its player, it has to be done within five days of the completion of the Test match. 
According to ICC's 3.2.2.1 a Level 1 Offence or a Level 2 Offence that is alleged to have been committed at any time or place (whether on the field of play or otherwise), then the report must be lodged with the Match Referee (or, where, for logistical reasons, it is impractical to lodge with the Match Referee, the ICC's Cricket Operations Department) within five (5) days of the commission of the alleged offence." 
The Rajkot Test ended on November 13 and if England team had any complaints, they needed to make it official by November 18. 
All the ICC clauses, thus, put to rest media reports surrounding the incident.