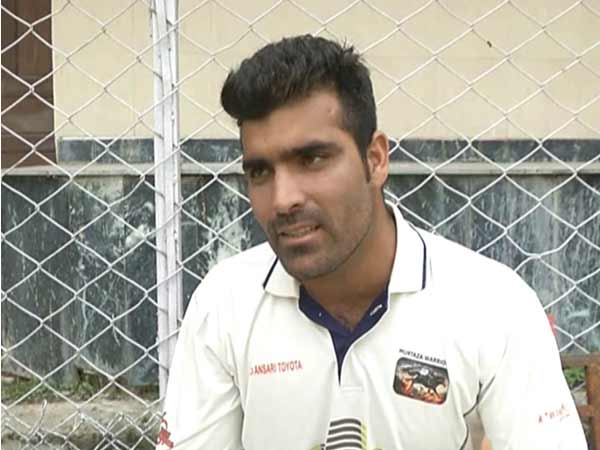 From working as a security guard in a private company to becoming the new cricket star to emerge from the state of Jammu and Kashmir, Manzoor Ahmad Dar's story is no less than a fairytale. Dar, who hails from Sonawari, a village in Jammu and Kashmir's Bandipora district, had to leave school to earn a living for his family. However, he had only one passion - cricket -  which he couldn't leave. And, as he rightly says, cricket too didn't leave him.
"I had extreme financial problems due to which I had to leave my schooling and earn a living for my family. So I joined as a security guard at Tata Motors, but cricket was my life's passion and I couldn't leave it. Even cricket didn't leave me. So I worked in the night and practised otherwise," Manzoor Pandav, as he is known in his circles, told ANI.
"My family and friends have supported me throughout and it is only due to them that I continued playing cricket," he added.
Manzoor's hard work has earned him a call-up to the line-up, which includes some of the best Ranji Trophy players. There is hardly any cricket ground in Kashmir where Manzoor's swashbuckling batting has not entertained the spectators, including even the rival supporters.
After giving captivating performances in Ranji Trophy, the talented all-rounder has now got an offer to play for the North Zone, which is the biggest achievement for him.
Known as the 'Ravinder Jadeja' of the Kashmir Valley, Manzoor now aims to make it to the national team. His cricket journey so far has been full with achievements at different levels.
"I don't remember the exact number of runs that I have scored. But I am sure that I have smashed more than 40 centuries till now. My career's highest score is 211 which I hit at the Narbal ground," he recalled.
He also said that sports is as important as studies and everyone should be given a chance to fulfill their dreams.
Another senior Ranji player from Kashmir, Majid Dar said: "There are a lot of talented boys in the valley, but they need good facilities and infrastructure to support their dreams." 
(With ANI Inputs).