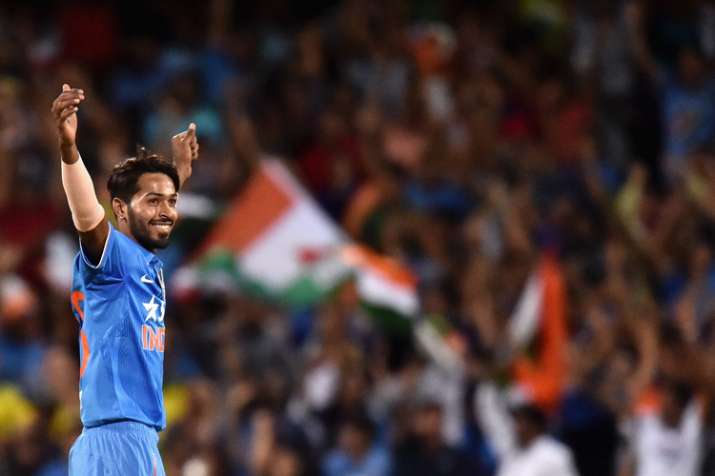 After watching his all-round performance in India's seven-wicket win in Bristol that resulted in their 2-1 series triumph in the three-match T20I series, former India captain Sourav Ganguly has heaped praises on Hardik Pandya, saying he has got the ability to become an asset for the national cricket team.
To disrupt England's strong start, Pandya claimed four wickets to restrict them to 198/9 in 20 overs in the third T20 International at the County Ground, Bristol, on Sunday. The 24-year-old all-rounder from Gujarat excelled in batting too as he scored an unbeaten 33 runs off 14 balls.
Besides Rohit Sharma, who scored his third T20I century in Bristol, Pandya stood solidly on the field and scored the winning runs.
Ganguly seemed much impressed with Pandya's heroics as he told IndiaTV during the show 'Cricket Ki Baat': "Hardik Pandya played really well. Whatever two or three wickets that England got, those were due to their fielding and not bowling... because of the catches they took."
"The way Hardik Pandya bowled, it helped India made a comeback into the game. Pandya's four wickets restricted England otherwise they would have ended up scoring 225-230. Pandya gave 22 runs in his first over and then took four wickets in his next three overs giving only 16 runs. That brought India back into the match," he added.
Pandya has impressed in many matches but lacks consistency due to which sometimes he gets compared to all-time great all-rounders and sometimes receives criticism for immature batting.
Ganguly came in support of the dynamic all-rounder by saying: "I think Pandya has got the ability to become a great all-rounder. He just has to keep himself focused. He has all the talent. If he gets proper guidance and keeps his mind calm, he will be an asset for India."