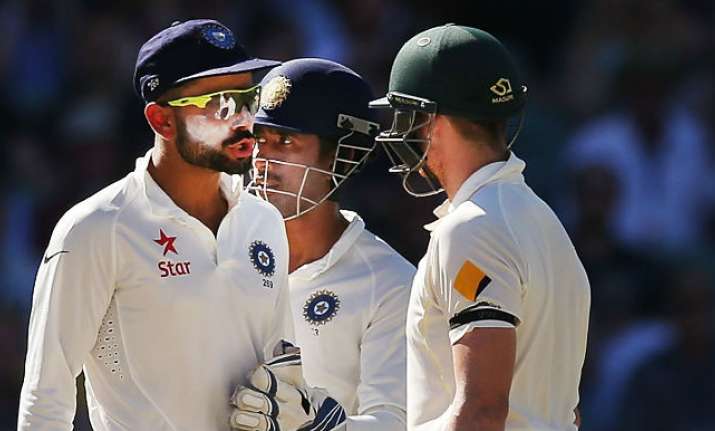 The high-voltage India-Australia Test series concluded with the hosts India hammering the visitors in the fourth Test by 8 wickets, to win the series 2-1. 
Apart from some sensational batting and bowling performances, the series was also replete with controversies that really spiced up affairs between the two top cricket teams.
While the Indian cricket fans rejoice on the team's emphatic series victory, here's a look at the five big controversies that cropped up.
Virat Kohli-Steve Smith DRS row 
It all started during the second Test in Bengaluru when the on-field umpire gave Smith leg before to a delivery by Umesh Yadav. Smith first turned to the non-striker's end to seek an opinion within the mandated 15 seconds. But sparks flew when the umpires noticed that the batsman had turned towards the dressing room as well to get a clue.
The on-field officials immediately intervened to stop Smith but matters came to a head when Indian skipper Virat Kohli too joined the discussion, leading to an exchange between him and the rival captain. Kohli carried it into the post-match press conference when he stopped just short of calling Smith a cheat and the issue kept festering even though both cricket boards tried to move on.
Virat Kohli's injury
The next war of words started when Virat Kohli suffered a shoulder injury while trying to save a boundary. Team physio Patrick Farhart soon rushed onto the field to attain to his injury. Kohli eventually left the field with the physio.
Farhart was credited for Kohli's rapid recovery from the injury which many had suspected would keep him out during the remaining play of the Test. 
Later Glenn Maxwell was seen mocking Kohli's injury when he imitated his action by clutching his right shoulder after his dive to save a boundary. The Indian skipper, too, gave it back with a similar gesture when David Warner got out the next day.
Kohli's comparison to Donald Trump
The high-voltage drama escalated when an Australian newspaper launched a scathing attack on Virat Kohli, describing him as the "Donald Trump of world sport". 
"Virat Kohli has become the Donald Trump of world sport," read the article published in the 'Daily Telegraph'. 
"Just like President Trump, Kohli decided to blame the media as a means of trying to hide the egg smeared right across his face," the article added. 
The article and reporter were trolled from all corners, including by Bollywood superstar Amitabh Bachchan to cricket star Yuvraj Singh.
Big B took a dig at the Australian media, called Virat Kohli a 'winner' and 'President'. "Aussi media calls Virat, Donald Trump of sports !! ... thank you Aussi media for accepting that he is a winner and the PRESIDENT," he tweeted. 
Virat Kohli missed last Test for IPL: Bradd Hodge 
The next explosion came when former Australian cricketer Brad Hodge suggested that Indian captain Virat Kohli missed the fourth Test in Dharamsala to save himself for the IPL starting next month. 
Kohli pulled out of the series-deciding fourth Test against Australia as he was not 100 per cent fit after injuring his shoulder during the third Test in Ranchi.
Hodge, the coach of IPL side Gujarat Lions, said it would be "pretty dirty" of Kohli if he turns out for the IPL opening match as Royal Challengers Bangalore captain against David Warner's Sunrisers Hyderabad on April 5.
"You'd hope as a sportsman that he's seriously injured. I'm hopeful, as a Gujarat Lions coach, that when we play RCB in a couple of weeks, that he's not playing," Hodge was quoted by 'Daily Telegraph' as having told Fox Sports News' Gameday Live.
"Because if you miss one game of Test match cricket and you're fronting up the next week for RCB versus whoever, Bangalore, at Chinnaswamy Stadium -- you'd be pretty dirty if he did not front up to a Test match and try and win a valuable series against Australia," said Hodge who played five Tests and 25 ODIs between 2005 and 2008.
Steve Smith abusing Murali Vijay
In the concluding Test in Dharamsala, cameras caught Smith supposedly calling Indian opener Murali Viay 'f***** cheat' after the latter had claimed a catch off Australian batsman Josh Hazlewood. 
On-field umpire Ian Gould initially gave Hazlewood out but replays seemed to indicate that the ball had hit the ground before reaching Vijay's hands, and the decision was reversed.
Camera footage of the Australian dressing room subsequently showed Smith let off an expletive-filled tirade, supposedly aimed at Vijay.