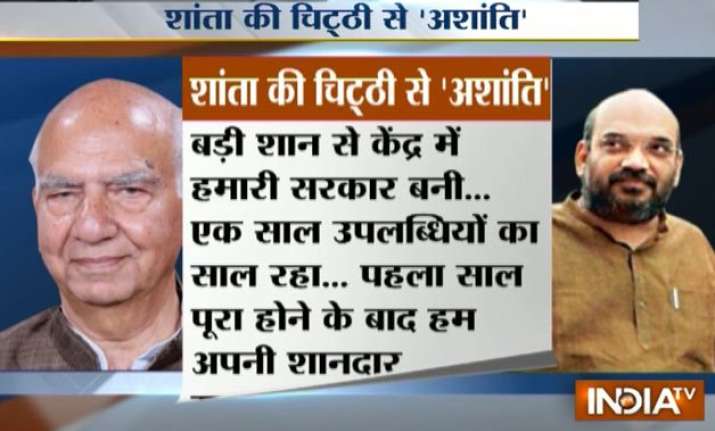 New Delhi: Senior BJP leader Shanta Kumar has released copies of a letter he wrote to party chief Amit Shah stating that the Vyapam scam, Lalitgate and chikki scam had dented the image of one-year old NDA government.
He also said that the entire sequence of events made 'all of us bow our heads in shame'.
The party veteran, while making a veiled reference to Rajasthan CM Vasundhara Raje and Maharashtra minister Pankaja Munde, sought the setting up of an ethics committee to keep a check on leaders in the government.
"When the Jan Sangh was formed, the emphasis was on value-based politics. Gradually, we came to power, and became a ruling party... people started making compromises with those values, and here began the politics of power," the letter reads.
"From Rajasthan to Maharashtra, people started pointing fingers at us. Reports about Madhya Pradesh's Vyapam scam made all of us bow our heads in shame... It is very natural for the people to feel highly disappointed and frustrated. The BJP workers are unable to face it," the letter stated.
On July 9, the Supreme Court had ordered the CBI to investigate all criminal cases linked to the Vyapam scam in Madhya Pradesh.
Rajasthan CM has been facing criticism for her links with fugitive former IPL chief Lalit Modi.
In Maharashtra, Munde is accused of awarding government contracts worth crores without following due procedure.
The Kangra MP also said that Modi's Gujarat model of governance was an important factor for the overwhelming support the party received during the Lok Sabha polls last year.
"This was a historic victory under Narendra Modi because of his image and work in Gujarat," he said.
The former Himachal CM also praised the efforts of Shah in expanding the party and wrote: "Now, we expect you to make the BJP a strong and effective organisation."