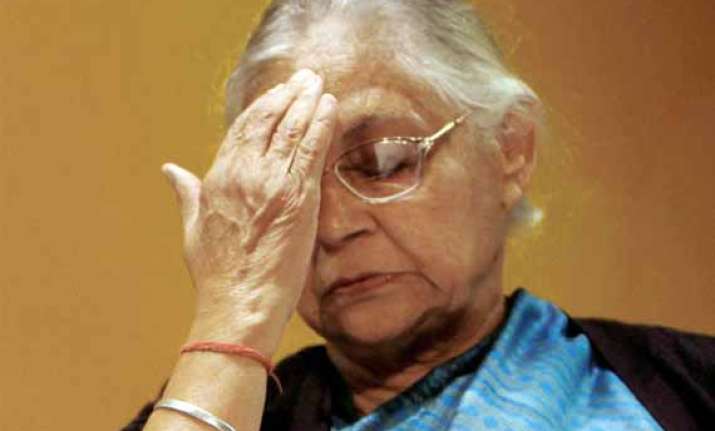 New Delhi: Kerala Governor Shiela Dikshit may not  resign immediately, according to sources.
There were speculations of Sheila resigning today as Kerala governor after she met Home Minister Rajnath Singh today.
Earlier, high level sources at the home ministry had hinted of Sheila's resignation  after her meeting with Home Minister Rajnath Singh today. The meeting, just a day after Maharashtra governor K Sankaranarayanan' resignation fuelled the speculation that Sheila may follow suit. It lasted for five minutes only.
After the meeting she refused to comment on the agenda of the meeting but hinted a lot in her off camera interaction by saying- Nobody meets the home minister without any purpose. I have not come here to have tea with the home minister.
According to sources, Shiela is slated to meet President Pranab Mukherji also this evening.  
Although she expectedly dismissed this as just a rumour.
Meanwhile, new governors for Goa, Maharashtra, Karnataka and Rajasthan could be announced today. Home ministry has sent the list of names to the President. Apart from Kalyan Singh, three other names are to be announced. 
The UPA-appointed governors have constantly been under pressure to resign ever since the BJP government came to power in May.
After the Narendra Modi government took charge May 26, seven governors have resigned following the government's signals - B.L. Joshi (Uttar Pradesh), Shekhar Dutt (Chhattisgarh), Ashwani Kumar (Nagaland), M.K. Narayanan (West Bengal), B.V. Wanchoo (Goa), Vakkom B. Purushothaman (Mizoram) and K. Sankaranarayanan (Maharashtra).
Sankaranarayanan resigned Sunday after he was transferred to Mizoram on the intervening night of Saturday and Sunday.
The only governor to be sacked is former Gujarat governor Kamla Beniwal—first transferred to Mizoram and then sacked Aug 6 for "misuse of power".