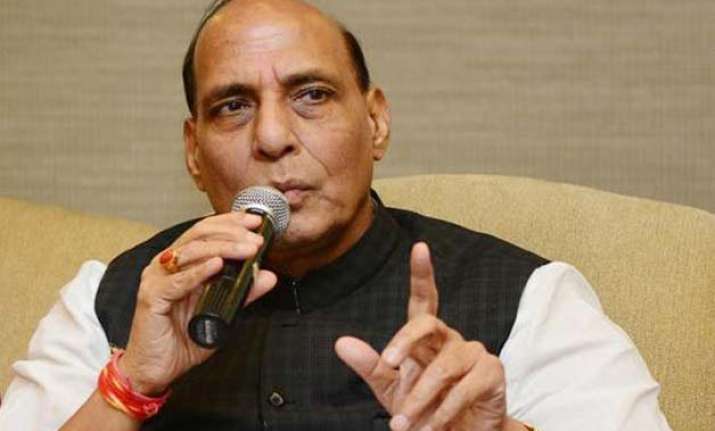 Wagah: As many as 57 fishing boats, which were seized of the Pakistani authorities, have been returned to India by the maritime agencies of the neighbouring country, and these will reach the Indian coast tomorrow evening.
"57 Indian boats were in Pakistan custody. Our government has been successful in ensuring their release," Home Minister Rajnath Singh said at a BSF function here.
A statement issued by the Home Ministry in New Delhi said the government had diplomatic talks with Pakistan for release and return of 57 Indian fishing boats.
The Ministry of Home Affairs (MHA) was entrusted to complete the mission of repair and return of boats in a time bound manner. The MHA arranged the movement of an eight-member team as proposed by the Government of Gujarat to Pakistan for inspection/repair/return of the boats on March 10, 2015, the statement said.
The Ministry of External Affairs (MEA) and the High Commission of India in Islamabad, with the help of Pakistan Maritime Security Agency (PMSA), arranged for inspection and return of the boats to India.
After several rounds of discussions with Pakistan, the Indian team including representatives of the High Commission inspected the boats.
The High Commission projected the fund requirement of Rs 1.27 crore for the repair and return of the boats.
The MHA sanctioned the amount on urgent basis with a view to expedite the repair work.
The repair work of the boats started on March 11 and the same was completed on March 19.
The MHA in coordination with Indian Coast Guards, the High Commission, the Government of Gujarat and MEA planned for the safe return of boats from Pakistan to India on March 21.
It was decided that the boats will be towed away by Pakistani trawlers to a designated location at International Maritime Boundary Line (IMBL) site in sea water under the supervision of PMSA and will be towed away by Indian fishing boats from the IMBL site to Indian coast in Indian waters under the supervision of Indian Coast Guards.
The Government of Gujarat arranged 57 towing boats, 407 fishermen, and 10 state government officials who sailed from Porbander to the designated IMBL site in the morning of March 1 to receive the Indian boats from Pakistan.
Indian Coast Guard ships Rajratan & Vijit along with adequate manpower are supervising the whole operation.The boats are scheduled to reach Indian coast at Porbandar tomorrow afternoon.