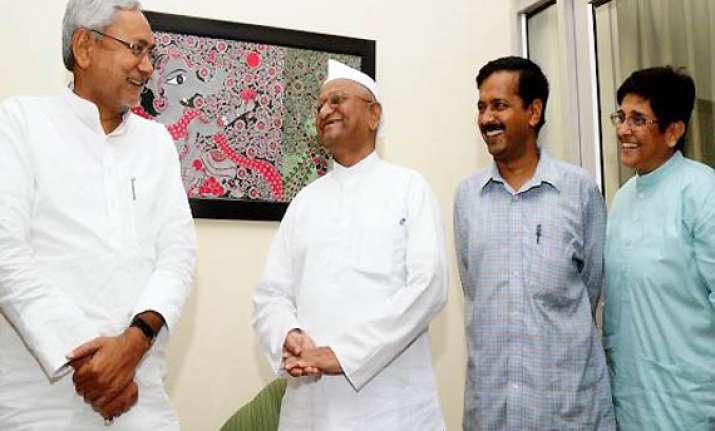 Ghaziabad, Nov 11: Miffed at Nitish Kumar's rebuff to them over the criticism of Bihar Lokayukta Bill, Team Anna today said the Bihar Chief Minister was free to choose whom to give priority to but they will continue to comment on the effectiveness of such laws.

Team Anna member Kumar Vishwas said they were trying to get in touch with the Chief Minister for the past two weeks but could not do so.

"It is Nitish Kumar's choice whom to give priority. As concerned citizens, we will continue to give advice about the bill.

"We've been trying to get in touch with Nitish Kumar and senior BJP leaders in the state for the last two weeks. Now Arvind Kejriwal is sending an email to the CM with suggestions about the bill, which we hope he looks into and places before the House," Vishwas told reporters here. 

Another Team Anna member Shanti Bhushan had yesterday wondered whether there was a deal between him and the ruling party at the Centre as Congress praised Kumar for rebuffing Team Anna on the state Lokayukta Bill.

Reacting sharply to Team Anna's attack on the state Lokayukta bill, Kumar had said he does not need a certificate from Team Anna about his drive against graft.

Asked about a news channel's sting operation puportedly showing some people planning to attack Anna Hazare, Manish Sisodia said "these people belong to the same country that wants the Jan Lokpal bill to be passed. We need to talk to these people and find out why they are angry."

Sisodia, however, agreed strict action should be taken against people who pose a security threat to not just Team Anna but also the people who support them, while stating that none of the Team Anna members would demand personal protection.

"As Anna says, it is more important to protect the idea of this revolution," he said.

On blogger Raju Parulekar's accusation that Kiran Bedi, Prashant Bhushan, Arvind Kejriwal and Manish Sisodia formed a 'gang of four' which was using Anna Hazare to further its own interests, he said "while it feels nice to be considered close to Anna, there is nothing like that.

"All the core committee members are following Anna Hazare in his fight against corruption," he said.

"Parulekar was appointed to take Anna's message to the people but when he started colouring it with his own opinion, Anna let him go. That's all there is to the matter," Vishwas said.