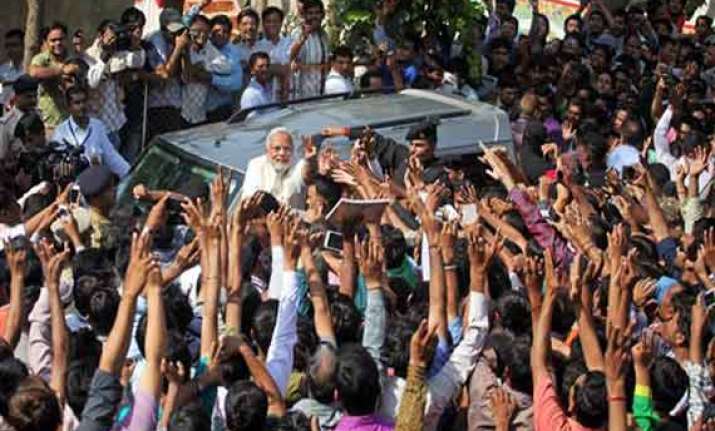 New Delhi: Braving the heat, millions voted Wednesday in 89 Lok Sabha constituencies, including Sonia Gandhi's Rae Bareli, even as BJP's prime ministerial candidate Narendra Modi ran foul of the Election Commission for flashing his party symbol near a polling booth.
An estimated 45 percent of of the 139 million electorate had voted by 3 p.m. in seven states and two union territories, the exception being Jammu and Kashmir's summer capital Srinagar where polling was low amid a boycott call by separatists.
There was no incident of violence in any place including the Telangana region of Andhra Pradesh which also voted for a legislature which would be part of the proposed state.
A total of 1,295 candidates are in the fray in the 89 Lok Sabha constituencies spread across Gujarat (26), Andhra Pradesh (17), Uttar Pradesh (14), Punjab (13), West Bengal (9), Bihar (7) and Jammu and Kashmir, Dadra and Nagar Haveli and Daman and Diu (one each).
Among the constituencies that saw brisk polling Wednesday are Rae Bareli in Uttar Pradesh and Gandhinagar in Gujarat from where Congress president Sonia Gandhi and BJP patriarch L.K. Advani are contesting respectively.