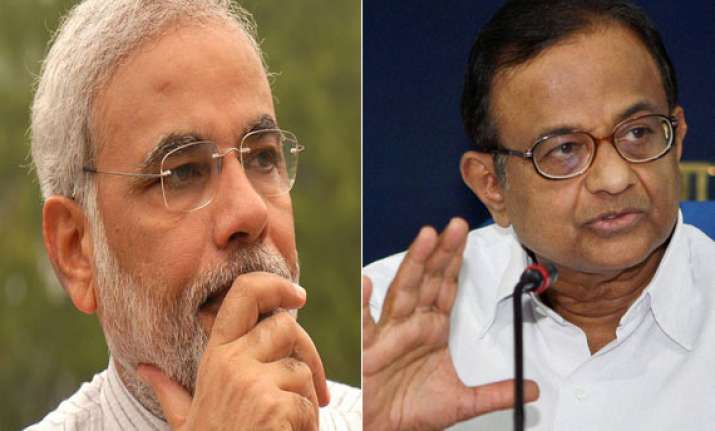 Ramanathapuram (TN): Sharpening his attack on P Chidambaram, BJP leader Narendra Modi today alleged wrist watches with photos of the Finance Minister were being distributed to voters and demanded a probe by the Election Commission.
"In Tamil Nadu, there is a Congress leader—recounting Minister—he is so afraid that he ran away from elections," Modi said, without taking Chidambaram's name while addressing an election rally in this town, bordering the union minister's native Sivaganga district.
On a whirlwind two-day electioneering in Tamil Nadu to canvass for NDA candidates, the BJP's Prime Ministerial candidate continued to describe Chidambaram as "recounting minister", a reference to his controversial win from Sivaganga constituency in 2009.
"Some people on this dais showed me a watch. It has the recounting minister's photo and his symbol. I was told that these watches are being given to every household. EC should take it very seriously. There should be a probe against the recounting minister and Congress," he said.  After Chidambaram opted out of the April 24 Lok Sabha polls, his son Karti Chidambaram has been given the Sivaganga seat.
Seeking to strike a chord with the locals, Modi raked up the problems of the firecracker industry in nearby Sivakasi, employing lakhs of workers, and slammed the licence fee hike and blamed it on the faulty UPA policies.  He promised to take all steps for the welfare of the firecracker industry.
Reiterating BJP's commitment to interlinking of national rivers, Modi said if voted to power, the NDA Government will link "Cauvery and Ganga," thus addressing the drinking water problems and irrigation challenges of Tamil Nadu.
With an eye on the large Muslim population in this coastal district, Modi said Congress Government's 15-Point Programme that promises employment to Muslim youth among others has not achieved the desired result.
Many years and crores of rupees had been spent on the scheme, but what has it delivered, he asked, adding the Kundu Committee which was set up by the government had also found "after detailed study, that there has been no change in the condition of Muslims."
Congress was only trying to 'hoodwink' Muslims, he charged, adding the Central government could achieve only 56 per cent of its goal between 2006-12.