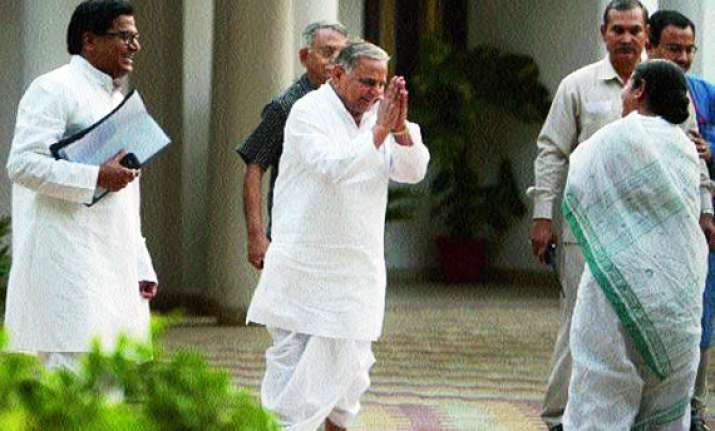 New Delhi, Jun 13: In a big setback to the ruling Congress party, West Bengal chief minister Mamata Banerjee and Samajwadi Party supremo today outrightly rejected the names of Pranab Mukherjee and Hamid Ansari, put forth by the Congress, for the post of President.
Mamata Banerjee and Mulayam Singh Yadav announced at a joint press conference that they have proposed any one of three names -  former President APJ Abdul Kalam, Prime Minister Dr Manmohan Singh and former Lok Sabha Speaker Somnath Chatterjee.  
Mamata Banerjee, who had come to Delhi to discuss the issue of Presidential candidate with Congress president Sonia Gandhi, later met Mulayam Singh Yadav for a long meeting.  
Both stalwarts from West Bengal and Uttar Pradesh rejected the Congress proposals to instal Pranab Mukherjee or currently Vice President Hamid Ansari as President. They didn't reveal the reasons behind this.
Earlier, after meeting Sonia Gandhi, Mamata Banerjee told newspersons that the Congress President had named Pranab Mukherjee as her party's first choice, and that of Vice President Hamid Ansari as the second choice.
"I gave no commitment. I will discuss this with Mulayam Singhji and in my own party", Mamata Banerjee said, before proceeding to meet Mulayam Singh Yadav.
With this, the presidential race has taken a dramatic twist with the Congress indicating that Pranab Mukherjee will be their preferred choice but two key allies, Trinamool Congress and Samajwadi Party, coming out with  their surprise response by suggesting Prime Minister Manmohan Singh's name.
It was the West Bengal leader, in the capital at the invitation of Ms. Gandhi, who disclosed the Congress choices to the media, ending weeks of guessing game.
A bigger surprise came immediately thereafter when Mamata Banerjee and SP leader Mulayam Singh Yadav disclosed the names of Dr. Singh, former President A.P.J. Abdul Kalam and former Lok Sabha Speaker Somnath Chatterjee as their preferred candidates. Any one of them would be acceptable to them if there was a consensus.
This dramatic turn of events left the Presidential race wide open and put the Congress in a dilemma. The party needs the support of both TMC and SP to ensure that its candidate wins.
Other allies such as DMK, NCP, RLD and NC, have already indicated their support for Pranab Mukherjee.