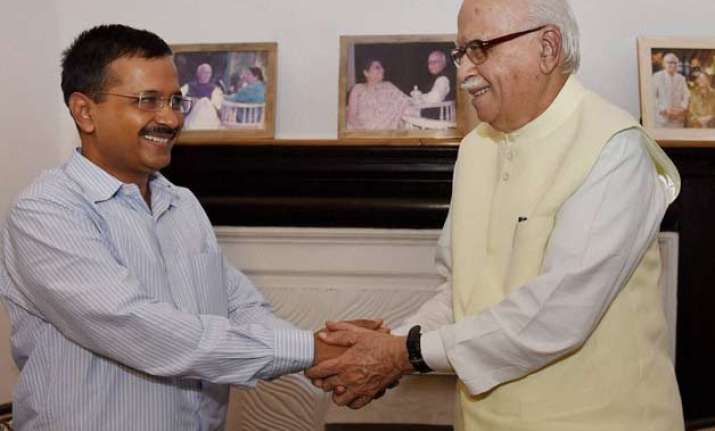 New Delhi: Delhi Chief Minister Arvind Kejriwal today met BJP patriarch L K Advani and discussed a range of issues including the political landscape in the country and challenges being faced by the capital.
Sources said Kejriwal had apprised Advani about difficulties being faced by his government due to "non-cooperation" of the BJP-ruled Centre besides other challenges facing the city.
During the 45-minute-long meeting at Advani's residence, both also discussed about the political situation in the country, the sources said, adding the BJP patriarch wished the Delhi Chief Minister all the very best in addressing various problems being faced by Delhi.
 
Kejriwal has accused the Prime Minister Narendra Modi-led central government of interfering in the matters of Delhi government and even accused the PM of trying to rule the national capital state through Lieutenant Governor Najeeb Jung.
Sources close to Advani said it was a courtesy meeting.
Today's meeting came over a month after Advani called off a scheduled meeting with the Delhi Chief Minister.
There were speculations then that BJP had a hand in cancellation of the meeting as Kejriwal had shared Advani's fears on the possibility of imposition of Emergency in India.
Just before the meeting was scheduled, Advani, in an interview to a newspaper, had expressed fears on the possibility of imposition of Emergency in India, a sentiment shared by Kejriwal.
Kejriwal had agreed with Advani's view that imposition of Emergency cannot be ruled in the country and wondered whether Delhi will be the "first experiment" towards it.