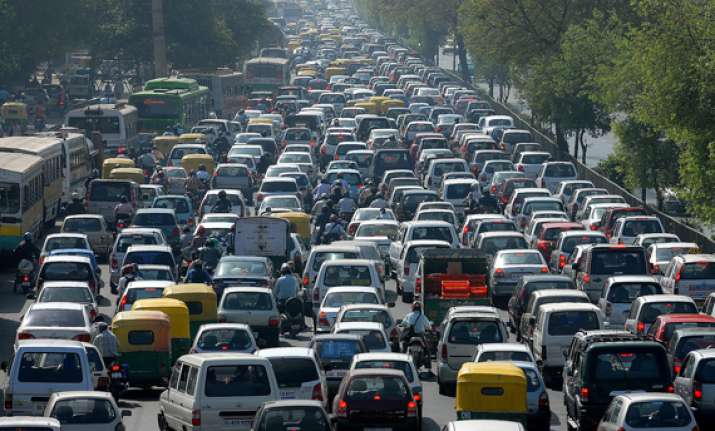 New Delhi, Nov 4:  Chaos reigned on the capital's roads Sunday as the Congress' mega rally led to massive traffic snarls in several parts of the city, especially in central and old Delhi.
The Congress rally saw hundreds of buses arrive in the capital to ferry party workers and supporters from Rajasthan, Haryana, Uttar Pradesh and other areas to Ramlila Maidan. The long lines of buses and cars led to traffic getting choked around old Delhi and central Delhi as well as parts New Delhi, east Delhi and south Delhi.
The traffic jam spread for kilometres in some areas, especially on the Outer Ring Road and DND Expressway. The jams forced many Delhiites to alter or change travel plans on a Sunday.
According to Delhi Police, around 50,000 people had gathered inside and around Ramlila Maidan where Prime Minister Manmohan Singh and Congress president Sonia Gandhi addressed the rally.
"Serpentine queues of vehicles were seen in several parts of the city as the rally ended and the crowds rushed out of the ground to catch their buses or trains, which led to the jam," a Delhi Police official told IANS.
Roads around the ground and those leading to nearby bus terminals and railway stations remained choked for hours and the jams had a spillover effect on other parts of the city too.
The situation worsened when the hundreds of parked buses - the lineup spreading to a few kilometers - started moving towards the ground after the rally was over.
The traffic jam spoilt any thought of a relaxed Sunday outing for many and held up others out on important work.
"These politicians have nothing better do than spoil our Sunday? Irrespective of the party, it is the common man who has to suffer -- be it a rally or a protest," said 34-year-old Ravi Bhan, a human resource executive.
"I had made plans with friends of catching a movie followed by lunch as we only get one off in a week on Sundays. But thanks to this rally, everything was ruined," lamented 28-year-old Jagriti Sukhani, an advertising professional.
K.V. Kutty was late for picking up his relatives from New Delhi Railway Station.
"I went to pick up my relatives who were arriving from Dehradun. Their train had already arrived at the station but I was stuck in a massive jam," said Kutty, who was stuck in Paharganj on his way to the the station.
The jams also played a major spoilsport for those who had ventured out to visit markets ahead of the festive season.
"I wanted to shop for new attires and some decorative stuff for the house ahead of Diwali but this jam has put a spanner to our plan. Political parties must have some concern for ordinary people," said Sneha Singh, a resident of Lajpat Nagar in south Delhi who had planned to visit Karol Bagh in central Delhi.