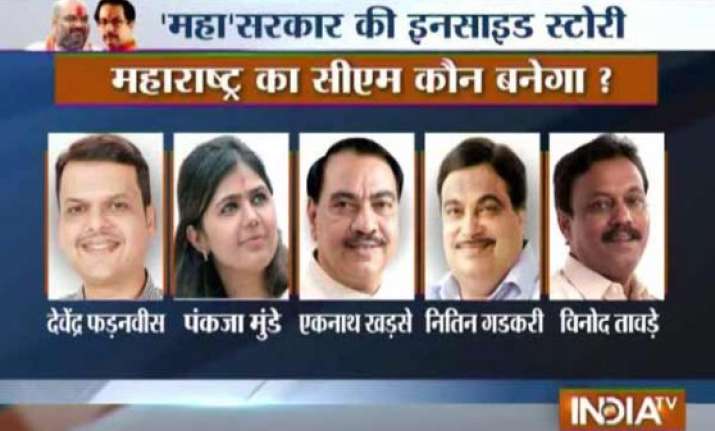 Mumbai: With Bharatiya Janata Party (BJP) emerging the single largest party in the assembly polls, the race for the post of Chief Minister is gaining momentum in Maharashtra.
BJP's State unit chief Devendra Fadnavis (44) is a front-runner for the post of Chief Minister. He won from Nagpur South West constituency by more than 30,000 votes, bolstering his claim for the chief ministerial post.
Considered to be a fierce critic of the Congress and the NCP, Fadnavis was made state party chief in April last year. He is also close to the Rashtriya Swayamsevak Sangh (RSS).
Fadnavis began his political career in 1992. He was twice elected as corporator to the Municipal Corporation of Nagpur. At the age of 27, he became the Mayor of Nagpur. He has the  distinction of becoming the second youngest Mayor of India.
Sources said the BJP wants to have a Maratha CM in the state and Fadnavis belongs to the Brahmin community.
"I am the chief of the BJP's Maharashtra unit... this is my identity. The BJP legislature party will take a final decision and that is the only apt authority to take any decision in this regard," he said.
The other top contenders for the post are Pankaja Munde, Eknath Khadse, Vinod Tawde and Nitin Gadkari.
Pankaja Munde, who is daughter of late BJP leader Gopinath Munde, is also in the race. She emerged as her father's political successor in the Marathwada.
"I have never said this on camera that I want to become the Chief Minister of Maharashtra. I am waiting for the top leadership decision... the Parliamentary Board will decide who will be the CM," she said.
Eknath Khadse, the Leader of Opposition in the outgoing assembly, is also among the frontrunners for Maharashtra.
"There are four-five contenders... Party will take a call after consulting the MLAs and everyone has to respect the decision... And as a party worker I will also abide by the top leadership decision," he said.
Meanwhile, Union Minister Nitin Gadkari, whose name is also figuring in the race for the top job, has said that he don't want to return to the Maharashtra politics as he is happy with the responsibilities Prime Minister Narendra Modi has given to him.
"I had told you earlier that I am happy in Delhi.. I am doing good work here and I work for the nation... I want to work on projects related to River Ganga. Top party leadership and Parliamentary Board will take a decision and everybody will abide by it," he had said.
The BJP emerged as the single largest party of the state with 122 seats. Shiv Sena obtained 63 seats while the Congress and NCP, which had ruled the state for 15 years, slipped to third and fourth position with 42 and 41 seats, respectively.
Raj Thackeray's Maharashtra Navnirman Sena (MNS) managed to win only one seat.