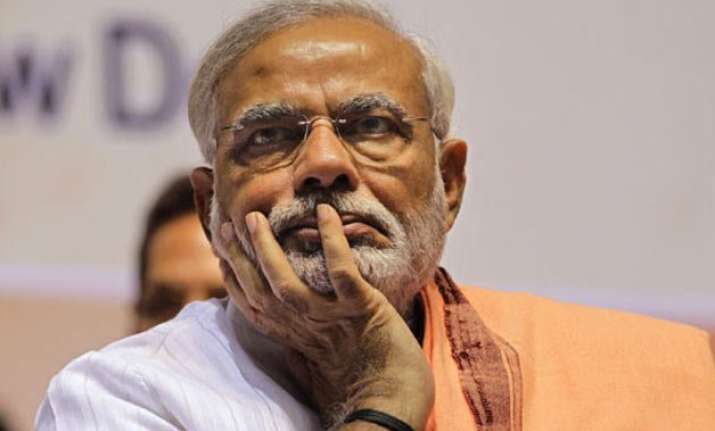 Bengaluru: Taking on Congress over its charge that his government was pro-rich, Prime Minister Narendra Modi today accused it of "selling the nation to benefit the rich" when it was in power and asked BJP workers to fight the "falsehood" with facts and self-confidence.
In his concluding address at the two-day national executive meet of the party, Modi said the NDA government was for the poor and weaker sections of society and cited several schemes and decision of the Centre to drive home his point.
"We are accused of being a government for the rich but the truth is that the previous UPA government worked for the rich.
"Was a government, which allocated coal blocks on the basis of a note, not for the rich?" he said, referring to the coal scam in which several blocks were allegedly given away to a select few.
"The UPA government sold the nation to benefit the rich and wasted the money of the poor on the wealthy. We have earned Rs two lakh crore by auctioning only 20 coal blocks and this money has come from the pockets of the same rich people. Does the BJP government work for the rich?" Modi said, according to a BJP statement.
Stressing the pro-poor credentials of his government, Modi said his it will provide LPG connection to one crore poor households and noted that it brought down the gas price to below five dollar per unit after the UPA government had increased it to 8.4 dollar from 4.2 dollar.
He made a reference to tax on the super rich and said "BJP workers should cite facts and respond to these falsehoods targeting the government with self-confidence."
Modi asked BJP workers to work towards ending manual scavenging and told them to ensure that this campaign does not remain confined to newspapers' pages.
The Prime Minister also made a mention of senior party leaders, saying it was due to their guidance that the government had met successes.
Senior leaders like L K Advani and Murli Manohar Joshi have been kept out of the government and also decision-making process in the party.