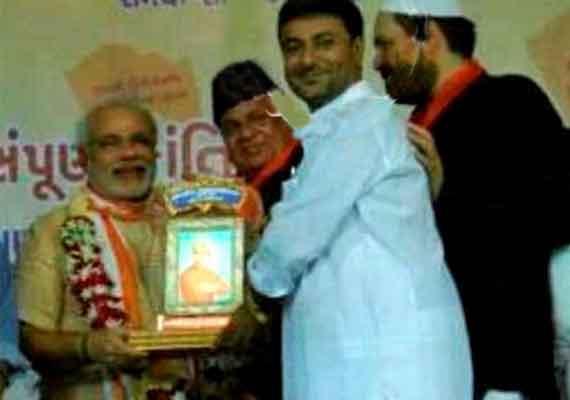 Ahmedabad: BJP has sent a legal notice to the secretary of the Indian National Congress, Union Minister Kapil Sibal and party spokesperson Randeep Surjewala, reacting to allegations regarding BJP prime ministerial candidate Narendra Modi's proximity to alleged hawala operator Afroz Fatta.
"Whatever is published and stated pertaining to Afroz Fatta, BJP and Narendra Modi on the basis of a photograph is false, mala fide and mischievous, purportedly made to cause injury to the party and particularly to Narendra Modi," the legal notice sent by Shankar Chaudhary, BJP MLA from Vaav Assembly constituency of Banaskantha district, said.  
The legal notice also said that such an act by secretary of the Indian National Congress, party spokesperson Randeep Surjewala and Union Minister Kapil Sibal is an offence punishable under Section 211 of the Indian Penal Code for making false charges.
"Hence, this notice before filing prosecution against Indian National Congress as well as Randeep Surjewala, Kapil Sibal and all other persons connected with malicious material," it said.
"Congress spokesperson Randeep Surjewala and Kapil Sibal had reiterated in a press note that according to them, Afroz Fatta is a well known BJP supporter and a protege of Modi," the notice said.